Bitrix24 is an all-in-one business software with a suite of tools to help grow your company and manage customer relationships. Using Bitrix24 with WordPress could be an effective combination for streamlining your business. Your WordPress site can help capture sales and leads while Bitrix24's Customer Relationship Management (CRM) handles the rest. This article will discuss the features of Bitrix24 and how to use the Bitrix24 CRM with your WordPress website.
What is Bitrix24 CRM?
Bitrix24 is an enterprise collaboration and CRM platform that helps businesses improve communication and performance while lowering business costs. It consists of a number of integrated applications that cover every aspect of running and managing a company including project management, CRM, task management, document management, file sharing, and more.
Bitrix24 is available in both cloud-based and self-hosted versions. It offers a wide range of features and pricing options to meet the needs of businesses of all sizes. The best part is that many of its features integrate with WordPress websites, especially form and WooCommerce, to make your business operate smoothly.

Who Uses Bitrix24?
Bitrix24 has a CRM and collaboration platform used by millions of companies worldwide. The platform helps sales, marketing, and support teams work together more efficiently and improve customer relationships. So, both small businesses (SMBs) and large enterprises are able to find success with it.
Customer service, marketing, and sales organizations use Bitrix24 by using a single source of truth for tracking and managing customer interactions alongside corresponding tasks and internal communications. Plus, the platform is robust and flexible allowing organizations to completely customize how it is used to fit the operations and strategy of each company.
Why Connect Bitrix24 CRM with WordPress?
WordPress enables business owners to create any type of website they need. And it is a popular CMS because it is flexible and easy to use, especially with front-end no-code page builders like Divi.
Your website oftentimes acts as the frontline of service to your customers. Therefore, integrating your WordPress site with Bitrix24 can help improve your customer relationships and grow your business. A WordPress site connected to Bitrix24 can send customer data collected on the site straight to your Bitrix24 CRM. This allows you to connect sales and support organization tools and automation to increase the efficiency and quality of each function. When the technology is accessible and connected with helpful employees, businesses are able to deliver on their promises and improve customer value.
Bitrix24's Features
Bitrix24 offers a full suite of applications that are interconnected to keep disparate parts of a company running in sync. There are quite a few features under the hood that are worth considering.
Some of Bitrix24's best features for WordPress website owners are:
Bitrix24 CRM
Bitrix24 is a powerful CRM tool that offers a variety of features and capabilities to help businesses streamline their customer relationships. Custom fields, records, reports, workflows, and kanban boards are just some of the ways that Bitrix24 can help businesses manage their customer data. There are also different user types that can be assigned to specific tasks. This ensures the right people have access to the right information.
Kanban Workflows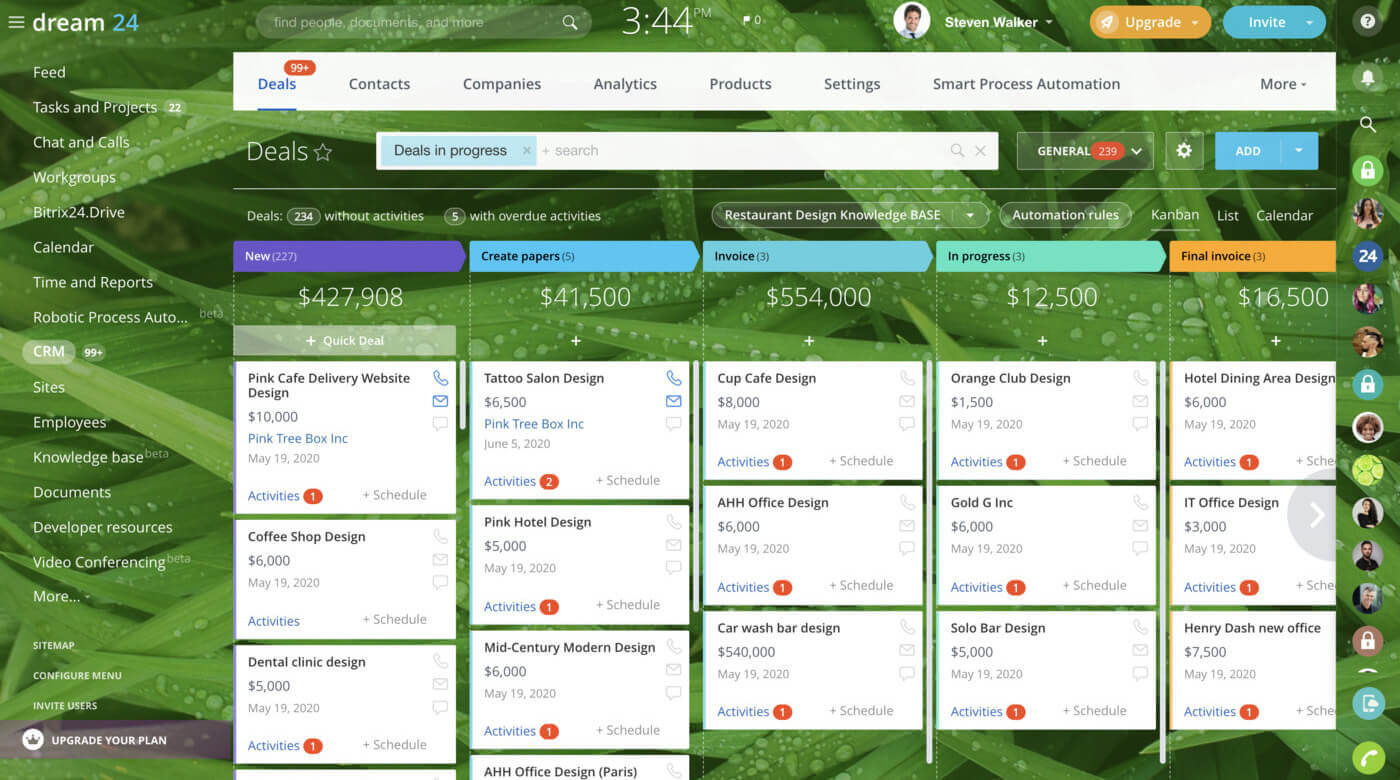 The CRM can display customers, leads, and active deals in a Kanban view which lets you visualize where each is within your workflows. Users can click on any one of them to see your complete record for that object.
You can view:
Contact Information
Background Information including previous notes
Previous Interactions including phone calls, web chat, and email
Teams can stay on top of a full pipeline of new sales leads or customers who've reached out for a support inquiry. With collaboration tools built into the workflow views, entire teams can work together to move the needle. This makes Bitrix24 one of the most effective company communication applications.
Business Process Automation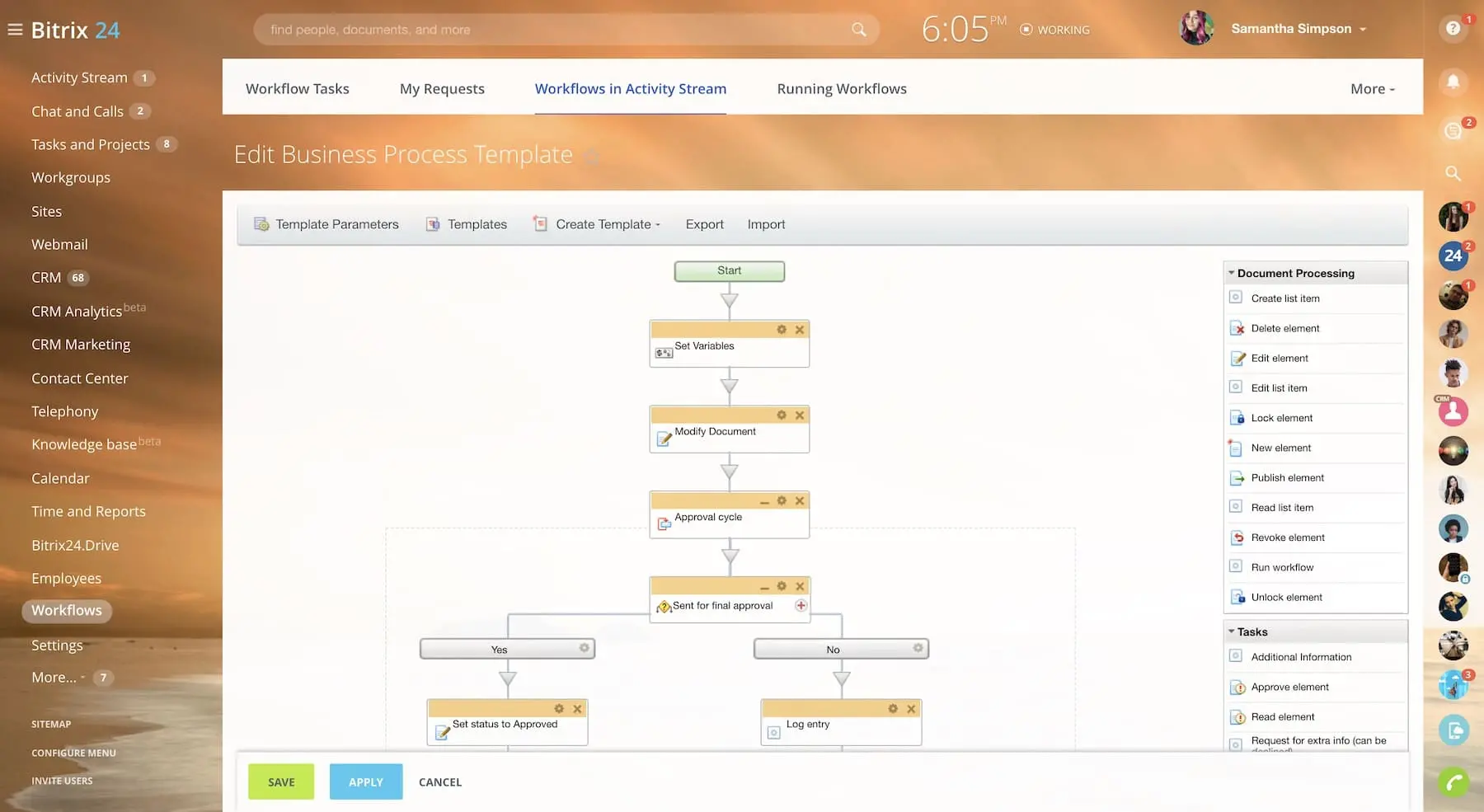 Every business needs a good automation platform to make internal processes more efficient. With Bitrix24, you can customize internal automation to create tasks based on certain actions or move leads along a sale journey.
Bitrix24 CRM for Customer Quotes and Invoicing
Bitrix24 is a powerful platform for sending customer quotes and invoices and offers a wide range of features and capabilities. This allows businesses to create custom quotes and branded invoices for their customers, offer discounts and taxes, and email or print them in PDF format.
Quotes and Invoices
Businesses can also use Bitrix24 for creating custom quotes at scale to help sales teams and service providers. You can create, customize, and send quotes and track actions that potential customers take — keeping you in the know at each step.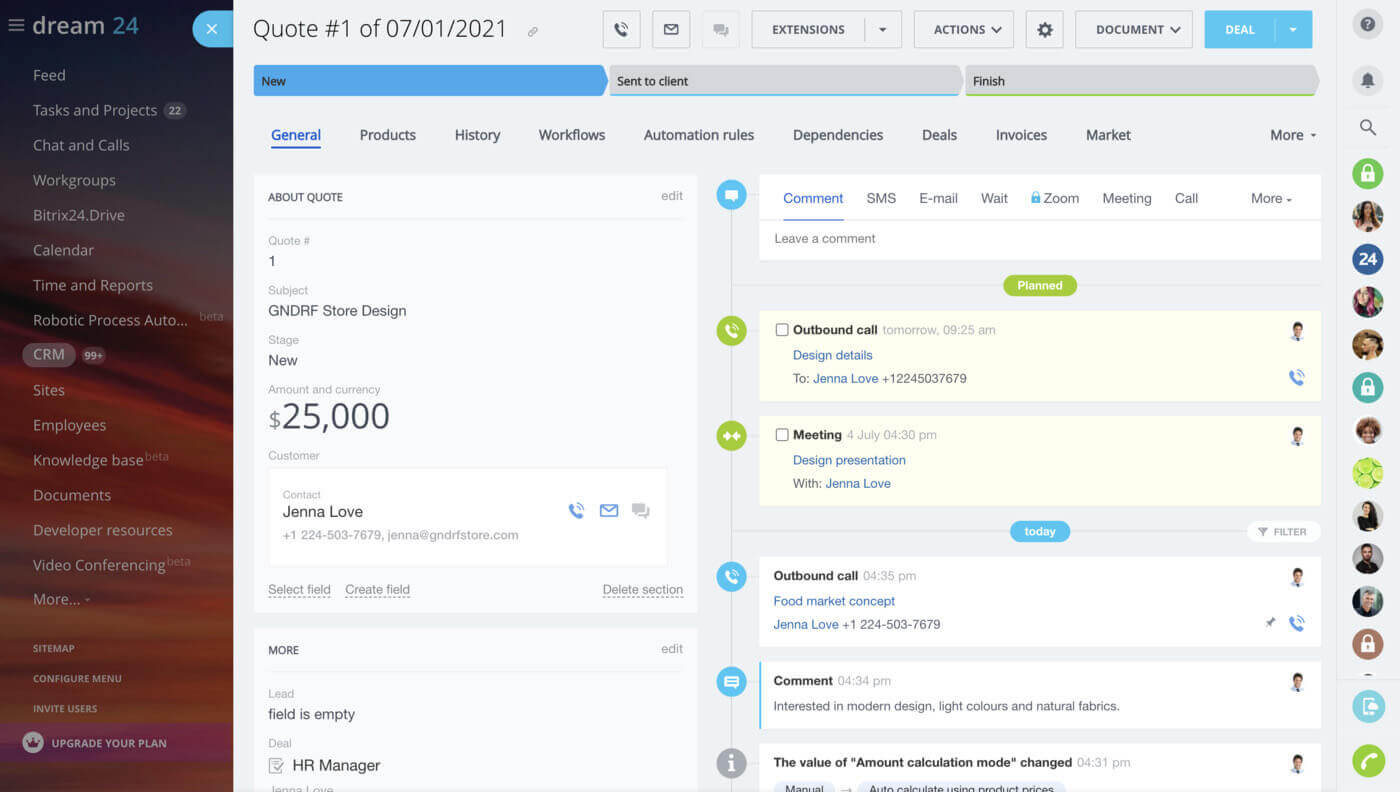 Craft custom invoices for customers that are fully branded, accurately calculate taxes, and offer discounts.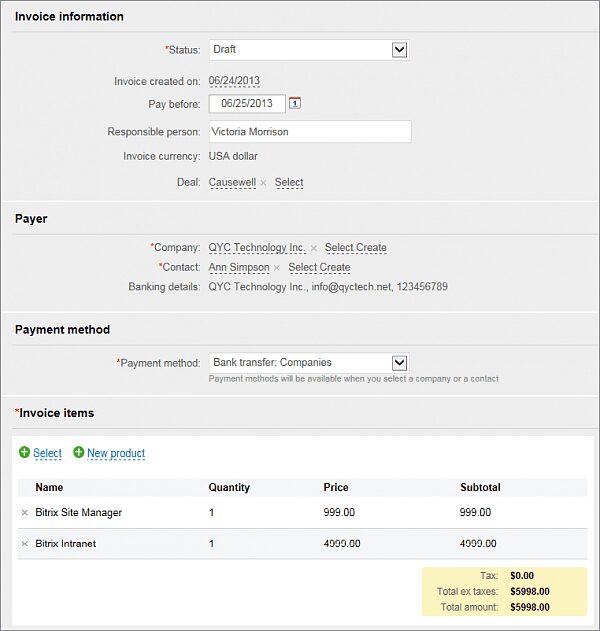 Bitrix24 for Customer Support Call Centers
The Bitrix24 call center solution provides a comprehensive set of features to help businesses manage their customer support ops. It includes a powerful workforce management system, an integrated softphone for making and receiving calls, and conversation recording for extended record keeping.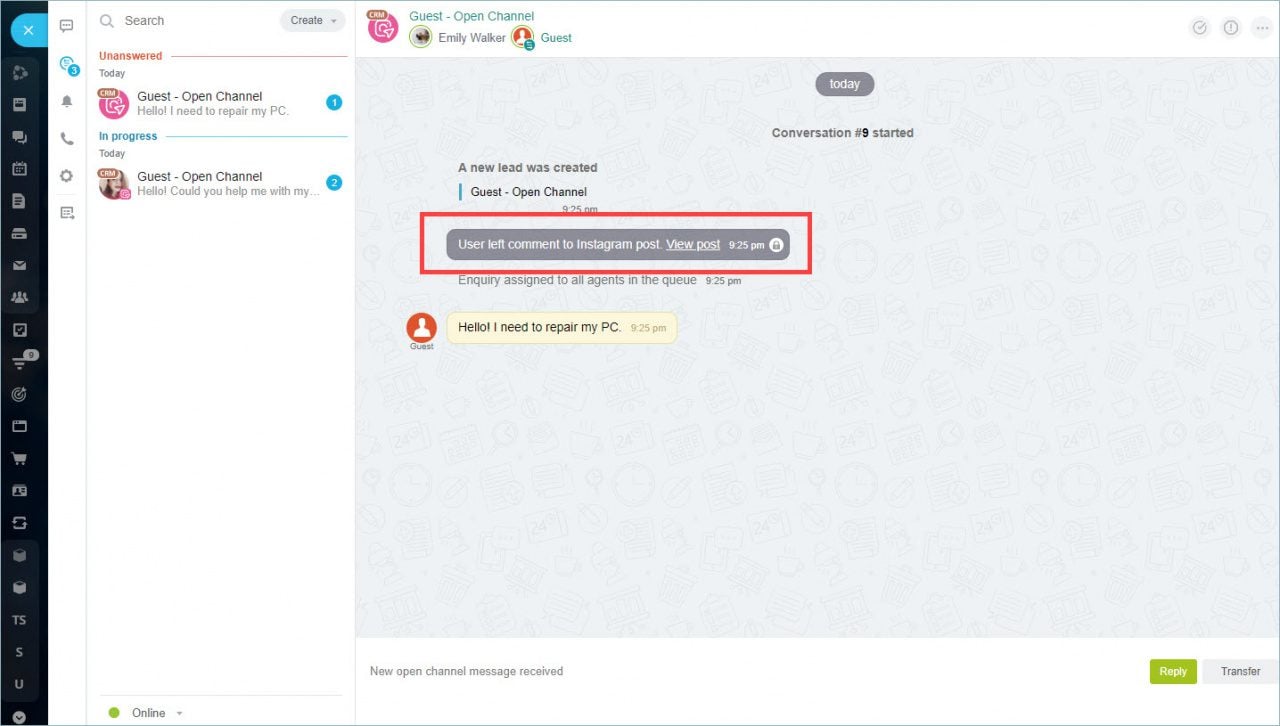 Call center technology is fully integrated with website live chat functionality that you can add to your website. Along with that, connect social accounts like Instagram and Whatsapp to serve customers where they are ready and willing. Bitrix24 offers an omnichannel support experience that scales into marketing opportunities with CRM and Email Marketing capabilities built in.
How to Integrate Bitrix24 CRM Forms with WordPress
If you're a WordPress user, you might be wondering how to integrate your site with Bitrix24 CRM. There are a couple of ways to do this using forms to collect and update customer/lead information. And you can also make deeper connections if you use WooCommerce or a WordPress plugin that supports Zapier integrations.
In the rest of this article, we'll run through how to complete each of these integrations and why each may be helpful.
Note: Fully integrating any CRM with a website (and the operations of your business) is a tall order. There is no one-size-fits-all approach as each CRM configuration and website configuration is different. Your business needs will demand different levels of integration and software solutions. The following are basic solutions for you to explore.
Using Bitrix24 CRM Embeddable Forms
Bitrix24 comes with a feature full web form creator. Web forms are the engine of a growing and flowing CRM. New leads, updated contacts, and new business can all start out as a simple web form fill.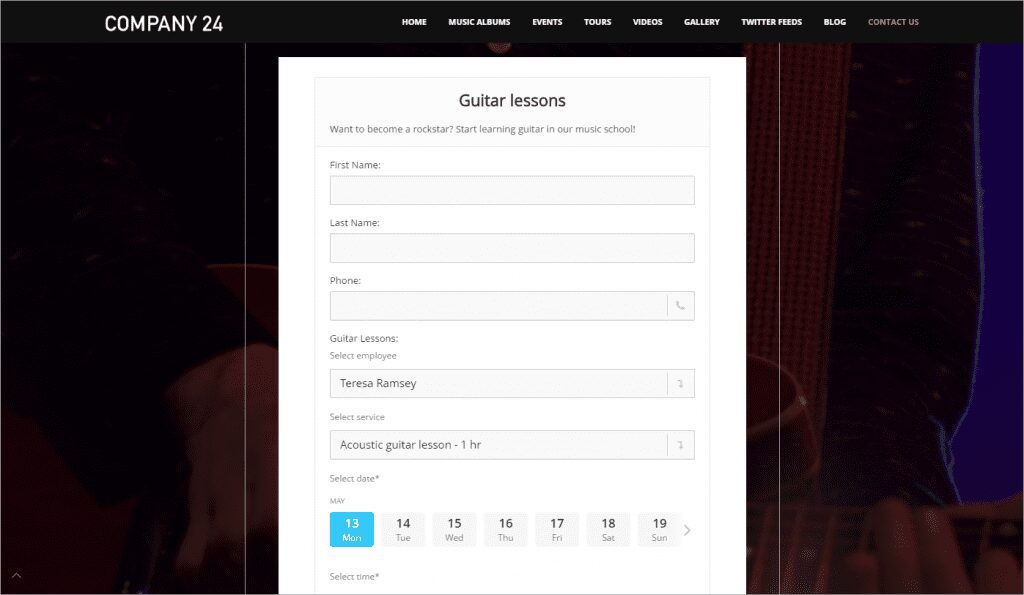 The web form creator allows you to create forms with custom fields that populate vital information necessary for your sales, support, and marketing teams. Collecting accurate and timely information on customers and prospects is imperative to increase business and customer satisfaction. These forms are built into the Bitrix24 CRM and are embeddable on your website or landing pages.
To create an embeddable form in Bitrix 24, navigate to the "CRM" pane of the online platform. Then visit the "Add ons" tab and select "CRM Forms".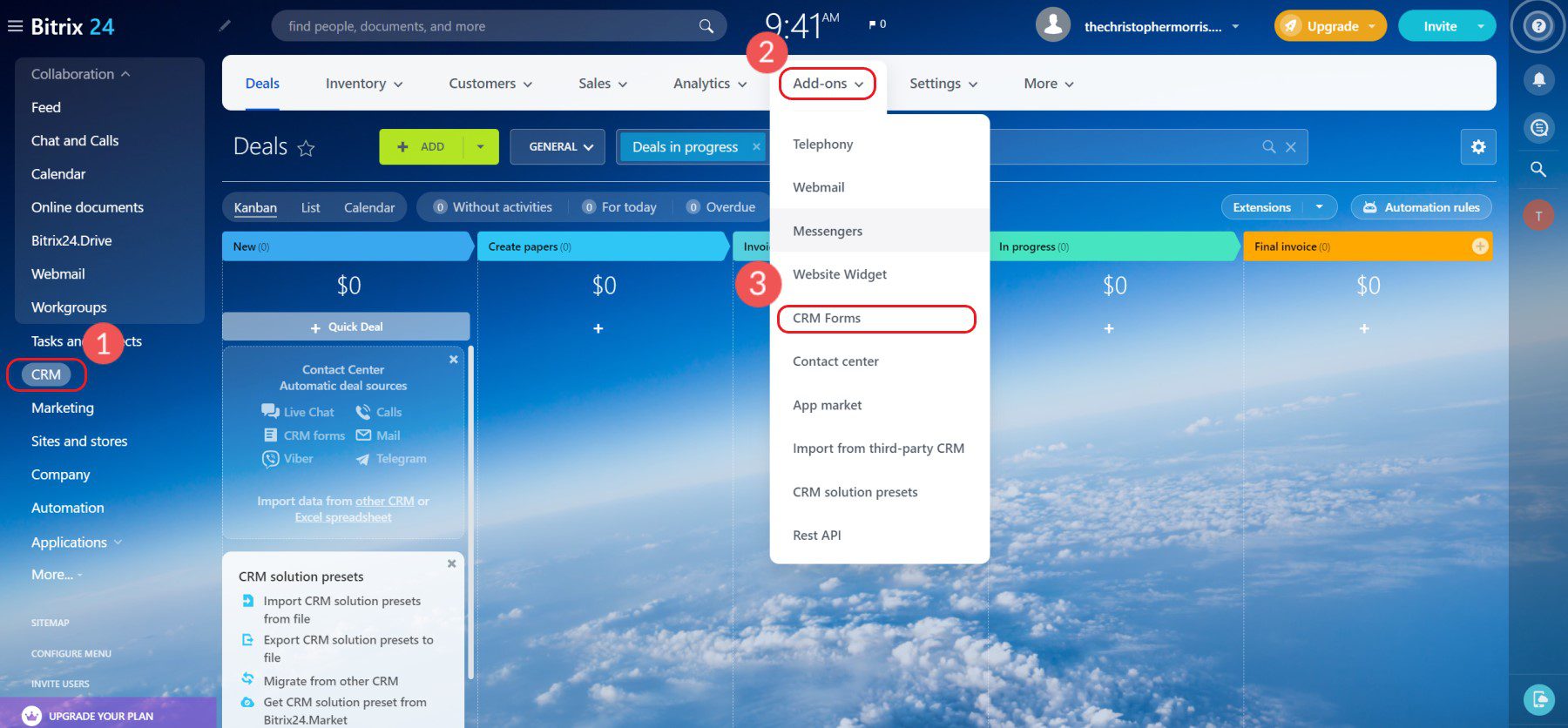 Once there, you will have two options you can use. The first option allows you to use (and customize) premade contact forms that have basic settings that work well for most businesses.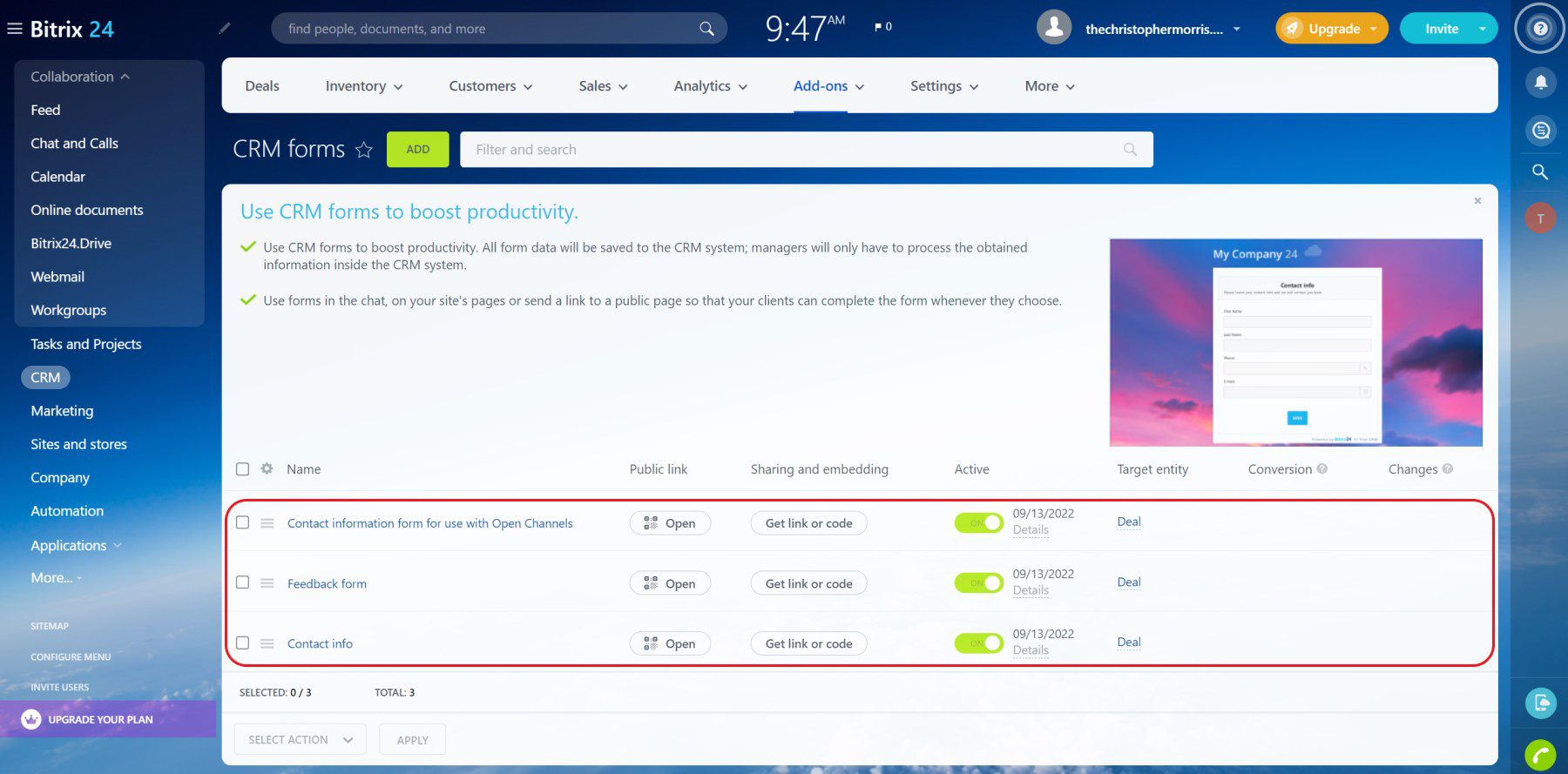 In addition to using premade forms, the second option allows you to create a new form from scratch. To do so, click the "Add" button near the top.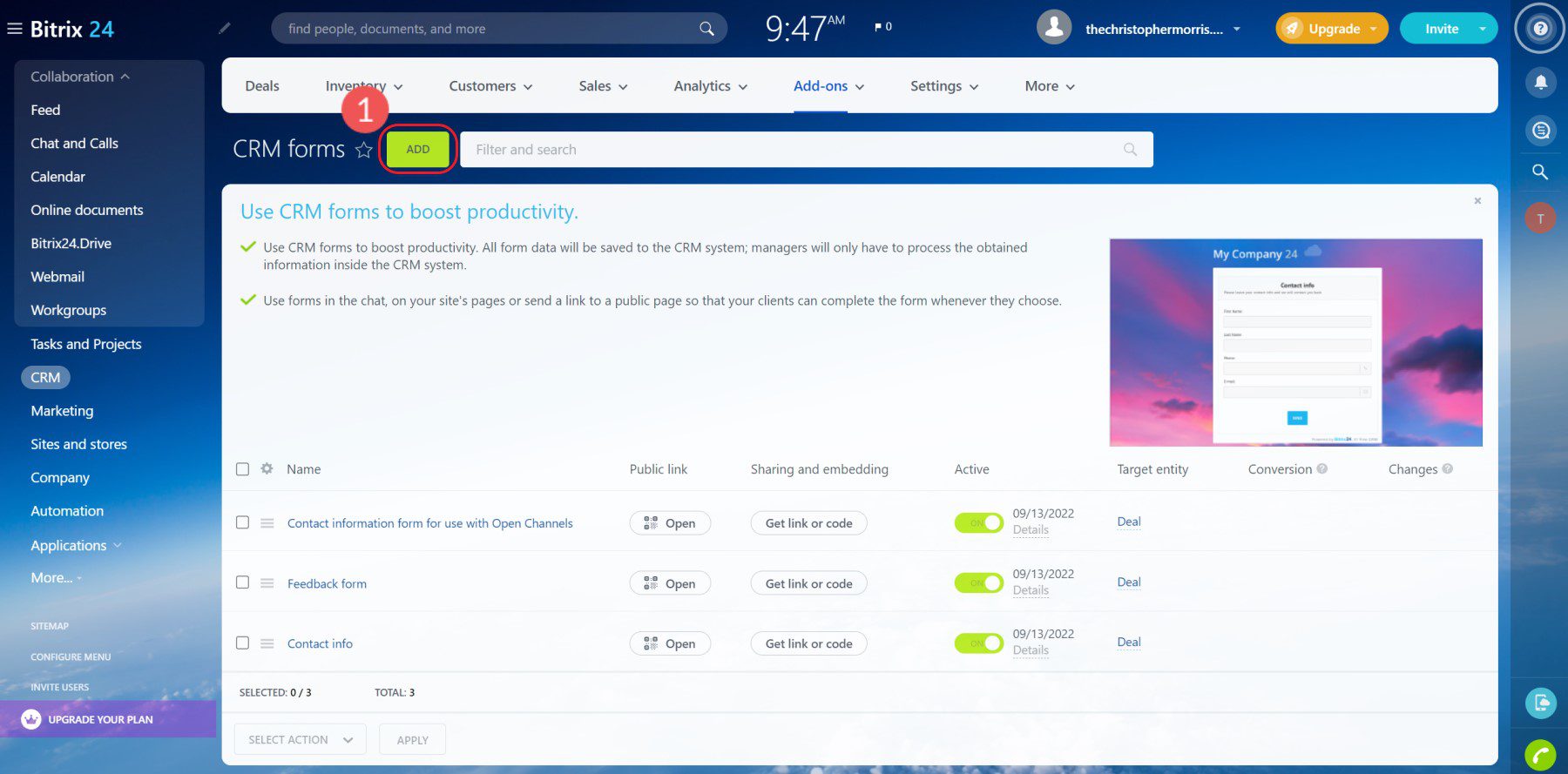 There are multiple options that you can use to create a custom-tailored form. These options changes both how the form operates and how it can be designed to match your brand.
Once your form is fully configured, click "Save". Then, in the top right, click "Form Features" then "Share".

This will open up a window with all of Bitrix24's Form sharing options. For a simple embed code, select the "Webpage" sharing option. You'll see a drop-down section to view the form's code.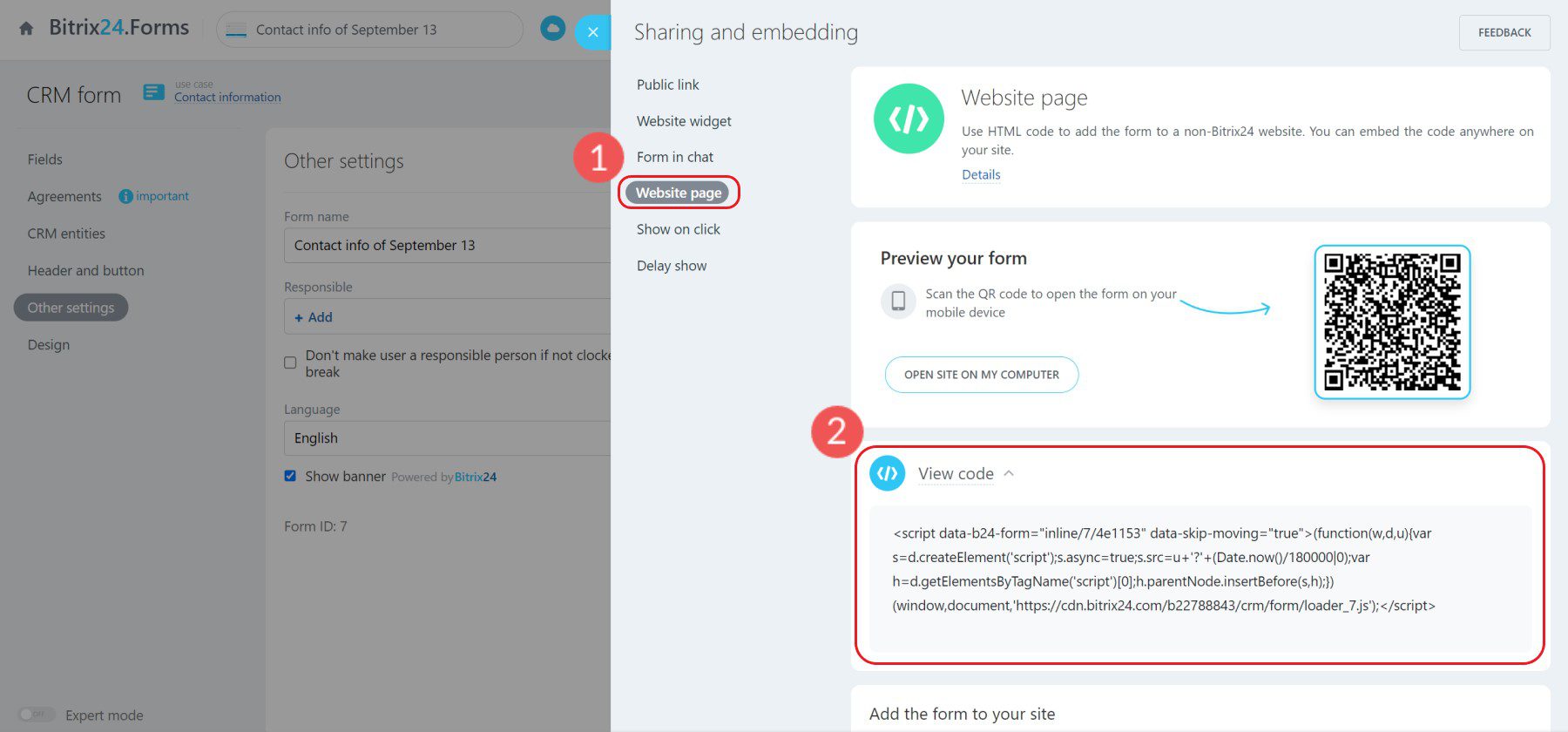 Copy this code and paste it into a Custom Code block or Divi's Code Module on your WordPress website.
Using Contact Form 7 Plugin to Capture Leads for Bitrix CRM
Flamix has created a premium WordPress plugin for connecting Contact Form 7 forms with Bitrix24. If you are a power user of CF7 and are comfortable with the subscription pricing of the Flamix solution, this might just be for you.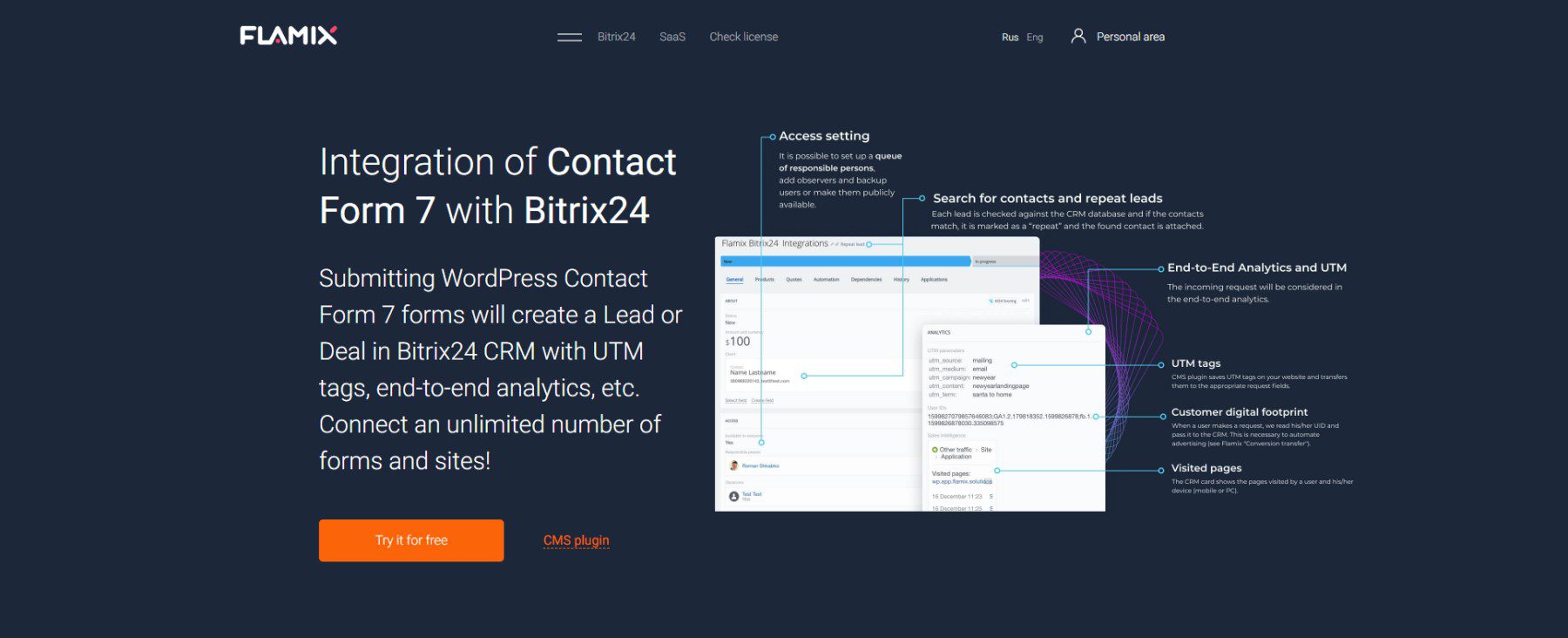 This Bitrix24 Contact Form 7 premium plugin integration is a great way to get more from your contact forms. With custom fields, duplicate control, and UTM catching, you can make sure that your forms are as effective as possible. Use a form builder that you are comfortable using while still channeling lucrative customer data into your CRM.
For full installation steps (both on WordPress and in Bitrix24) see Flamix's installation documentation.
You many also like our guides on how to customize your CF7 Form to match your site and how to connect Contact Form 7 with Zoho CRM.
Other Ways to Integrate Bitrix24 with WordPress
Non-form integrations are also vital for business websites. They can collect user interactions and gather that information to populate your CRM with accurate and actionable information. Here are few integrations to consider.
WooCommerce
If you're running a WooCommerce store on WordPress, then you know how important it is to have a CRM system in place to manage your customer relationships. But what if you could integrate your WooCommerce store with a CRM system like Bitrix24? With the premium WooCommerce plugin by Flamix for Bitrix24, you can do just that.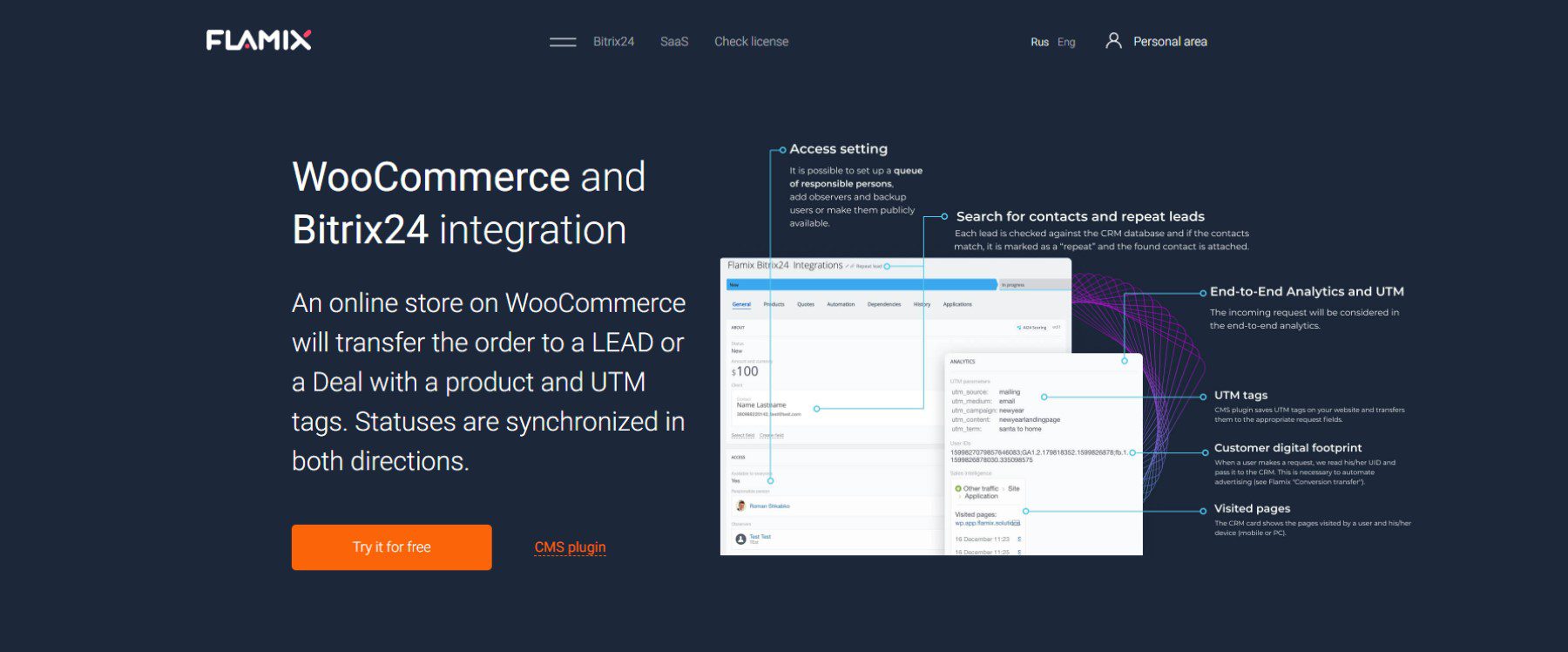 Note that this premium plugin has low installs and reviews so do what research you can before using it.
For full instructions for Flamix's WooCommerce and Bitrix24 plugin, see the installation documentation and help video.
Zapier
If you're using Bitrix24 for your CRM needs, you can now integrate it with WordPress using Zapier. Zapier uses WordPress triggers to perform actions within Bitrix24, making it easy to keep your data synchronized between the two platforms. This integration is especially useful if you use WordPress for your website and want to keep your customer data centralized in Bitrix24.

To see what's possible with Zapier automations, visit the Bitrix24 and WordPress landing page.
In order to set up the automation, allow Zapier access to both your Bitrix24 account and your WordPress installation. Then pick the combination of triggers/actions that are helpful for your CRM workflow in Bitrix24. Zapier gives you a lot of customization options. You may need a paid plan to achieve the level of automation that you are hoping for but a simple, lone automation may be doable on their free plan. Find out more if we piqued your interest in what's possible with Zapier and WordPress.
Conclusion
In conclusion, Bitrix24 CRM is a great tool for WordPress users. The software is easy to use and has a wide range of features. And, when combined with your WordPress site, it can help you manage your customers, sales, and marketing. If you are looking for a CRM for your WordPress site, Bitrix24 should be at the top of your list.
Have you tried to integrate a CRM like Bitrix24 with WordPress? Let us know you experience in the comments below!
The post How to Use Bitrix24 CRM with WordPress appeared first on Elegant Themes Blog.