One of the most popular kinds of blogs to start using WordPress is a sports blog. Whether it's a fan blog, a fantasy league website, or a news and commentary site, WP is a fantastic platform. Now, there are a ton of WordPress sports plugins out there, too, which can help you focus your site and its content to exactly what your audience looks for in your niche. We want to take a look at some of the stellar ones that can really up your game.
1. Football Pool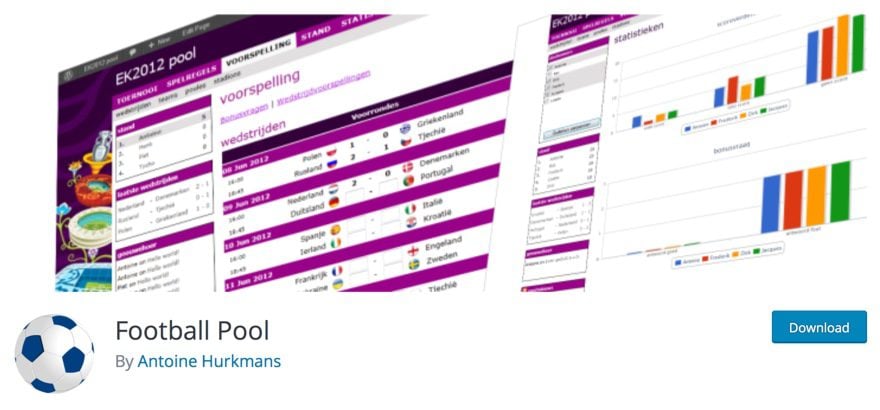 Some fantasy sports fanatics want to see stats and how their players are doing and that's it. And others, want to run their own leagues and be in charge of the whole kit and caboodle. This plugin will let you do pretty much everything you want to control. Add players and tournaments, calculate match outcomes, insert venues, and so much more. Shortcodes control most of the rendering, so your tournaments can match your styles perfectly. You can even plot out the player scores on charts. So get ready for the trash talk…and be able to back it up.
2. SportsPress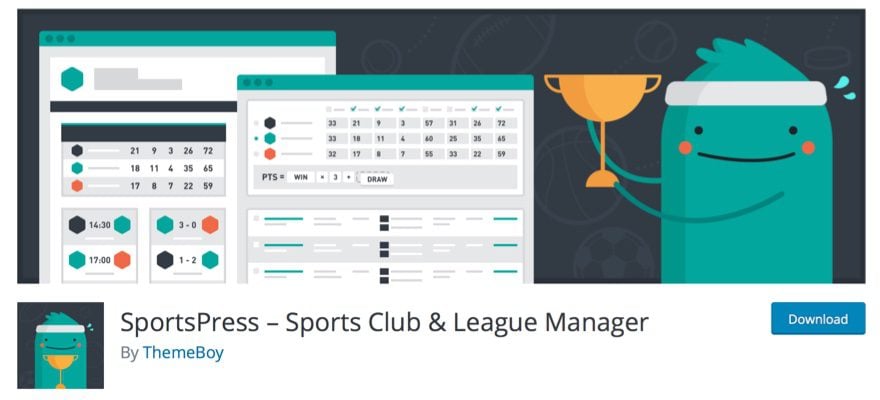 Another option, if you want to run a whole fantasy league is SportsPress. You get individual profiles for everyone including staff, statistics across the board, iCal integration, and  club vs club or player vs player modes. The plugin saves archives for later use and lets you track information from season to season. With premade templates for different sports, SportsPress pretty much covers the range of what almost everyone needs. It's highly reviewed, and does exactly what it says it will do. And if you're coming from another manager or platform, you can take your exported data and import it into SportsPress via CSV.
3. Team Rosters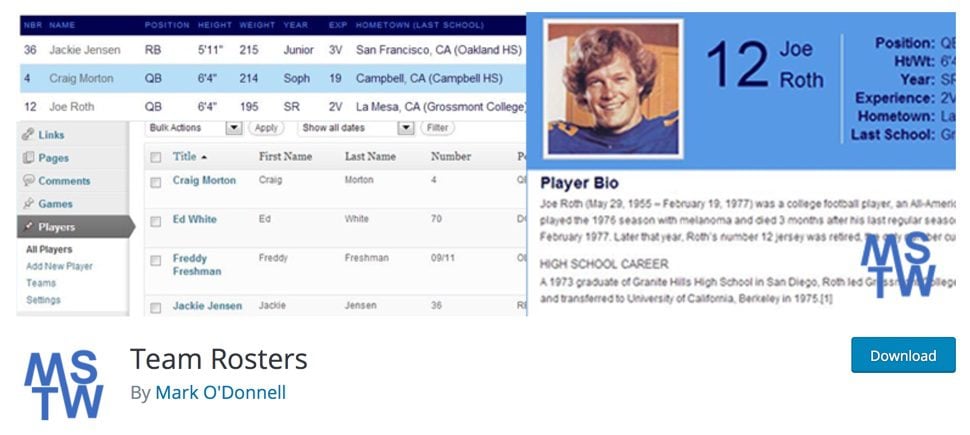 Not everyone who needs WordPress sports plugins wants to run a fantasy league. Or even be involved in fantasy sports at all. Many folks play real-life sports and manage real-life teams. Whether it's high school, little leagues, or even the majors and minors and collegiate or professional teams, those teams need a web presence, too. Which is why you need Team Rosters. Everyone wants to have their time to shine, and this is it. You can give individual player bios, player statistics, team information, and basically anything else that your team would want the world to see. Using Team Rosters is a fantastic way to promote your team or club, too. Using this plugin alone, you can run and entire team website, no matter the level.
4. Football Formation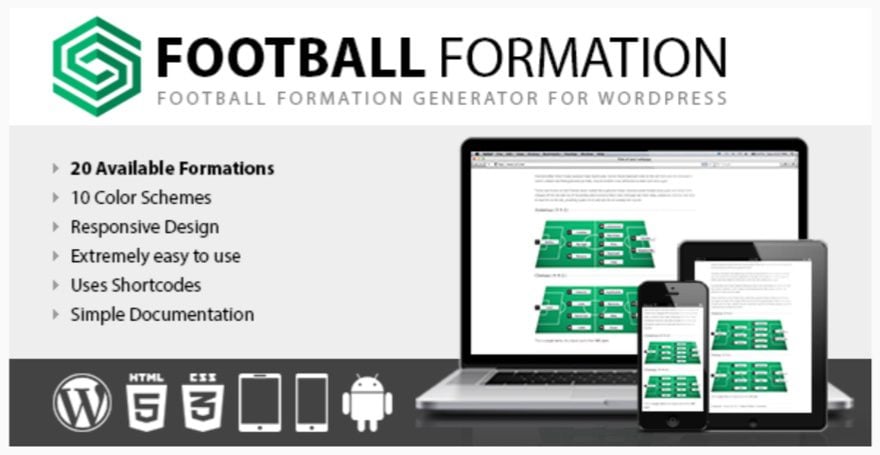 A big part — maybe the big part — of sports is the strategy. You need to analyze the other teams and your own. Your players need to visualize the formations and where they need to be on the field. They need to see what they did right and how to replicated it. They need to see how the other teams did something right and how to replicate it. And they need to see where everyone did something wrong and make sure they never, ever replicate it. And this is one of the WordPress sports plugins where you can absolutely make your team's game better. The only real downside is that it is a premium plugin. But it's only $17, so your team can all pitch in a buck, and it will be taken care of.
Price: $17 | More Information
5. JoomSport

Rounding out the list of WordPress sports plugins is a premium entry called JoomSport. The plugin isn't a one-off purchase like many are — there are subscription plans that you can choose from to suit your needs. The services starts at $10 per month, but it does a lot. You can do player bios, photos, tournament brackets, schedules, stats, and honestly about everything the above options offer individually are packed into a single package. It's almost like it's own sports platform rather than a plugin. While this one can be used for fantasy sports, it's designed for league management and running tournaments in the most efficient and beautiful way possible. While it is named after Joomla and their original product, the WordPress plugin is what you care about. The price is affordable, and if you're running this for a real-life league and not fantasy, the plans would fit into most budgets.
Price: $10-$60/mo. (depending on plan) | More information
Final Score?
As you can see, just like the sports world itself, the WordPress sports plugin ecosystem is pretty diverse. From fantasy football to analyzing the statistics and formations of your own players, you can do it with WP. Whether you just need a simple website to focus on your players and their personalities, or you want a tactical display where you can defeat your competition, one of these WordPress sports plugins is for you.
The premium choices may have more options and features, but there are plenty of free plugins out there that work incredibly well and give you enough customization that your budget doesn't have to limit your sports projects. No matter what you choose, you will absolutely find what you need in one of these plugins.
What kind of sports site do you run that these plugins could help with?
Article featured image by Vikpit / shutterstock.com
The post 5 Best WordPress Sports Plugins appeared first on Elegant Themes Blog.