Whether you run a travel blog, a business directory site, or want to build an online store, interactive maps can make it easier for users to find particular locations. These visual tools can also make your contact page and other content more engaging and interesting. Therefore, you may be looking for the best interactive map plugin for WordPress.
In this post, we'll take a closer look at interactive map plugins and how they work. Then, we'll review some of the best options on the market. Let's get started!
What Are Interactive Map Plugins?
An interactive map is a visual element on your site that can highlight particular locations. For example, if you write a hiking guide on your blog, you can include a map of the trail.
Likewise, if you manage a city-wide directory, you can use maps to mark must-see attractions. Some location-based directory plugins could be helpful for building out an entire website like that.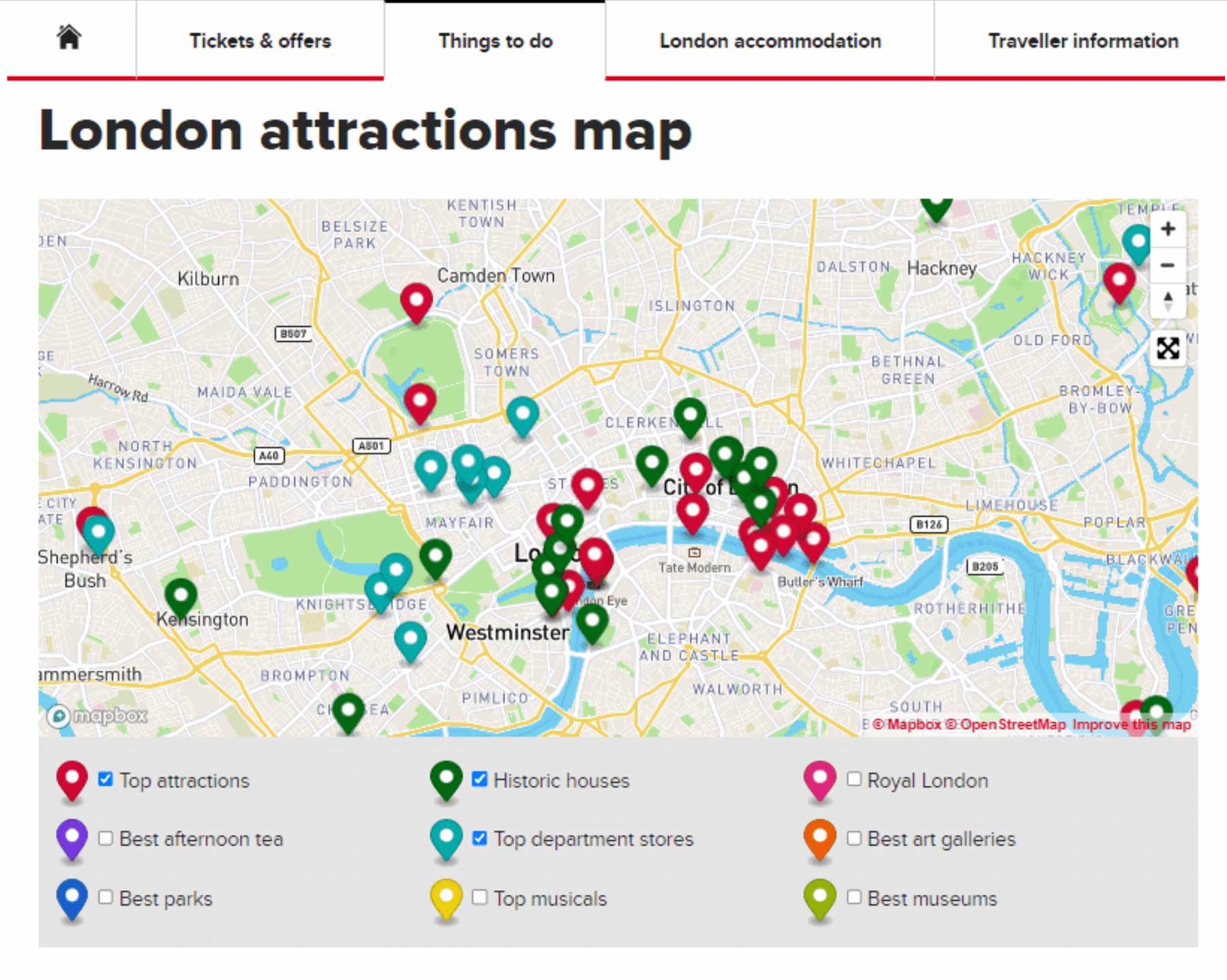 If you have a WordPress site or WooCommerce store, you can use a plugin to display interactive maps on your pages. Depending on the tool you choose, you should be able to integrate your site with Google Maps. (If not, you can check out these top Google Maps Plugins .) Also, most will allow you to create custom maps with your own markers and offer different views of your locations.
Using an interactive map plugin can provide more value to your visitors. It enables readers to locate places and plan their trips more efficiently. Additionally, if your online business has multiple physical store locations, a user-friendly map will make it easier for customers to find and visit your outlets.
6 Best Interactive Map Plugins for WordPress
Now, let's look at some of the best interactive map plugins for WordPress. We based our selections on several criteria, including features, ease of use, and customization options.
1. Interactive Geo Maps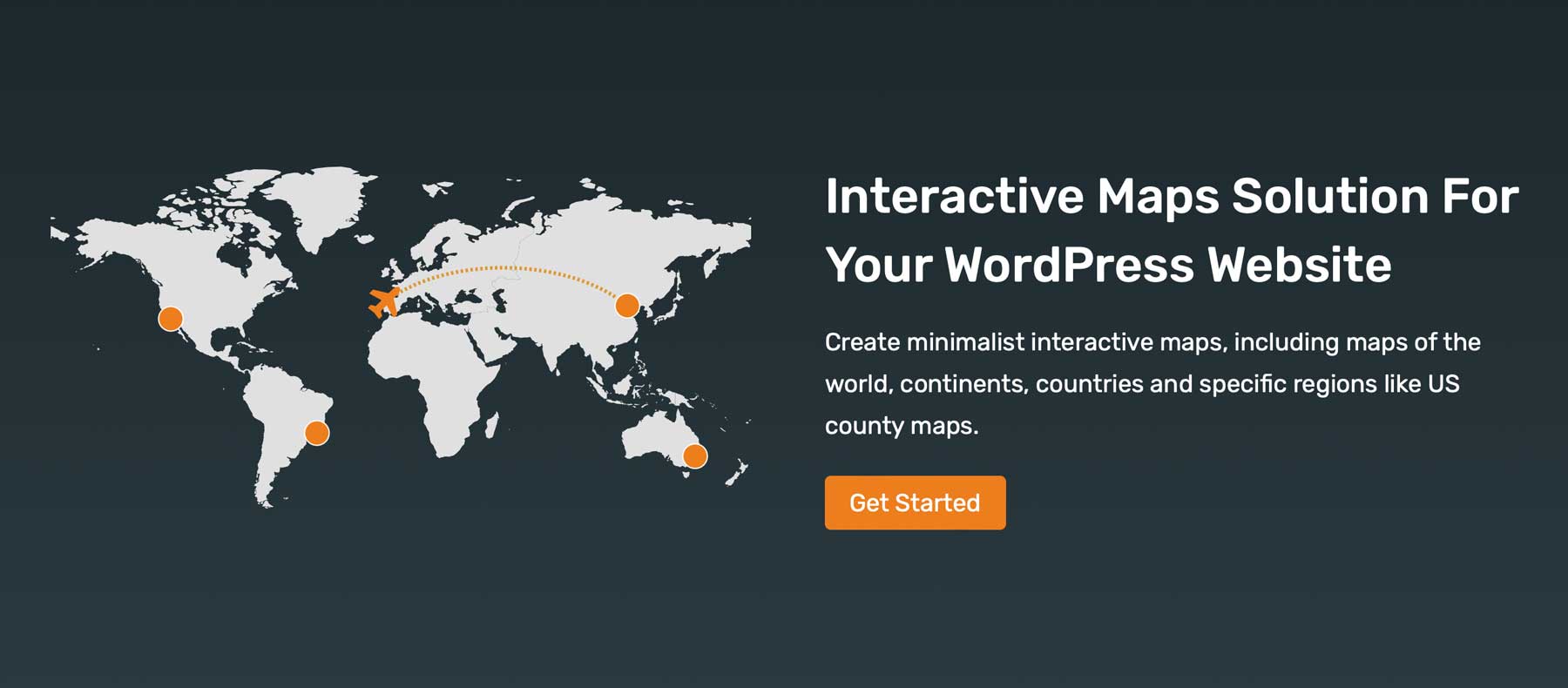 As the name suggests, Interactive Geo Maps enables you to create interactive maps of continents and the world. You can also display country maps and highlight different regions.
Key Features for Interactive Geo Maps:
Add colored markers to your maps.
Choose from different map projections, including Mercator and Miller.
Exclude specific regions from the map.
Set click actions and hover color change settings.

This plugin comes with a user-friendly interface. You can start by selecting the region you wish to display, then customize the appearance of your map from the visual settings. You can also add round colored markers to pinpoint specific locations.
Interactive Geo Maps is for you if…
You have a travel website and want to display interactive maps of different countries.
You run an international business and want to show the countries you operate in.
Interactive Geo Maps Pricing: Free, with a premium version that starts at $2.49 per month.
2. Maps Marker Pro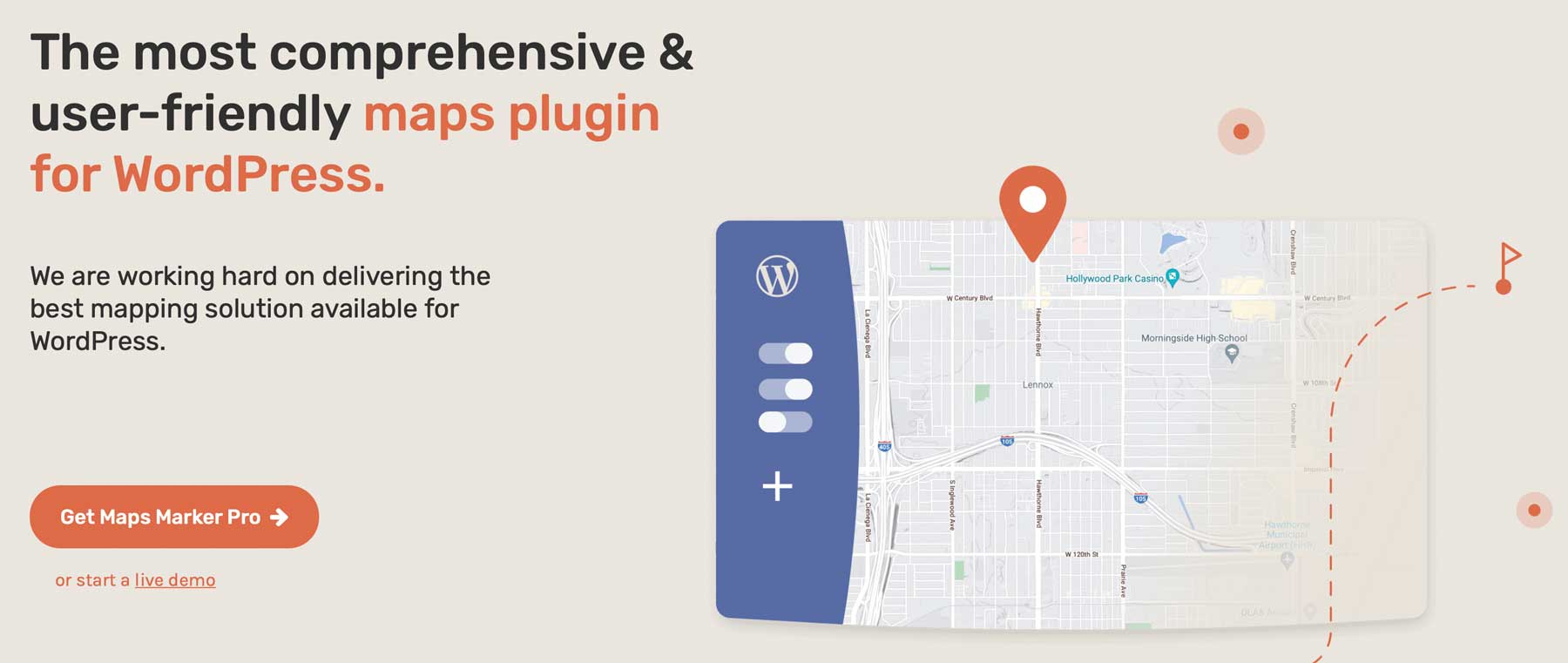 Moving on to the next plugin, Maps Marker Pro is a premium option that offers a wide range of features. It allows you to create multilingual maps easily by integrating with translation plugins like Polylang and WPML . Moreover, the plugin enables you to enhance the interactivity of your maps with polyline shapes such as polygons, circles, and rectangles.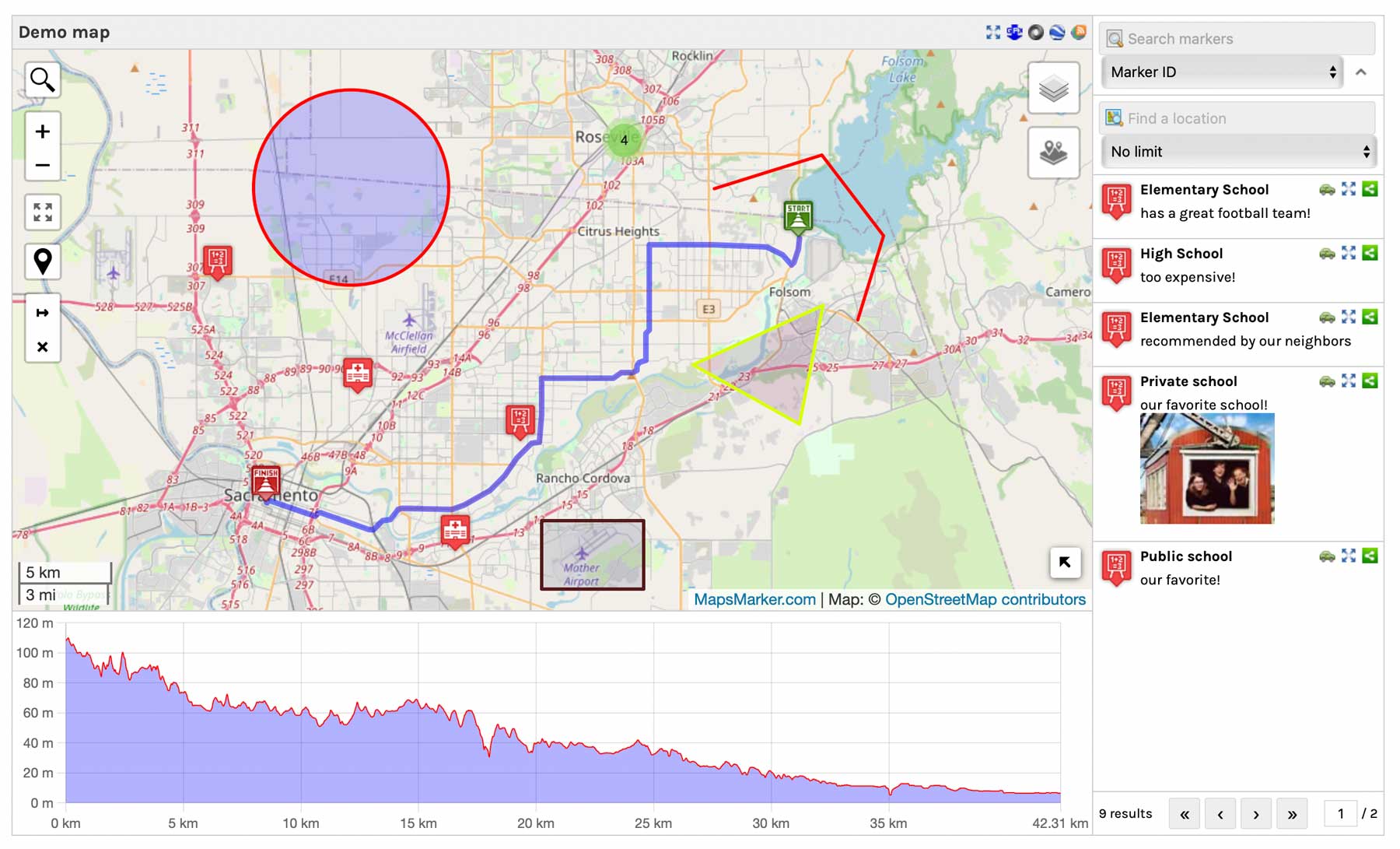 Furthermore, Maps Marker Pro includes GPX tracks functionality, which allows you to showcase routes complete with optional metadata like distance, duration, pace, or elevation. Additionally, you can create customized filters to let visitors view precisely what they want on the map, and use the cluster marker feature to save valuable space. To top it off, the plugin supports geolocation, letting you display a user's current location and movements on the map in real time.
Key Features for Maps Marker Pro
Ability to create multiple custom maps
GPX tracks with optional metadata
Polyline support
User-filtered search capability
Marker clustering
Multilingual support
Geolocation
Maps Marker Pro is for you if…
…you need an interactive map solution with multilingual support, filtering, and geolocation capabilities.
Maps Marker Pro Pricing: €49 one-time fee.
3. Mapify Pro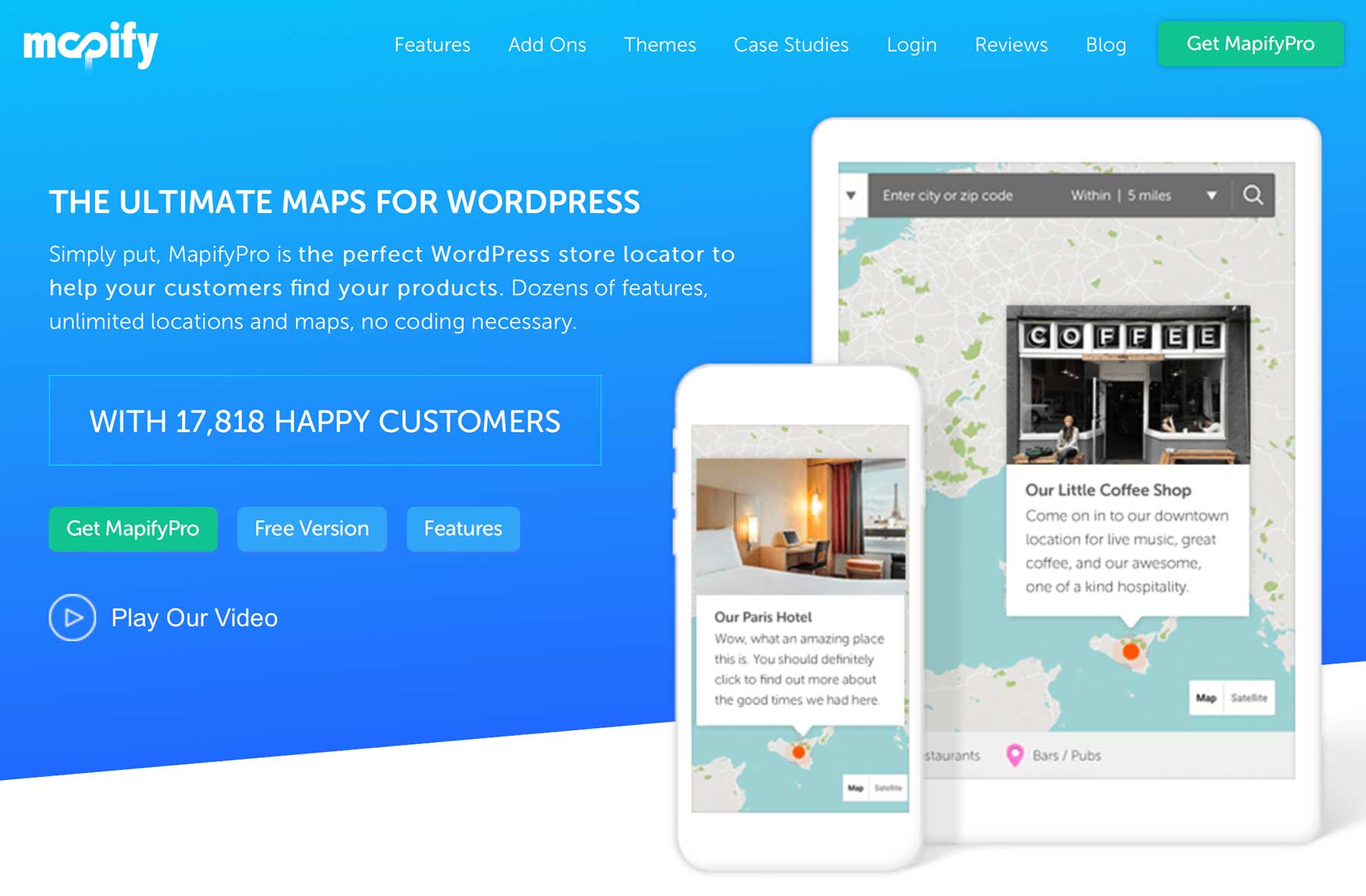 Next on the list is Mapify Pro , which comes in both lite and pro versions. The lite version allows you to add up to 10 locations and use it freely across unlimited websites. It also enables you to customize your maps with your preferred image, and users can easily pan and zoom the maps. Additionally, the lite version offers click tooltips that show embedded videos, images, and text, among other interactive features.
If you opt for the pro version, you'll be blown away with all the features at your disposal. One of the standout features of Mapify Pro is the ability to add an unlimited number of locations to your maps. It also includes customizable markers, allowing you to create markers that are unique and match your brand or website design. You can choose from over 50 marker icons or upload your own custom marker icon, making it easy for users to differentiate between different types of locations on the map.
Additionally, it integrates with popular services like WooCommerce and Advanced Custom Fields, giving you more options for displaying data on your maps. Plus, Mapify Pro allows you to create advanced tooltip content, including images, videos, and HTML, to provide users with more detailed information about a particular location.
The interactive map legend is another standout feature of Mapify Pro that enhances the user experience. The map legend provides a key to the different markers and locations on the map, allowing users to easily identify and differentiate between them. With Mapify Pro, you can create an interactive map legend that is fully customizable and responsive, making it easy for users to access from any device.

Key Features for Mapify Pro:
Customizable markers
Advanced filtering
Highly customizable map styles
Integrations with WooCommerce, ACF, and more
Interactive map legend
Mapify Pro is for you if…
…you want the ability to feature any type of content in your interactive maps, as well as animated icons, tooltips, and WooCommerce integration.
Mapify Pro Pricing: Free, with a pro version for $19 per month.
4. WP Store Locator

WP Store Locator is an easy-to-use interactive map plugin that enables you to display an unlimited number of stores. Your visitors can filter the results by radius and view directions to your outlets.
Key Features for WP Store Locator:
Provide additional information about each store, including email addresses and opening hours.
Show driving directions and distances to each store.
Display your maps in different languages.
Keep track of the most popular locations that users search for.

Once you install the plugin on your site, you can start adding stores to your map. For each shop, you can specify its exact location and opening hours. Furthermore, you can provide additional information like contact details and the website.
WP Store Locator is for you if…
You want to make it easier for customers to find and travel to your physical stores.
WP Store Locator Pricing: Free, with add-ons starting at $19 per year.
5. RVM – Responsive Vector Maps

RVM – Responsive Vector Maps lets you create responsive vector maps for your WordPress site. It has several interactive features, including linkable markers and a mouseover tooltip effect.
Key Features for RVM:
Use images as icons for marker pinpoints.
Show and hide elements on the page.
Display label content when users click on countries and regions.
Export your map's settings, including the markers.

RVM lets you make a simple world map. Then, you can add a link, create a label popup, and change the background color for each country.
RVM is for you if…
You want to create a simple map for your site.
You have pages on different countries and want to be able to link to them from your map.
RVM Marker Pricing: Free
6. The Divi Map Module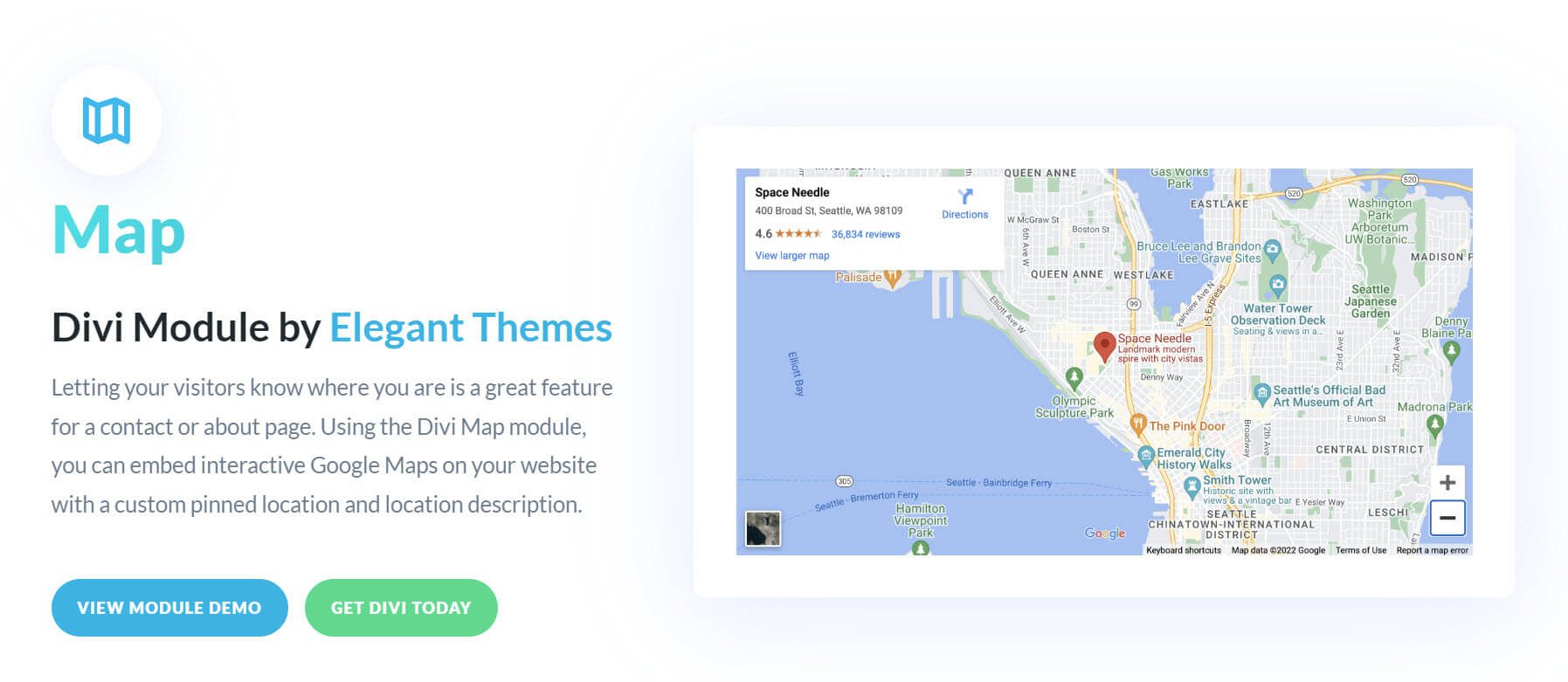 If you're a Divi user, you can add a custom interactive map to your site without the need for an extra plugin. Thanks to our Divi Map Module , you can easily embed an interactive map anywhere on your page with clickable pins, popups, and multiple locations.
Key Features for the Divi Map Module:
Add customizable pins with tooltips to the map.
Built-in design settings for customizing elements of the map.
Supports draggable zoom, additional animation effects, and more.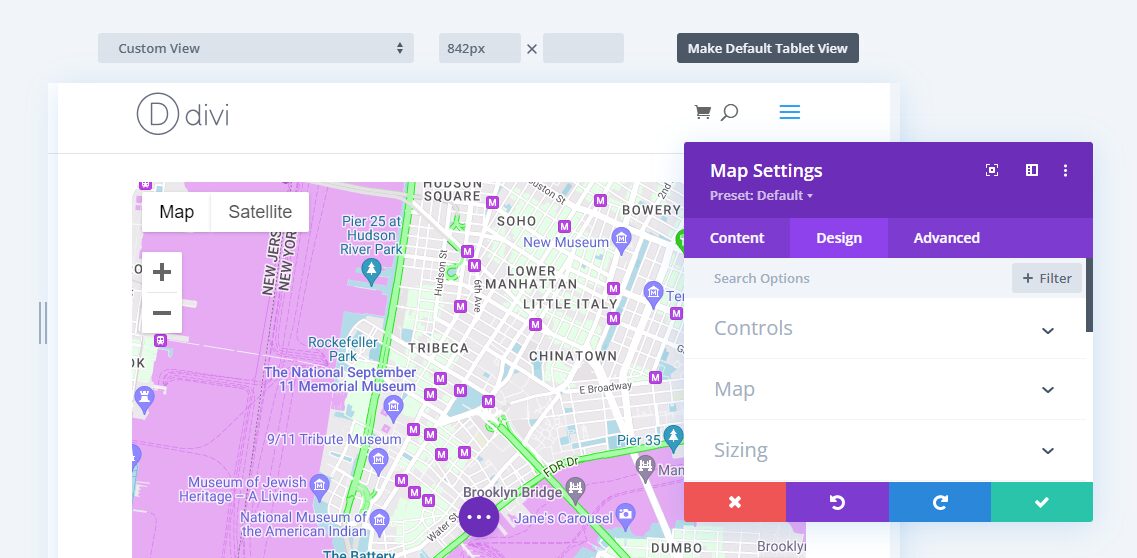 With our Divi Map Module, you can customize the design of your map elements with built-in options including color, map hue and saturation, and more.
The Divi Map Module is for you if…
You're a Divi user and want a built-in solution for designing interactive maps.
You don't want a bloated plugin.
Divi Pricing: $89 per year.
Final Thoughts on Interactive Map Plugins
Adding interactive maps to your site can make your content more engaging and interesting. These maps can highlight landmarks, stores, hiking trails, and more.
As for our top choices, each has interactive functionality. It all depends on what you want your maps to do. If you operate a multi-national business and want to showcase where your business operates, then Interactive Geo Maps is a solid choice. That being said, if you need a more robust solution with user-filtered searching capabilities, you'd be hard-pressed to find a better option than Maps Marker Pro .
Do you have any questions about choosing the best interactive map plugin for WordPress? Let us know in the comments section below!
The post 6 Best Interactive Map Plugins for WordPress in 2023 appeared first on Elegant Themes Blog .