Membership websites allow marketers, bloggers, and businesses to restrict content, create subscription-based membership levels, build forums, and even incorporate paywalls. In order to build a successful membership website, you'll need a good membership plugin. In this post, we'll explore some of the best WordPress membership plugins, both free and paid, so you can decide which one is right for you.
Let's get started.
What is a WordPress Membership Plugin?
A WordPress membership plugin restricts content to certain posts, pages, and other types of content. In addition to being able to password-protect or gate content, it utilizes user profiles and allows you to create new user roles to create membership tiers. They can be subscription-based, which can control the amount of content a user can access at the membership level.
There are many membership plugins with different features. They usually have member levels, directories, gated content, forums, courses, and a paywall system .
6 Best WordPress Membership Plugins
We have listed popular plugins with good features for any membership website. Out suggestions are all paid options that give you more value instead of free ones that have limited features. We will briefly describe each plugin and show its important features. The best plugin for you depends on what you need for your membership site.
1. MemberPress

MemberPress is one of the more popular membership plugins for WordPress. It serves not just as a membership plugin but also functions as a learning management system (LMS) This allows you to launch a comprehensive online academy without the extra cost for an LMS plugin.
Key Features for MemberPress:
Paywall & content dripping
Subscription billing
Course/quiz creator
Digital downloads
Seamless integration with Divi
MemberPress has built-in paywall functionality and allows you to create paid membership levels and accept payments via Stripe, PayPal, and others. The MemberPress Divi Add-On integration provides added benefits for Divi users by allowing them to restrict modules, rows, sections, or pages within Divi using the MemberPress tab in the Visual Builder.
Key Features for MemberPress:
Paywall & content dripping
Subscription billing
Course/quiz creator
Digital downloads
Seamless integration with Divi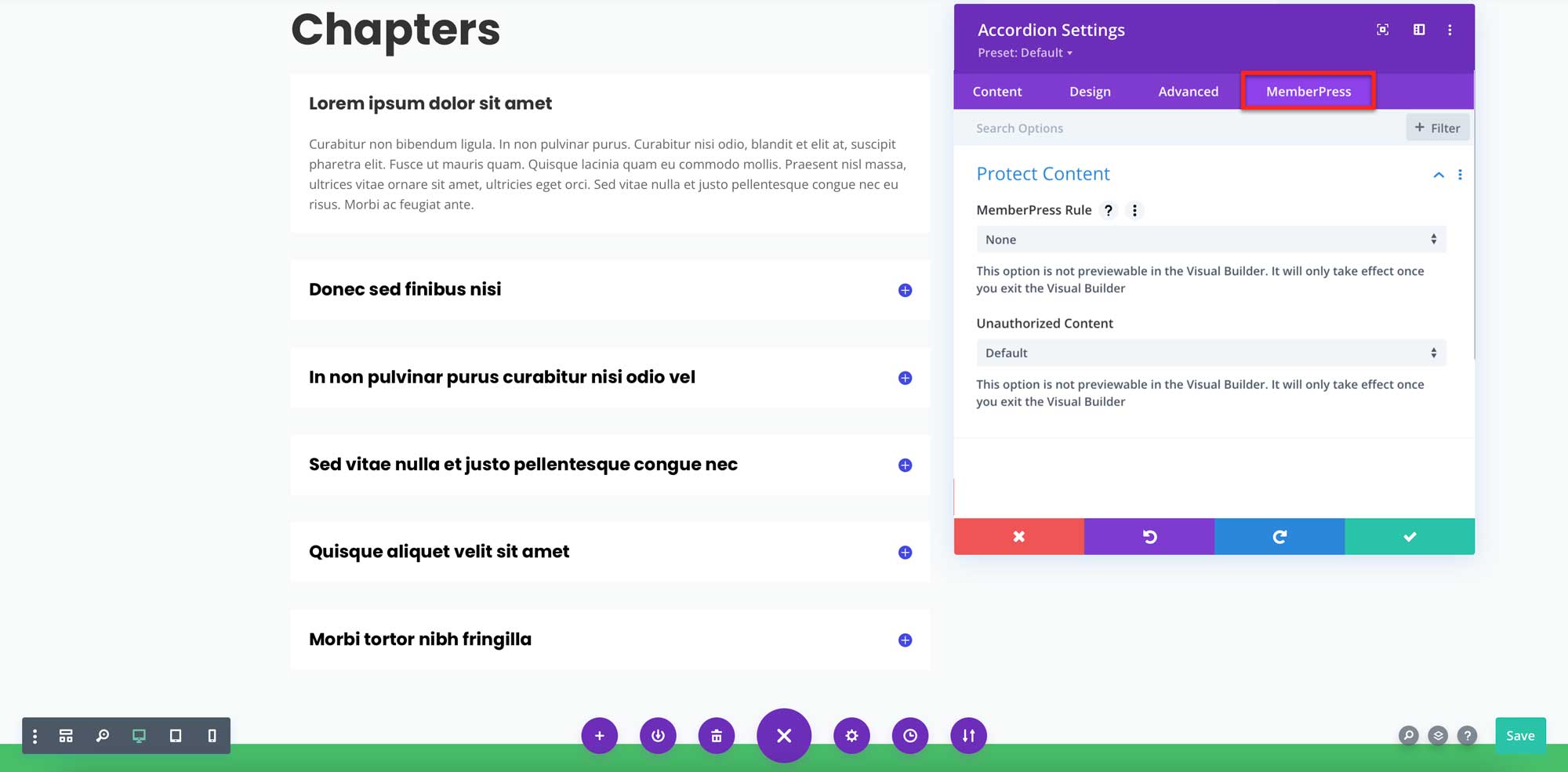 Plus, you can create multiple membership levels to suit your needs, set up community forums without the need for additional plugins, and harness the power of Zapier for even more integrations and functionalities. If you have custom post types on your site, you'll be pleased to learn that MemberPress supports Advanced Custom Fields and Toolset , which also integrate seamlessly with Divi.
With MemberPress, you also get the ReadyLaunch™ page maker to easily create pricing, login, and registration pages with your branding and images. Plus, you can discount courses or subscriptions with coupons, launch affiliate programs, and set up member email automation.
The lack of chat functionality is a drawback of MemberPress. However, incorporating chat software can enhance engagement with potential members who are considering your site. To address this, there are several good chat plugins that can easily integrate with your MemberPress site.
MemberPress is for your if…
You want to create online courses with ease.
You want responsive, no-code custom landing pages.
Need a highly customizable option compatible with Divi.
MemberPress Pricing: starting at $179.50/yr | Learn More About MemberPress
2. Paid Memberships Pro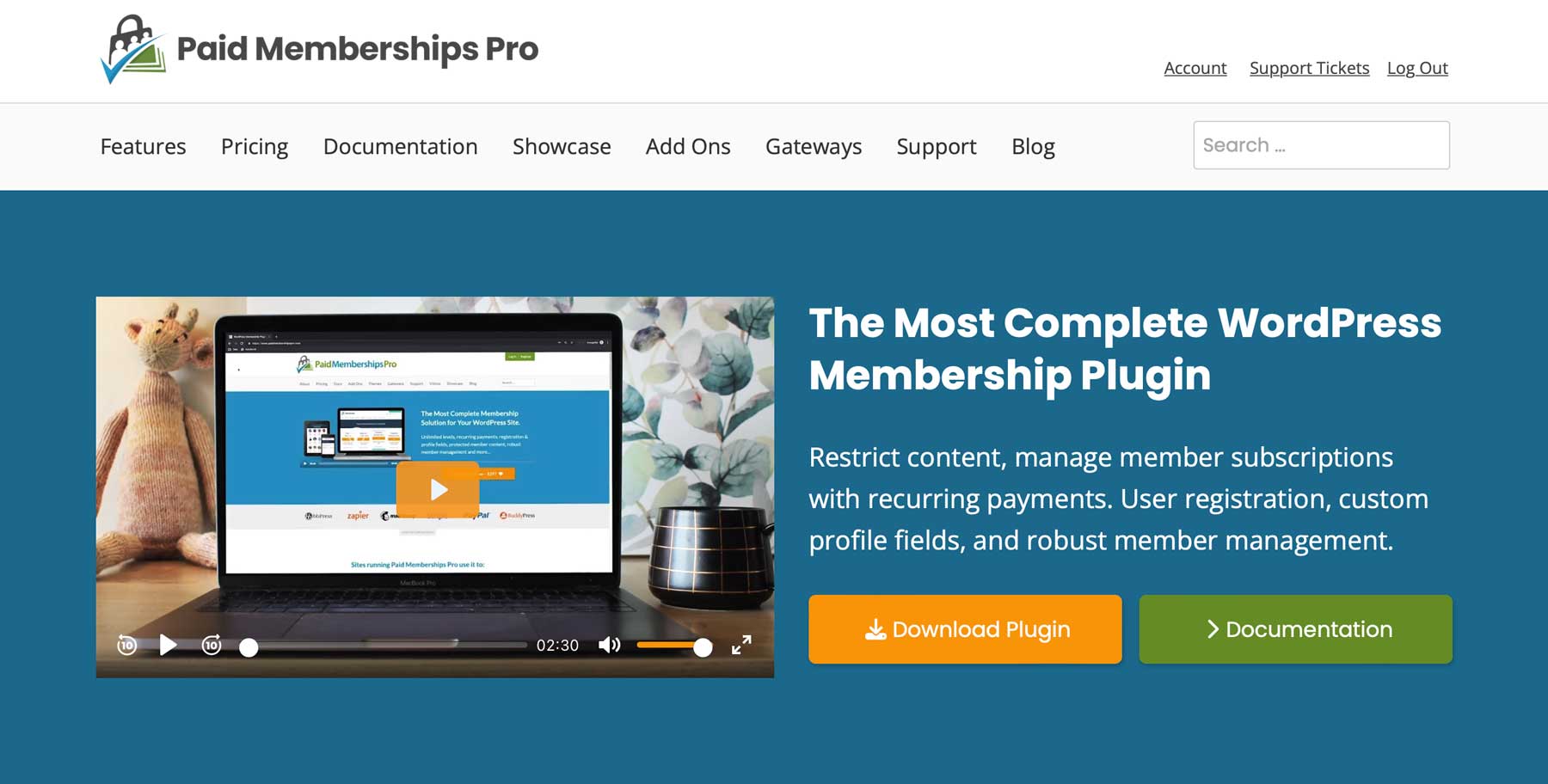 Paid Memberships Pro offers many of the same features as other membership plugins, but with a couple of unique capabilities. Firstly, it allows for content to be hidden based on post type, including posts, products, categories, or tags. Secondly, it provides a dedicated theme for those starting from scratch.
Key Features for Paid Memberships Pro:
Dedicated theme, or seamless integration with page builders such as Divi
Restrict custom post types
Dedicated theme
Content dripping
Custom member homepages
WordPress multi-site support
Divi users get seamless integration with Paid Memberships Pro . You'll have the ability to restrict content to pages, as well as sections of pages or posts. Restricting content can be easily done within Divi's Visual Builder.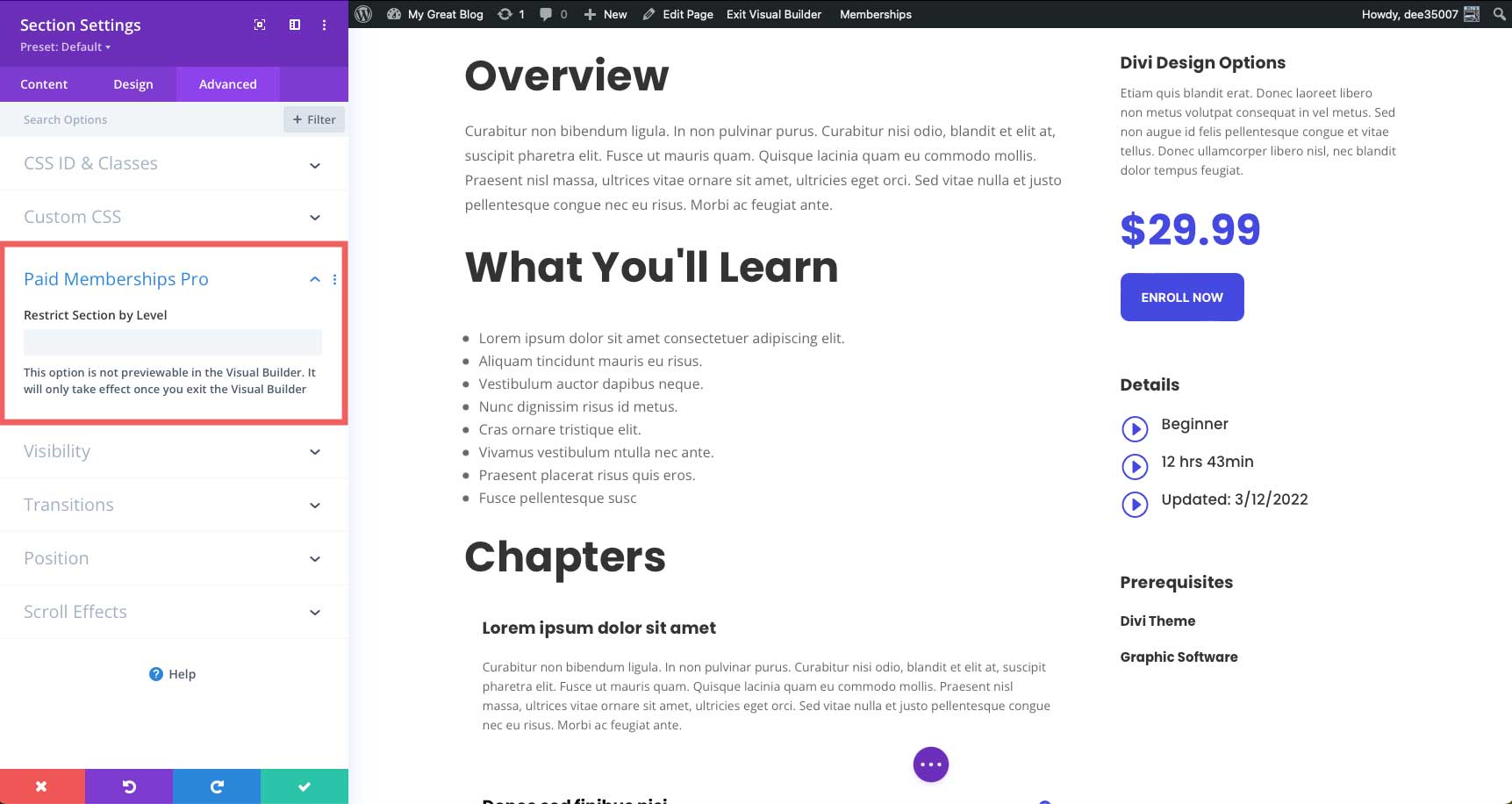 Paid Memberships Pro boasts several distinctive features, such as content dripping, which schedules the release of content based on a member's start date. It also provides a dedicated theme and allows for the creation of custom member pages based on membership level. Additionally, comprehensive documentation is available through the Paid Memberships Pro website.
Lastly, if you opt for the plus price tier, you have the ability to gate content and manage memberships over a network using WordPress multi-site installations.
Paid Memberships Pro is for your if…
You want a highly customizable membership site.
A free theme is a must.
You need premium-level documentation and support.
Paid Memberships Pro Pricing: Starting at $247/yr | Learn More About Paid Memberships Pro
3. Wishlist Member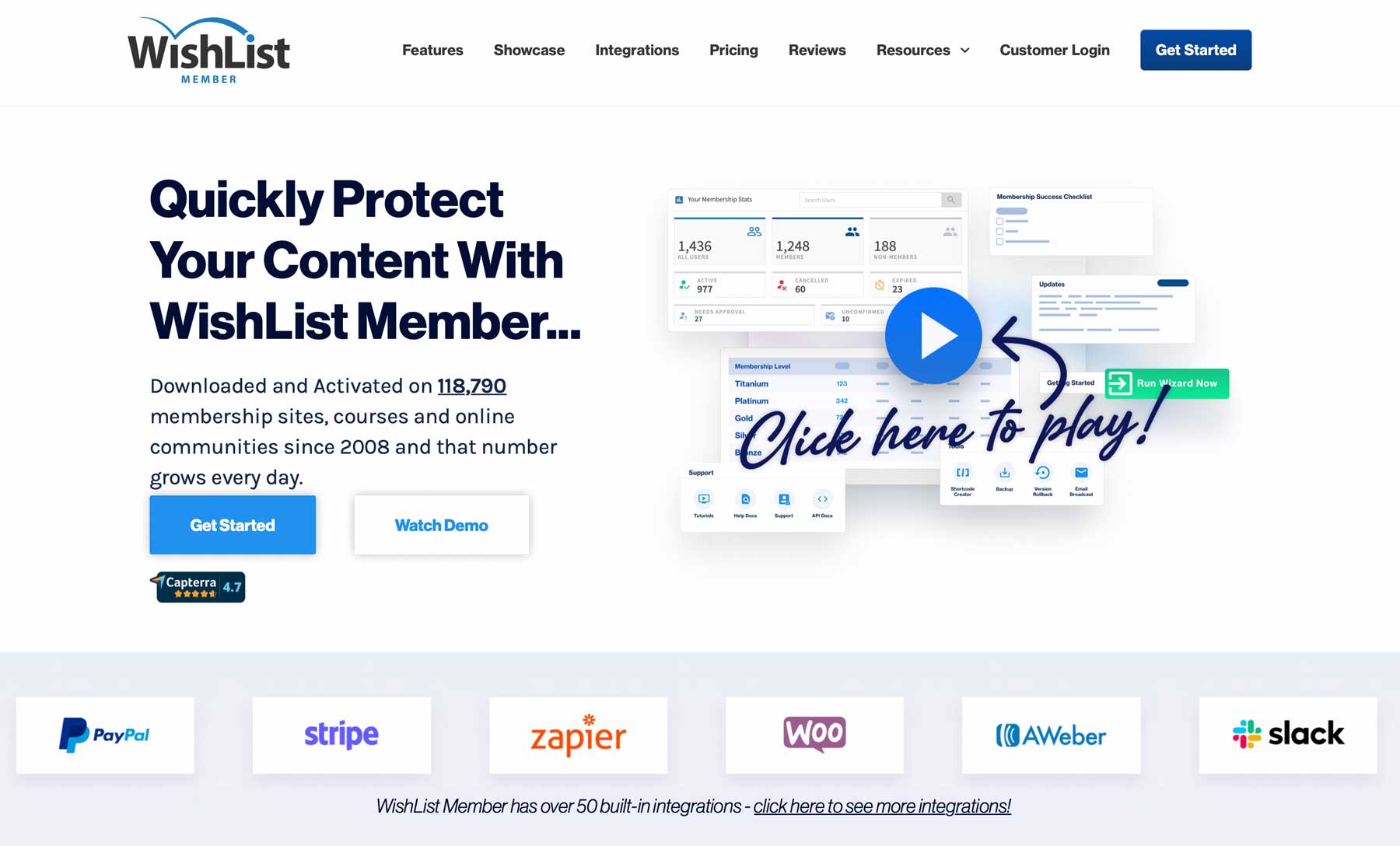 Wishlist Member is a powerful membership plugin for WordPress that you may not be familiar with. It enables you to establish a comprehensive membership site, equipped with various membership levels, subscription-based offerings, and payment integration options. Additionally, it functions as a complete Learning Management System, allowing you to create and administer courses and quizzes.
Key Features for Wishlist Member:
Seamless integration with Divi
Functions as an LMS
Comprehensive configuration wizard
More than two dozen payment and email integration options
Woocommerce integration
Customizable member pages
The first-time configuration wizard in Wishlist Member is an excellent tool that makes it easy to set up your membership levels, integrate with payment and email providers, and generate important pages such as the registration page, sales page, login page, member welcome page, and member dashboard.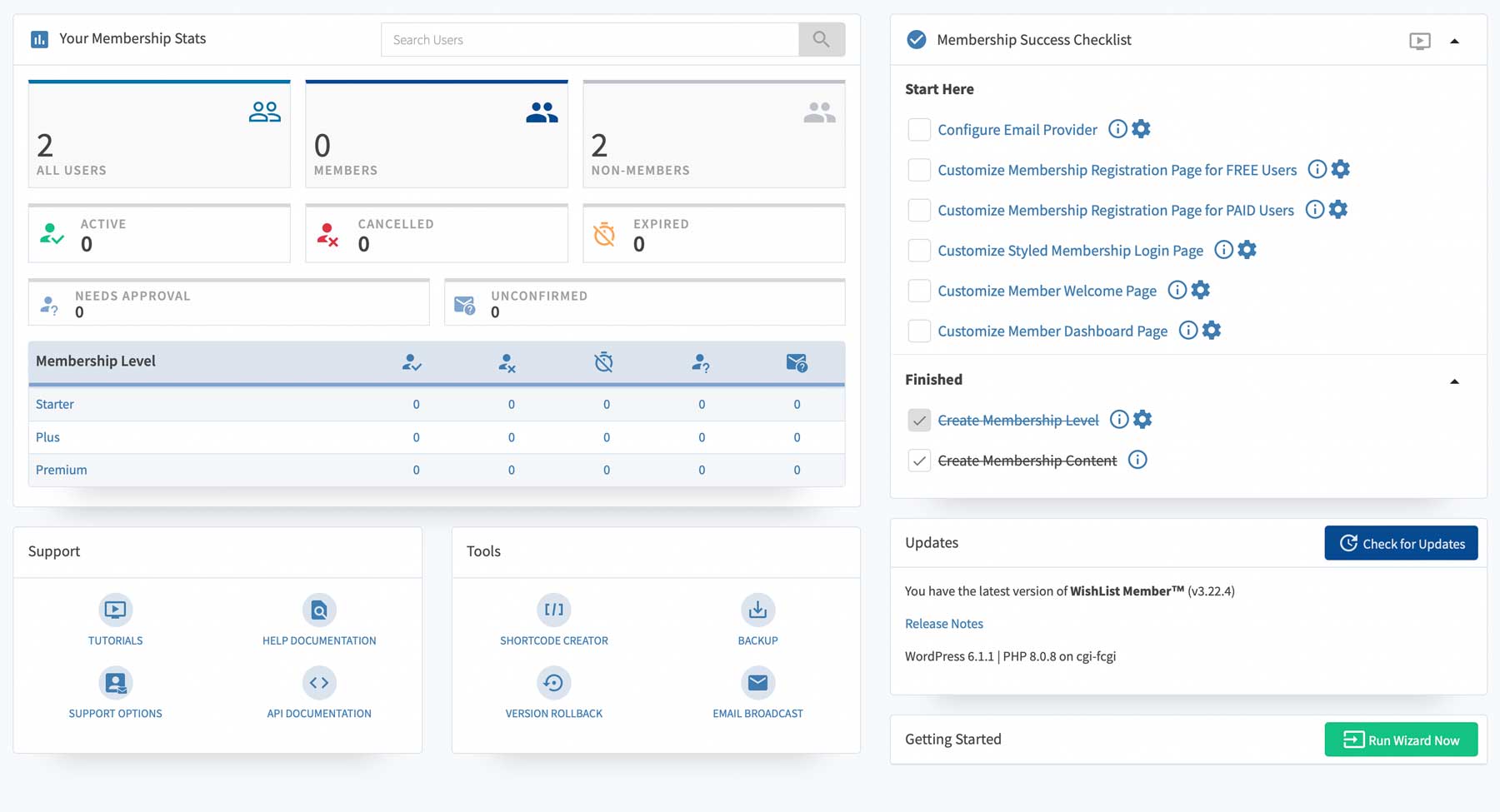 The configuration wizard leads to the membership dashboard where you can manage email providers, customize member pages, view member metrics, use shortcode tools, backup data, and access tutorials.
Wishlist Member is for your if…
You need a step-by-step process to set up your membership site.
You want a comprehensive dashboard for user metrics.
Payment and email provider choices are a necessity.
Divi users will be pleased with the robust integration with Wishlist Member . Content can be assigned at the module level, assigned to various membership levels, and is easily visible in the content tab for any Divi element.
Wishlist Member Pricing: Starting at $149.50/yr | Learn More About Wishlist Member
4. Member Mouse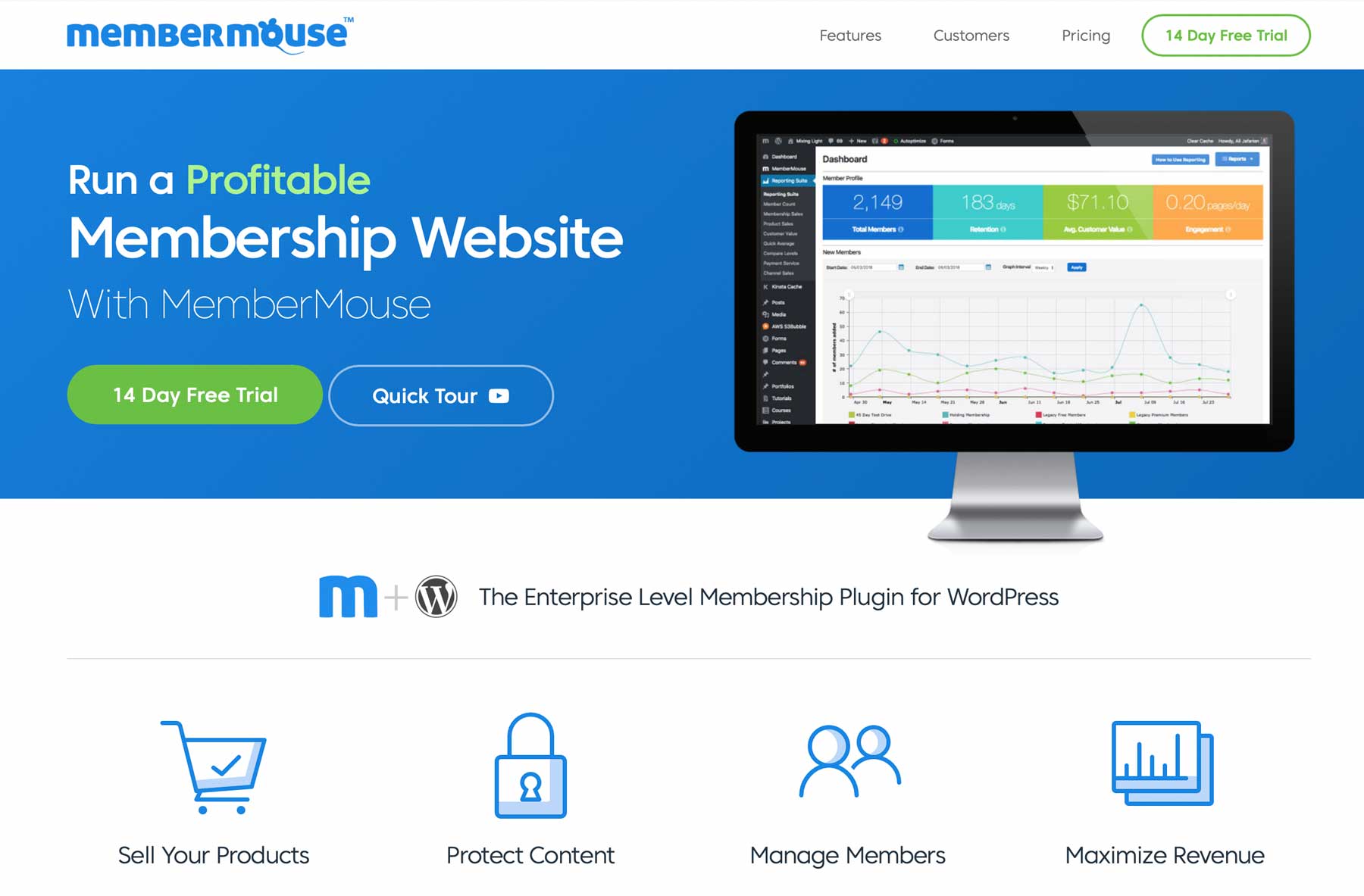 As one of the more expensive options on our list, Member Mouse is geared toward those who want to build a fully functional sales-based membership site. Rather than yearly billing, you'll be billed monthly, which makes the cost easier to swallow. Plus, you'll get a 14-day free trial, so you'll have plenty of time to decide if it's right for you.
Key Features for Member Mouse:
Complete e-commerce solution for memberships and subscriptions
14-day free trial
Multiple payment gateway options
One-click purchase technology
Extensive member management dashboard
Member Mouse is a versatile tool for managing paid subscriptions, memberships, and products. With an intuitive interface, setting up your offerings is straightforward. You can create multiple membership levels and offer one-click product purchases. The dashboard provides a comprehensive membership management system, integration with email automation services such as Mailchimp, Active Campaign, and Constant Contact, and support for various payment options including Stripe, Authorize.net, and PayPal.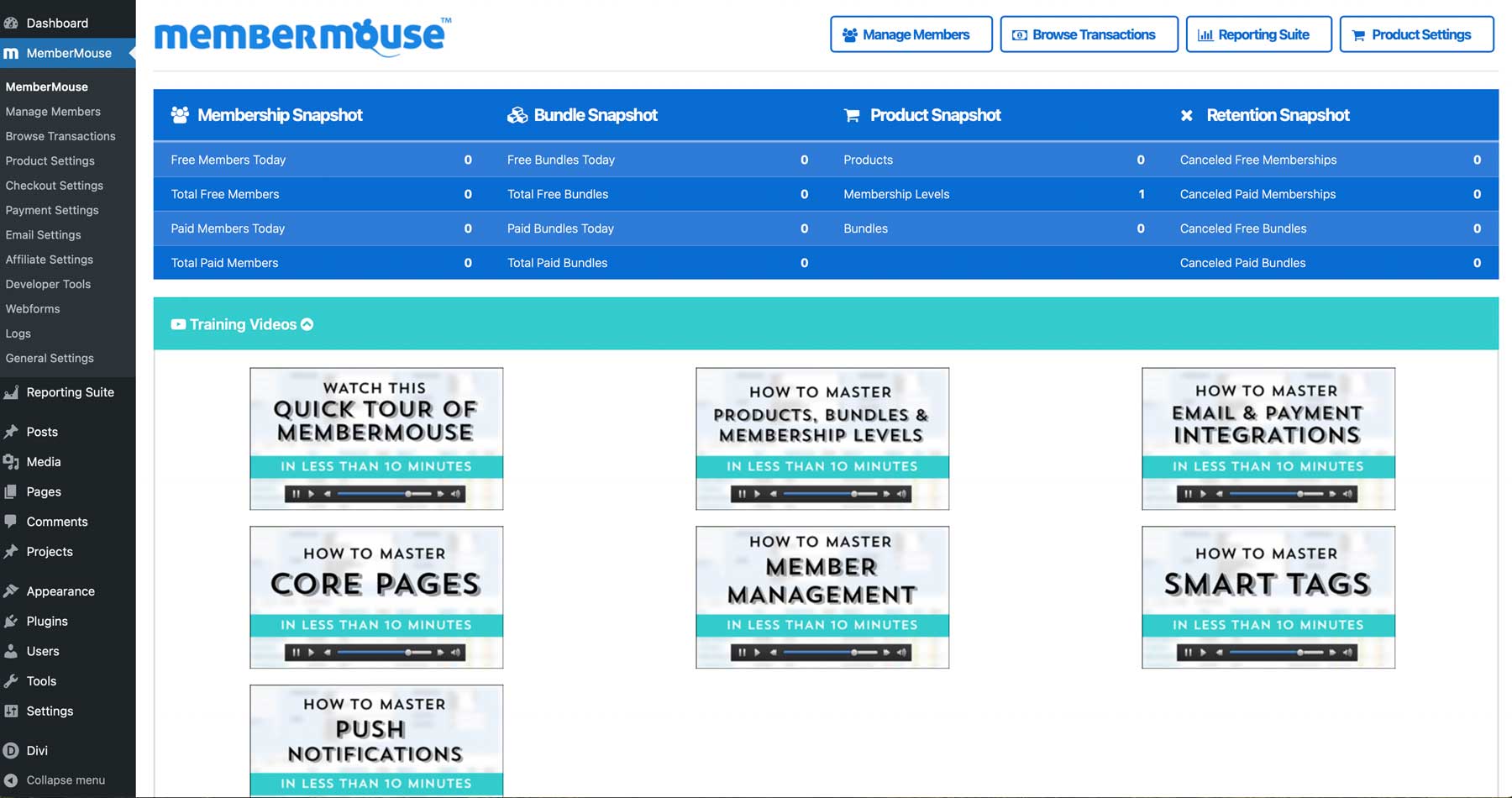 Member Mouse lacks the convenience of creating custom forms for your membership site, requiring knowledge of HTML and CSS. However, there are several form plugins available to bridge this gap and provide the functionality you need.
Member Mouse is for your if…
You want a one-stop shop for subscriptions and marketing automation.
Want to track members' purchase history, subscriptions, and revenue.
You need a comprehensive subscription system for your website.
Member Mouse Pricing: Starting at $29/mo | Learn More About Member Mouse
5. Restrict Content Pro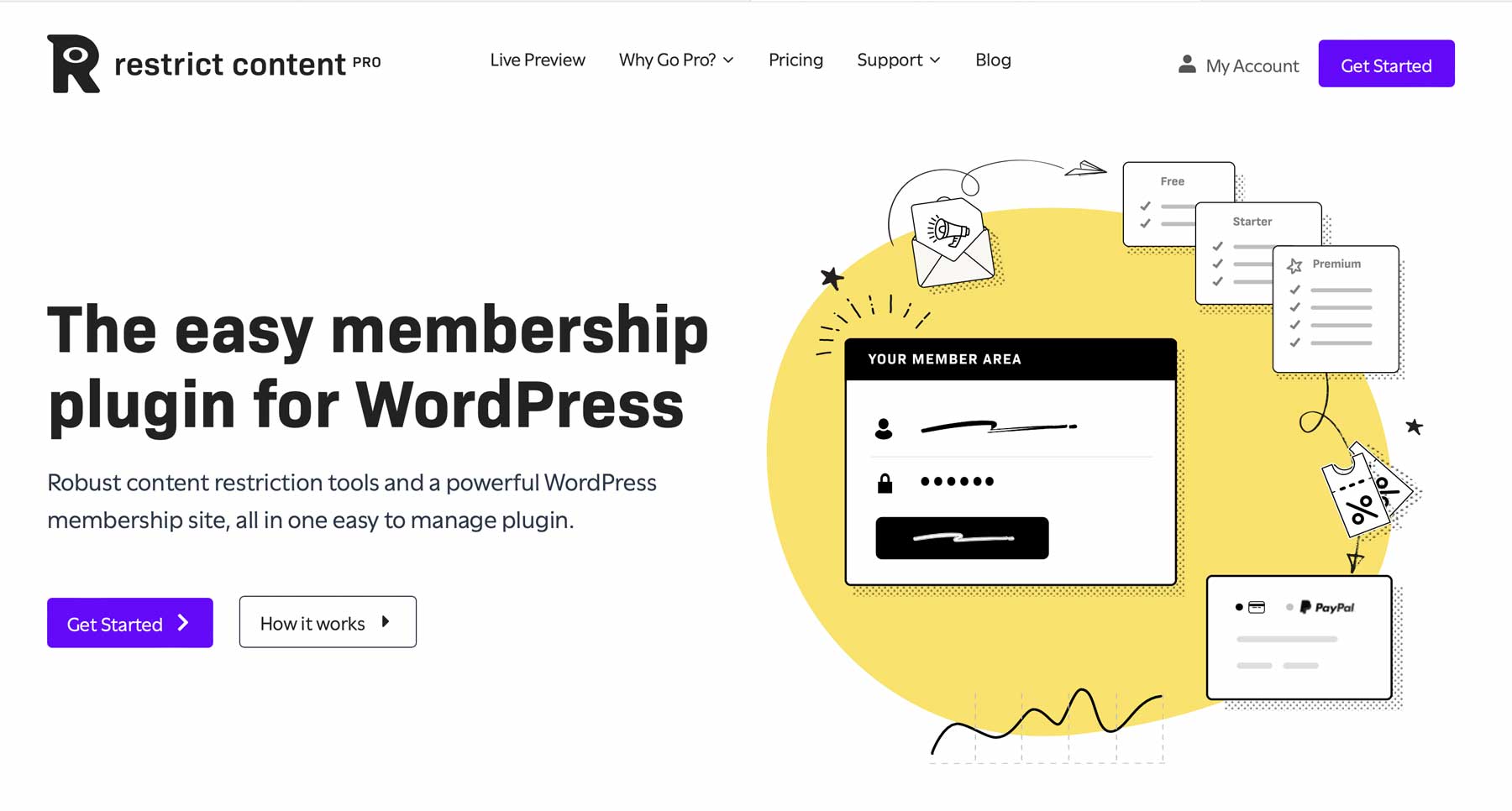 Next on our list is Restrict Content Pro . It comes standard with unlimited membership levels, membership management, Stripe payments, invoicing, and content restriction, to name a few.
Key Features for Restrict Content Pro:
Coupon and discount codes
Password sharing prevention
Multiple payment gateway options
Free trials
Member email customization
34 pro add-ons and integrations
The paid version of the product has extra features compared to the free one. You can create coupon codes to offer discounts to different membership levels, either just once or repeatedly. It also stops people from sharing passwords by limiting how many times certain content can be viewed. Plus, you'll have more options for payment, like PayPal and Braintree.
The best thing about the paid version is that you can offer free trials. This lets people try your products before they decide to buy.
Restrict Content Pro is for your if…
You want to limit password sharing.
Coupons and discount codes are necessary.
You'd like to give your members the option of a free trial.
Restrict Content Pro Pricing: Starting at $99/yr | Learn More About Restrict Content Pro
6. Ultimate Member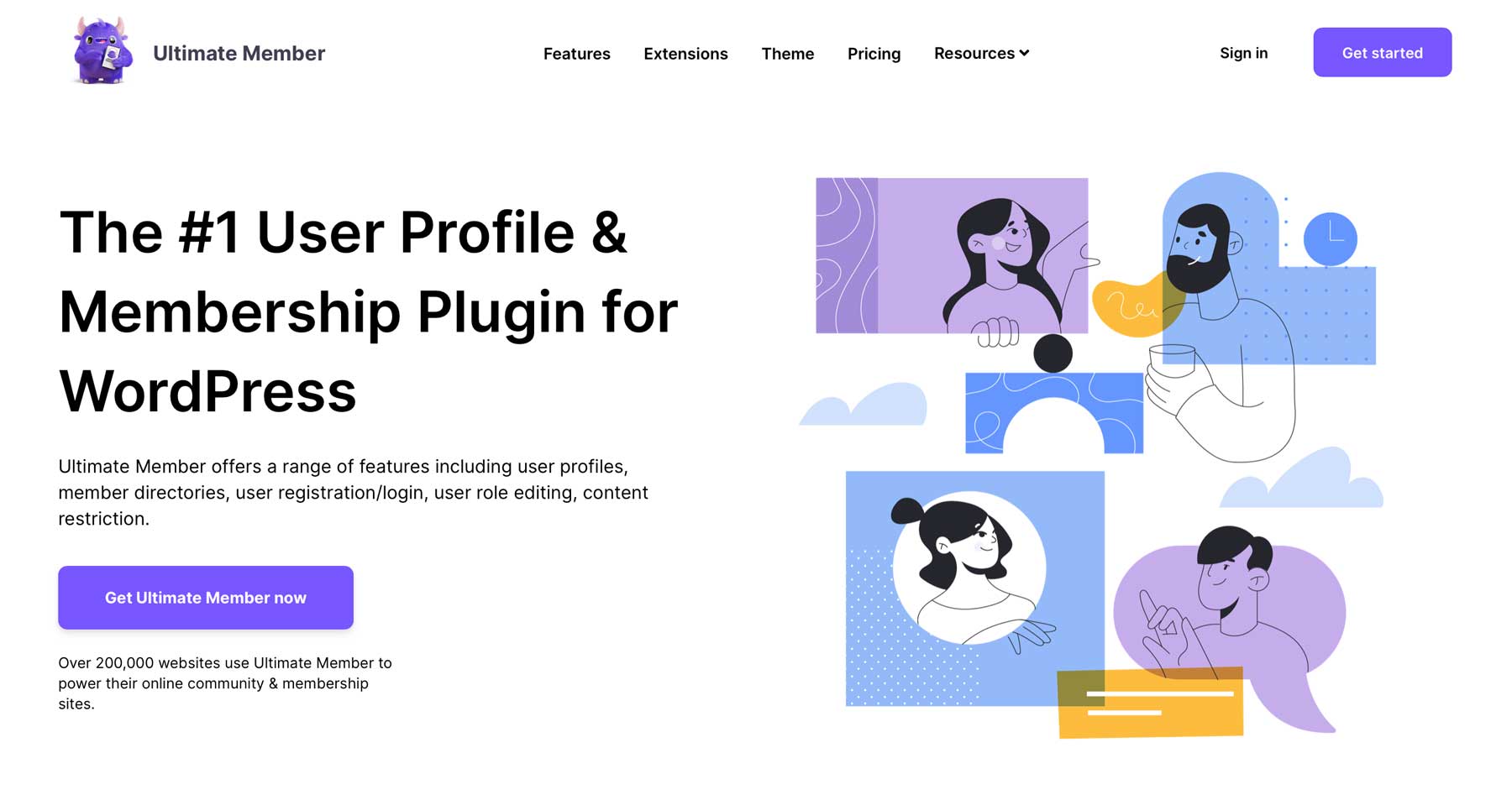 The last plugin on our list is Ultimate Member, a user-friendly WordPress membership plugin. With its convenient shortcodes and intuitive drag-and-drop builder, you can effortlessly create stunning member profile pages and directories in just a few clicks.
Ultimate Member allows for customization of registration, login, and member profile forms using a drag-and-drop form builder with over 50 fields available, including options for member bios and social media profiles.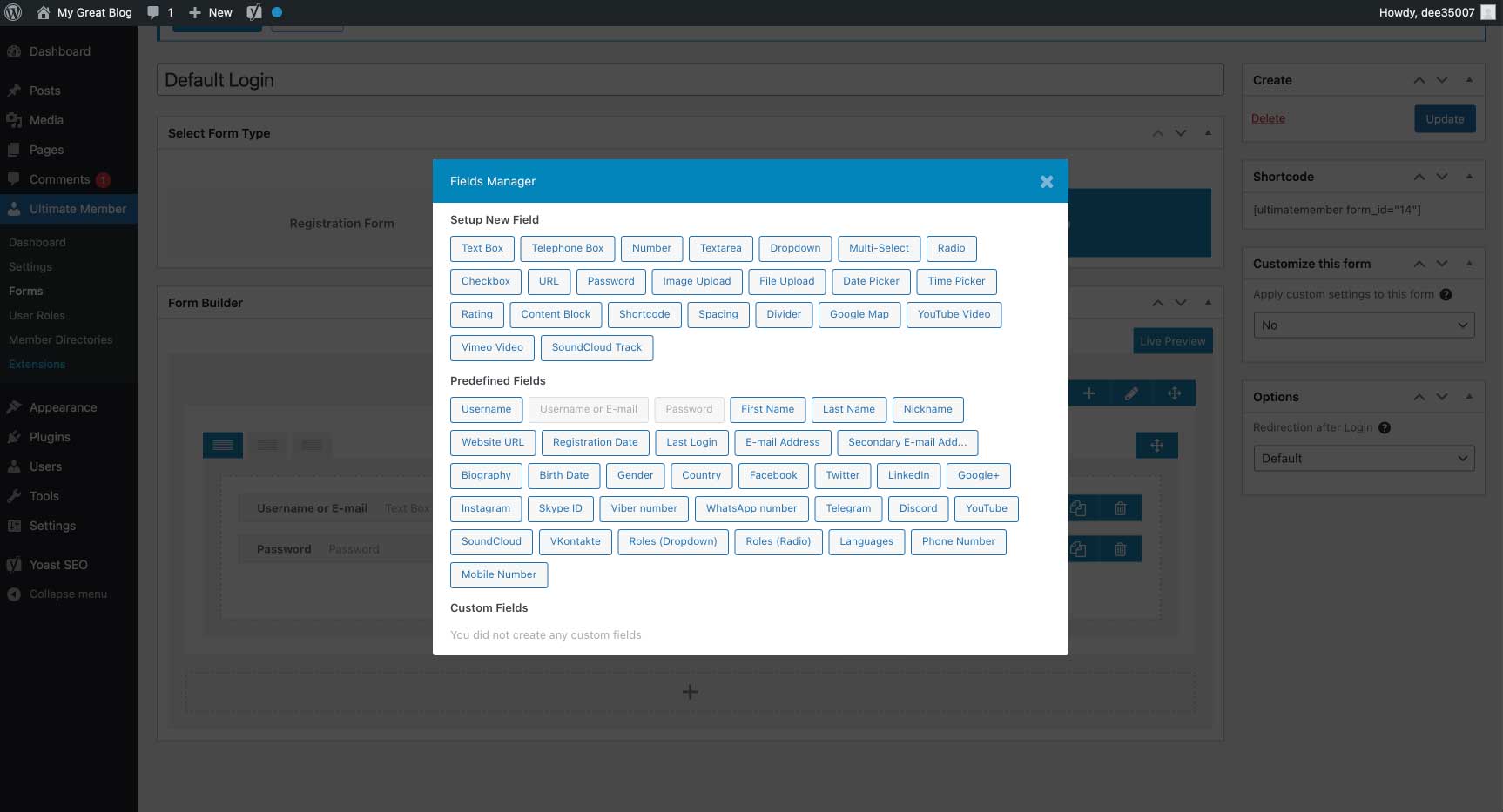 Key Features for Ultimate Member:
Drag-and-drop form builder with conditional logic
Private messaging system
Woocommerce integration
Multi-payment gateway support
Mailchimp integration
User verification system
Additional notable features include a private messaging system, real-time notification system, social login, online user notifications, and the ability to restrict content to registered users. As an added bonus, Ultimate Member integrates seamlessly with other plugins such as WooCommerce to create subscription and membership-based products for the ultimate sales-driven website .
Ultimate Member is for your if…
You want to integrate a forum into your site.
Custom forms are a necessity.
You need Woocommerce integration.
Ultimate Member Pricing: starting at $249/yr | Learn More About Ultimate Member
We've picked the top membership plugins for this list. But we know that sometimes people don't need such a complicated solution for their website. That's why we've also made a list of the best free membership plugins you can choose from.
Best Free WordPress Membership Plugins
The free plugins listed here are very basic in nature, mostly allowing you to gate content, add members, and in some cases, create membership tiers. Don't expect to run a complex membership site with any of these, but simple membership websites will work just fine using any of the following options.
Final Thoughts on WordPress Membership Plugins
There are dozens of membership plugins available for WordPress. Despite this, there is only a handful that has the features most WordPress users will need. Which plugin you choose largely depends on what you need it to do, but there is a couple of entries on our list that are a complete solution for building a successful membership site.
MemberPress and Paid Memberships Pro tick all of the boxes when it comes to membership sites. Whether you need gated content, paid memberships or subscriptions, paywall integration, or a robust learning management system, both have something for everyone.
The post 6 Best WordPress Membership Plugins in 2023 appeared first on Elegant Themes Blog .