The Victorian Age is romanticized greatly. Literature and media often take notes from the aesthetic, industrial culture, design, and art of the time. Typefacing is no different. The steam age is known for beautifully stylized scripts and prints, and the popularity of steampunk, a sub-genre of science-fiction in which steam-power is the driving force of technology rather than petroleum, has led to a number of beautiful fonts and typefaces that you can use to give your designs an industrial-yet-refined look. We're going to show you some of our favorites.
1. Steampunk
When making a list of the top steampunk fonts, it's probably not a bad idea to start with one simply titled steampunk. After all, a steampunk font named steampunk has to capture what designers are looking for. Combining the industrial look that steampunk fans adore with the flowing and smooth elegance of the Victorian age, this stencil font is well worth the $10 price tag.
Price: $10 | More information
2. Steamcog Caps

Steamcog Caps is a really interesting font. It's not the kind of font that you really type that much with. Almost an icon font, Steamcog Caps is fantastic for accents and decoration and for using as drop-caps in your designs. Because it's an all-caps font, there may not be a ton of variation, but the unique gear/cog shape and the inclusion of basic punctuation symbols make this one worth a download since the price is absolutely right. Free.
Price: FREE | More information
3. Hemera II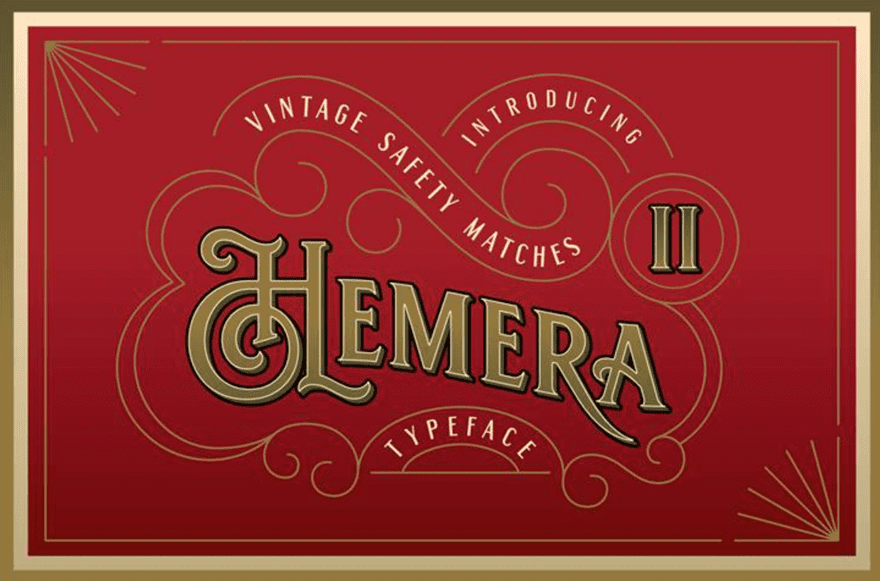 We here at Elegant Themes don't endorse the selling of snake-oil. But if you do decide to go that route and need to advertise your own snake oil tonic, Hemera II is the perfect vintage/Victorian font to draw people's attention. Coming in with only the letters of the English alphabet, Hemera is best used for things such as logotypes and advertising, rather than long-form copy. It's free, though, unlike all that snake oil it could help sell.
Price: FREE | More information
4. Steampunk Font

Another eponymous typeface, Steampunk Font is specifically designed for logotyping. The level of detail the designer put into this font is incredible, with multiple layers and colors and shades available, on top of the characters being made out of smaller pieces and put together like the machines they mimic. If you are going for that hardcore steampunk or industrial vibe with your design, you could do a lot worse than toss $14 toward this.
Price: $14 | More information
5. Starship (and 7 Other Font Families!)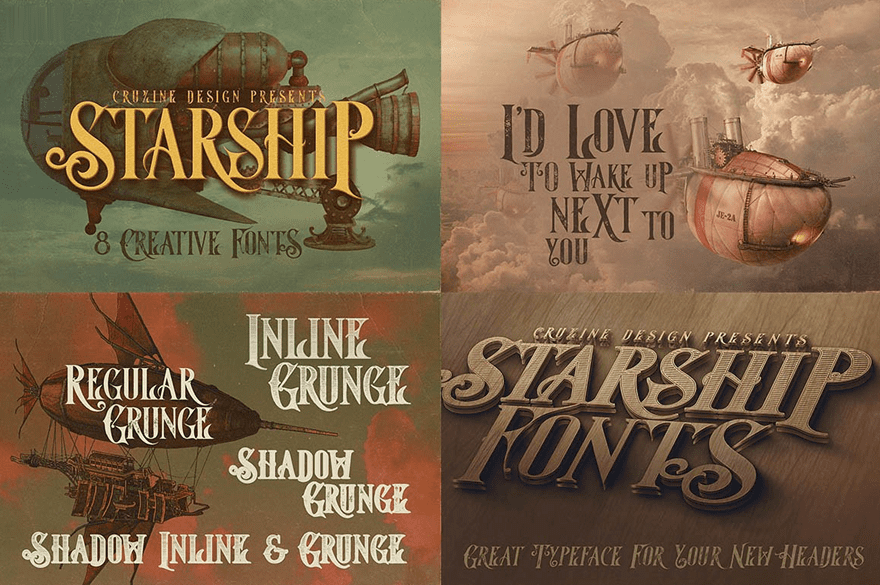 This bundle is quite the bargain. For $8, not only do you get Starship (one of the top steampunk fonts out there, capturing the whimsy of the time period, the elegance of the culture, and the power of the technology), but you also get Hallowen, Zalora, Geno, Kiki, Skywalker, Meravin, and Venomous (all of which can be seen and demoed here). Within each of those 8 font families, you get a total of 49 fonts that you can manipulate to enhance and polish just about any project in any way you desire. Sure, free fonts are awesome. But 49 fonts for $8 is pretty close to free. And they're all high-quality and easy to recommend.
Price: $8 | More information
6. Fabulous Steampunk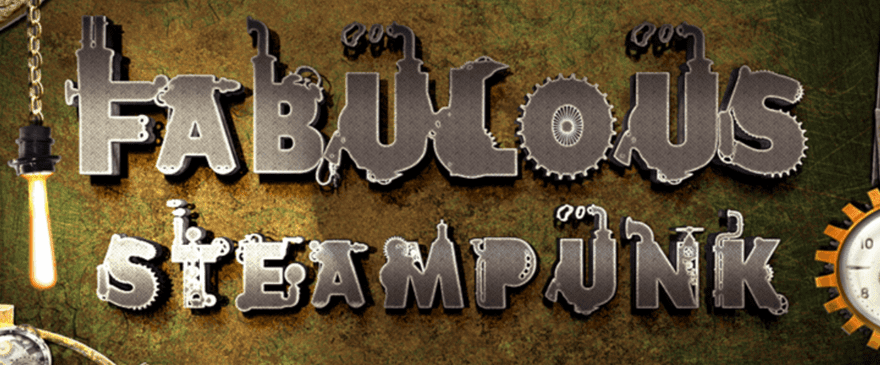 Rarely do people title their fonts as aptly as this one. It is truly a fabulous steampunk font. Taking a cue from the industrial and engineering side of the Victorian era, Fabulous Steampunk is both easy-to-read and useful. Like some of the other typefaces here, you probably don't want to do long, small-pitch work with it. But you will do great things for logos and any projects that have the need for larger font sizes and have whitespace to spare. This particular steampunk font stands out for the attention to detail on the individual characters, such as cogs, gears, pipes, and steam itself functioning as serifs for some — but not all — characters. The exclusion of some characters having serifs makes those that do stand out that much more.
Additionally, the font includes multiple symbols so you won't have to hunt down a secondary typeface to finish out your design. Fabulous Steampunk can be downloaded for free. The designer does request a $6 donation for commercial uses. That seems pretty reasonable to us.
Price: Free ($6 donation for commercial use) | More information
7. Teslafont

A list mentioning the Victorian age or steampunk without reference to Nikola Tesla would be remiss and shirking its responsibilities. So here we are with the incredibly beautiful Teslafont. Designed after the inventor's own "magnifying transmitters", this font captures the retrofuturism that we love about steampunk and Victorian aesthetics. While not quite futuristic, this cont can be used to indicate forward-thinking and progress, just like its namesake did himself. Teslafont comes with a full 98 characters. However, only the letters of the alphabet are embellished with the Tesla coils themselves. As a free font, you definitely want to add this to your library.
Price: FREE | More information
Bonus: The Spectacular Steampunk Vector Design Kit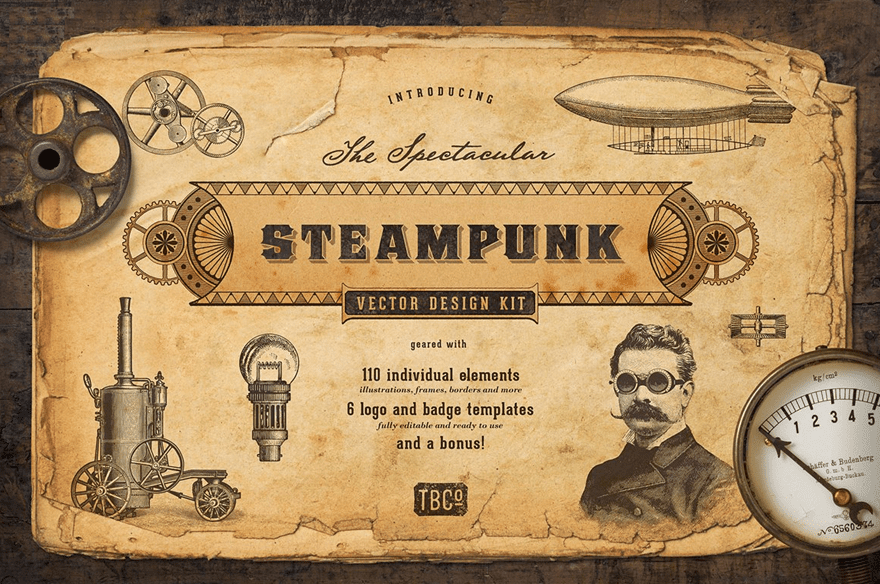 We decided to include this one as a bonus element for the roundup because there was just so much stuff inside it that to simply call it a font choice was doing it a disservice. Anja Kaiser over at The Beacon Collection has put together one of the most complete sets of fonts and elements and design tools in this entire genre. You get a number of fonts that are vector-based that come already incorporated in editable design templates. Plus you get a huge number of background images that you can overlay your text and designs onto, multiple backgrounds to emulate parchment and the vintage look of media from the Victorian period, portraits and items to work into your designs as icons, schematics for machinery, and decorative frames and banners and dividers. Oh, and don't forget the — as she puts it — bits and pieces.
The volume of material at your disposal for a mere $20 license is pretty much unheard of. So if you need a one-stop shop for everything steampunk and Victorian, head over and grab The Spectacular Steampunk Vector Design Kit.
Price: $20 | More information
Wrapping Up
As you can see, even though the steam age might have been overtaken by petroleum and the industrial revolution, the ideals and aesthetics live on. Designers and artists are putting out high-quality steampunk fonts and Victorian typefaces all the time. So whether you need a logo that looks like it was pieced together from spare parts, an elegant script to showcase your products, or a full kit of everything you could ever need to achieve your design goals, we think that you can find it somewhere in this post.
What kind of designs and projects have you made with steampunk fonts or Victorian styles?
Article featured image by Leremy / shutterstock.com
The post 7+ Top Steampunk and Victorian Fonts appeared first on Elegant Themes Blog.