Build Divi Websites Faster And More
Easily Than Ever Before
We want to help Divi users build websites faster and more easily by removing inefficieny.
We love releasing new features that make the lives of Divi designers easier. When it comes to speed, efficiency and intuition, we want to go above and beyond, because that's what a great design tool is really all about. Today we are introducing yet another design efficiency improvement in the form of Filtered Option Search, allowing you to more easily locate active and relevant options so that you can make quick adjustments without wasting your precious time.

Filtered Search Lets You Quickly Find
And Modify Your Desired Settings
Never hunt through hundreds of unused design settings again!
The New Search Filters
A new filters button is available inside of all settings modals. Filters limit the visibility of the many available options that appear within each modal. These new filters include: Modified Styles, Responsive Styles and Active Content.
Perhaps the most useful of these new filters is Modified Styles. Once selected, only active design settings that you have adjusted will appear, allowing you to quickly locate your desired settings and make the appropriate changes as your design evolves. If you need to make a quick adjustment to your custom design, you no longer need to hunt through hundreds of options to find the ones your are currently using. The Modified Styles filter will take your directly to your active styles and you can work from there. If you are familiar with browser dev tools like the Chrome Inspector, this new feature is much like viewing "computed styles," or in other words, the styles that are currently affecting the appearance of a particular element.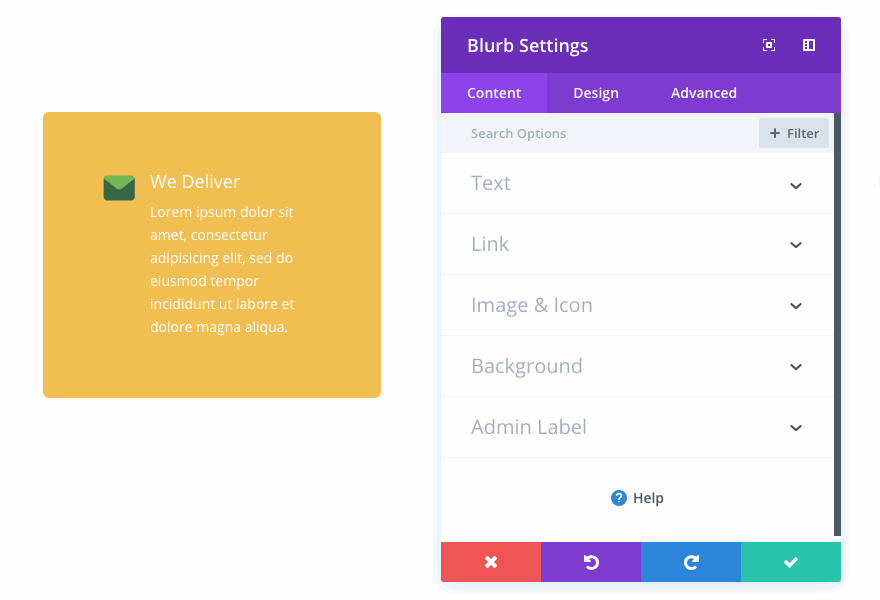 Much like Modified Styles, the Active Content filter will take you directly to all of the content that you have added to your module. If you want to change your Fullwidth Header's title text, viewing Active Styles will take you directly to the content elements that are currently in use and remove the noise of the many unused content elements.
Combine Filters With Search Queries
Filters can be combined with search queries to hone in your results and locate settings even faster. If you filter by Modified Styles, but are greeted with a long list of active options, you can search through those options to narrow the results.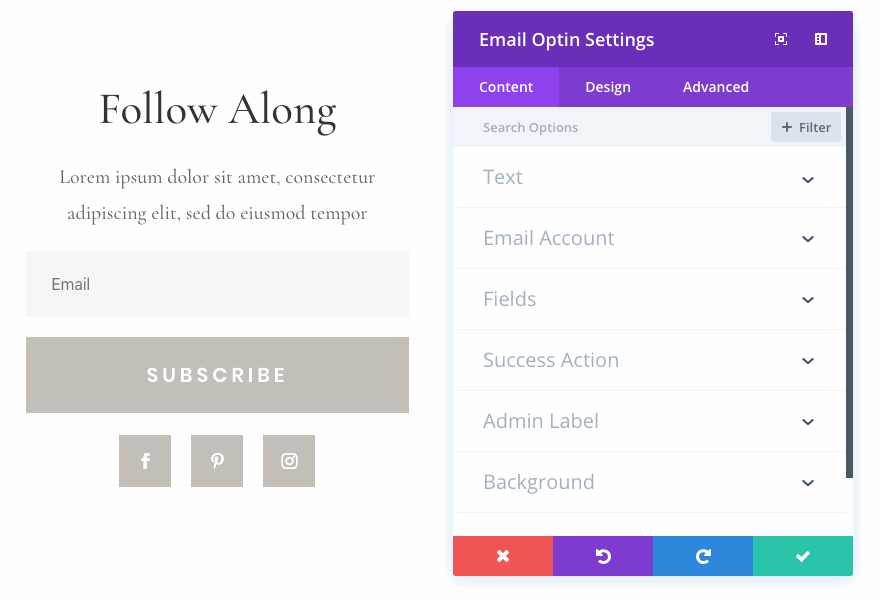 Right Click To View Modified Styles
We think that the Modified Styles filter is so incredibly useful, that we have added a shortcut to the builder's Right Click menu so that it can be quickly accessed at any time. If you want to quickly locate and adjust active design settings, simply right click on any element and choose "View Modified Styles." This will take you directly to your active settings.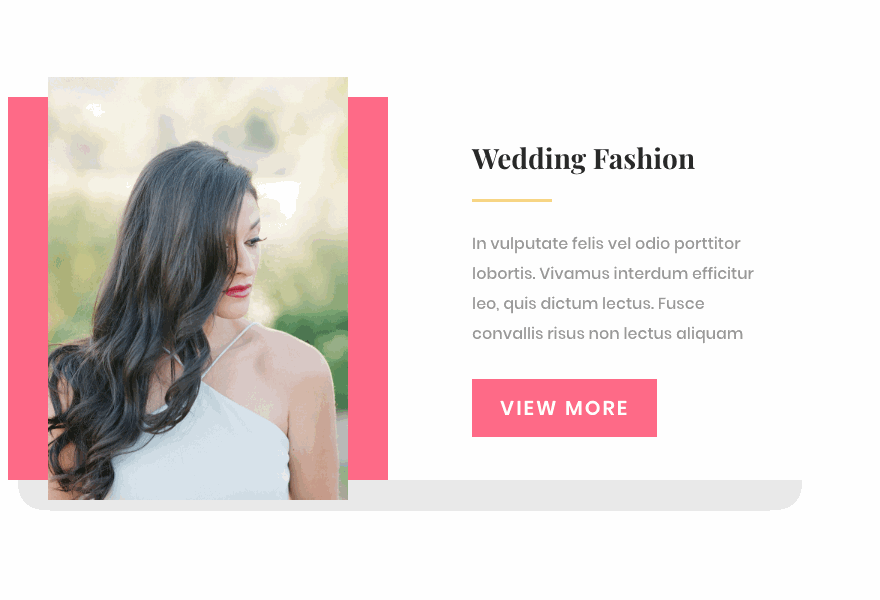 Quickly "Go To Option"
You can also quickly jump from search results to the design settings relevant to any option within the results. Simply right click on any setting and choose "Go To Option" to open the setting within its parent option group and display all relevant design options. If you have the Modified Styles filter active, but you want to view more styles relevant to a particular active style, simply right click and choose "Go To Option."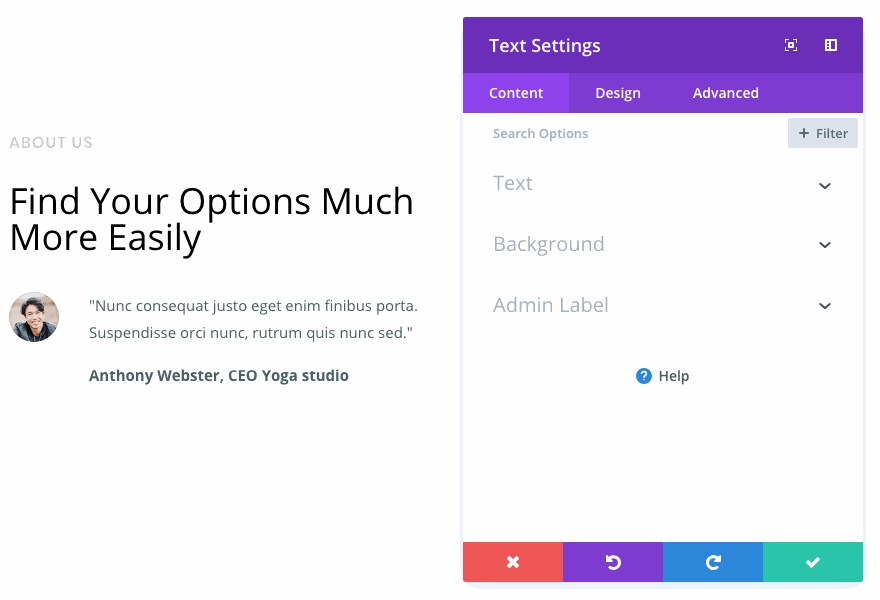 Edit Layout Packs With Ease
These new filters are especially useful when editing layout packs that you have recently downloaded, since you may not be familiar with how the layouts were created and which design and content options were used to achieve the custom results. If you want to change a color, but aren't sure where to find the relevant design option, viewing the module's modified styles will take you directly to a list of active colors and give you a clear picture of how the module was built.

"Modified Styles" And "Fluid Styles"
Are The Perfect Match
Using the Modified Styles filters along with the Fluid Styles copy and paste feature leads to ultimate design efficiency.
The Modified Styles filter, when combined with the Fluid Styles copy and paste functionality leads to ultimate design efficiency. Quickly locate, change and transfer styles throughout your design in a matter of seconds.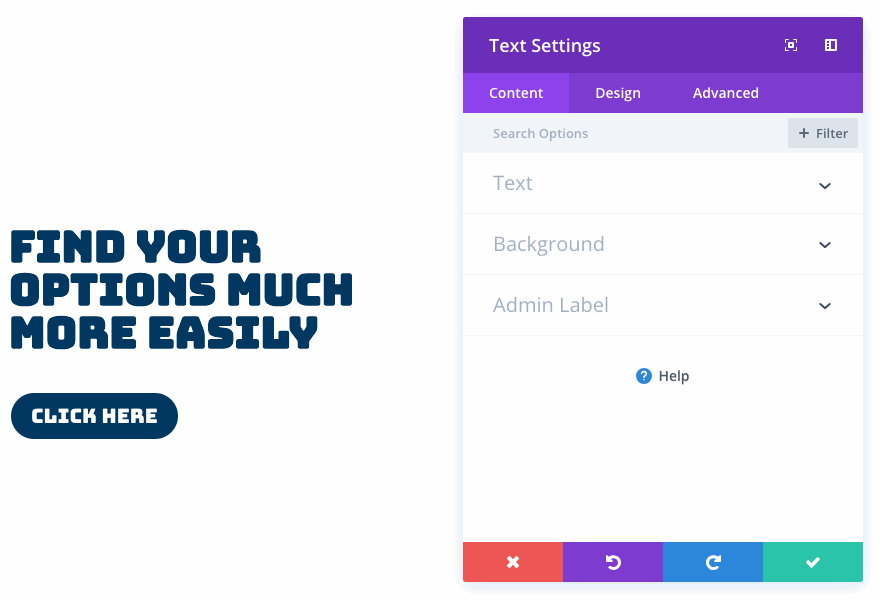 The new filtered options search is available today, so download Divi and take it for a spin. Let us know what you think in the comments and don't forget to check back next week for even more great Divi features coming your way!

Join, Renew & Upgrade Today For 10% Off!
Join the most enthusiastic and loving WordPress theme community on the web and download Divi 3.0 today. Using the new Visual Builder, you can build websites faster than ever before with its incredibly fast and intuitive visual interface. You have to see it to believe it!
Join Today For 10% OFF!
Renew Your Account Today For 10% OFF!
Upgrade Your Account Today For 10% OFF!
The post Divi Feature Update! Huge Design Efficiency Improvements Now Available appeared first on Elegant Themes Blog.