One of the best ways to turn visitors into customers is to build trust with them. However, talking about how great your business and your services are often isn't enough. In some cases, the best way to make visitors trust you is to let other customers do the talking for you.
Testimonials and reviews are some of the most powerful tools at your disposal to build trust. In this article, we're going to talk about why you should showcase your business reviews up and front, with a focus on Yelp. We'll also introduce you to a plugin to help you add Yelp reviews to WordPress and teach you how to use it.
Let's get to work!
Why Displaying Your Business' Reviews is Important
When people are looking to buy new products or try new services, they tend to look online to find the best option. Setting up a website to promote your business is an excellent way to reach them, but just having an online presence might not be enough. Having a site can help people find you, but you also need to present your business in a good light to convince those visitors to become customers.
There are a lot of ways you can use your website to build trust with prospective customers. For example, you can use product photos, showcase the services you provide, share contact information, and more. Those are the basics that almost any business website can benefit from. However, if you want to go the extra mile, you should also look into including client reviews and testimonials for your business.
Testimonials are an excellent way to build trust with visitors to your website. They help validate your business and provides valuable information to prospective clients. People tend to trust recommendations from their peers more than sales pitches, so these can be a powerful tool.
These days, there are a lot of platforms people can use to leave reviews for businesses online, such as Google and Yelp. We're focusing on Yelp for this article because it's one of the most popular online platforms for business reviews.

Keep in mind – when it comes to business reviews, you shouldn't just limit yourself to displaying five-star comments. You want to have as many excellent reviews as possible, but if all your testimonials are too glowing, it can make them look false. However, if your business does have an abundance of five-star reviews, then by all means, don't be shy about showing them off.
Introducing the Yelp Reviews Widget Plugin

The Yelp Reviews Widget plugin enables you to pull data from Yelp and display it on WordPress using a widget. With this plugin, you can showcase the latest reviews for any Yelp business you want, including multiple locations.
Out of the box, the plugin pulls the latest three reviews from whichever Yelp business you choose. The default style the plugin uses for the reviews is very clean, and it showcases their star ratings so that visitors can get a quick idea about your business' quality.
The way the plugin works, it needs a Yelp API key to pull the information it needs from the platform. It then stores your latest reviews within the WordPress database, so it doesn't have to pull them from Yelp each time someone visits your site. it's the only Yelp plugin with this feature, which can slightly increase loading times and also avoids issues in case Yelp is temporarily unavailable.
Key Features:
Enables you to pull data from Yelp through its API.
Add Yelp reviews to WordPress using widgets.
Store your Yelp reviews within the WordPress database.
Price: The standard plugin is free and the developers also offer a premium version, which starts at $45.
We should also mention that there are other plugins that enable you to add Yelp reviews to WordPress. For example, the Yelp Widget Pro plugin shares a lot of functionality with our pick, so feel free to check out either plugin to see which one you prefer.
How to Add Your Business' Yelp Reviews to WordPress (In 3 Steps)
We're now going to put the Yelp Reviews Widget plugin to use. As such, go ahead and install then activate the plugin before proceeding.
Step #1: Get a Yelp API Key
To connect your website with Yelp, you'll need to have an account on the platform ready to go. Log into your account then jump to the Yelp Developers page. Inside, you'll find a button that says Explore Yelp Fusion which is the platform's program that enables developers to build apps with its API. Click on that button now: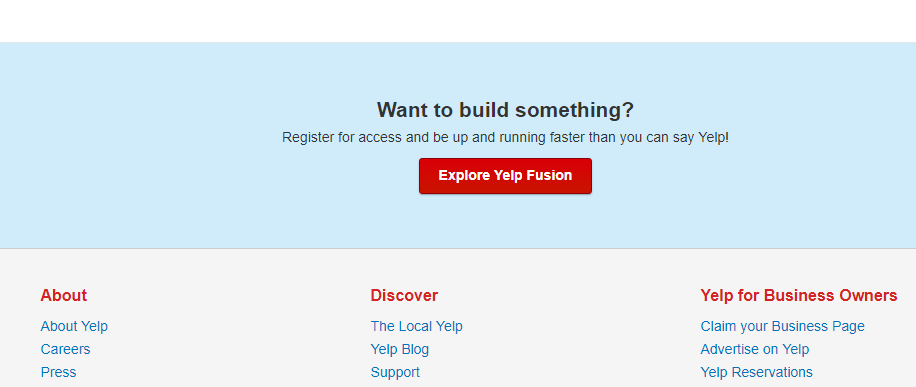 On the next page, there's a button that reads Fusion API on the top menu. Click it and then look for the Create App option on the next page, which you'll see on the left-hand side:

Yelp will now ask you for a few details about your 'app'. You only need to fill in a few basic fields such as App Name and Contact Email, though. When you've done that, click on the Create New App button:

Your app should be ready to go now, and you'll get access to a Yelp Client ID and API Key:

Keep this tab open for now and return to your WordPress dashboard. Next up, we're going to connect the Yelp Reviews Widget plugin to the platform using this key.
Step #2: Configure the Plugin
Once you're on your dashboard, jump to the Settings > Yelp Reviews Widget tab. The plugin will display a welcome screen with a few instructions, which you can ignore for now. Instead, switch to the Settings tab:

The plugin will ask you to enter your Yelp API key, which you obtained during the previous step. Paste it in the API Key field and click on the Save button below: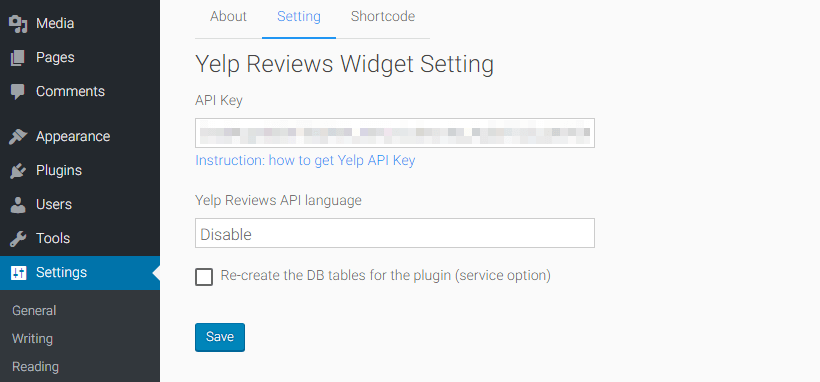 That's it! Now all that's left is to use the plugin's widget to add reviews to your pages.
Step #3: Add the Yelp Reviews Widget
Using the Yelp Reviews widget is no different than any other widget. Go to the Appearance > Widget tab and look for the indicated widget at the bottom of the page:
Drag the Yelp Reviews widget to the section where you want to display it. In the example below, we're adding it to our sidebar, right below the search bar:

Now, let's go ahead and choose which business' reviews the widget will display. Technically, you can use the widget to show reviews from any Yelp business, but you'll obviously want to display yours. You can do this by using the Search Term and Location fields to help the widget narrow down the options and pull a list using the Search Business button: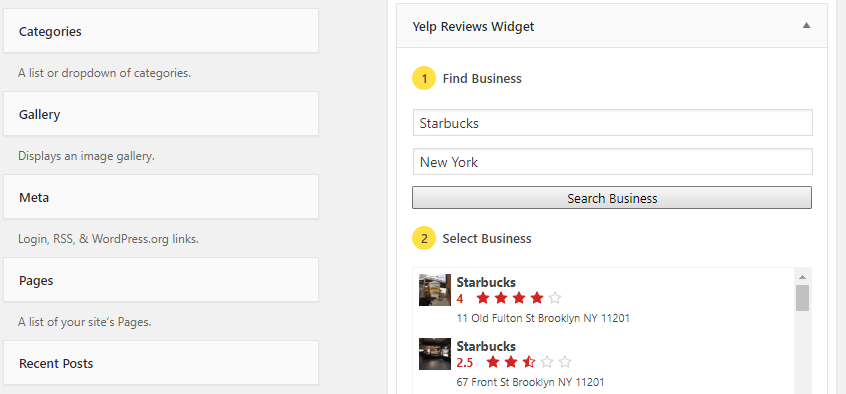 When you find your business, select it. The plugin will now display your business' latest reviews and you can save your selection: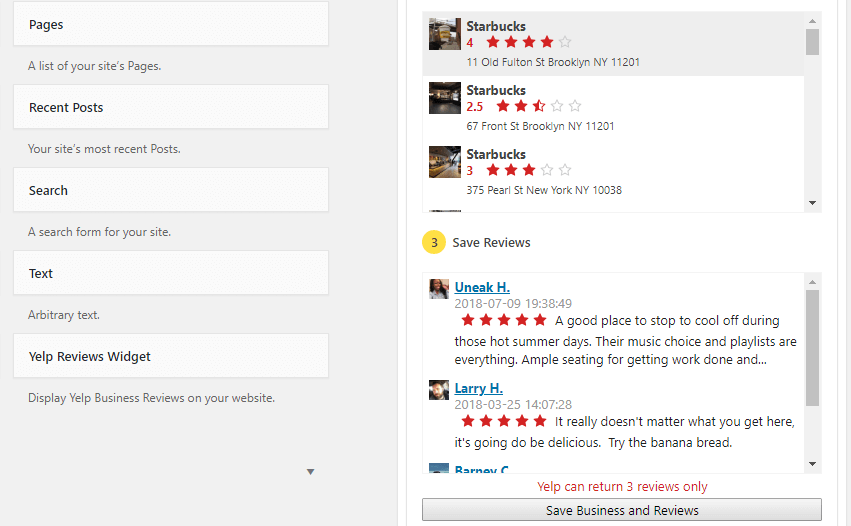 You'll also notice there are a few extra tabs that read Review Options, Display Options, and Advanced Options. These settings are only available for the pro version of the plugin, so skip these and save your finished widget.
Your widget is now good to go! It should appear on your pages if you're using a design that includes a sidebar: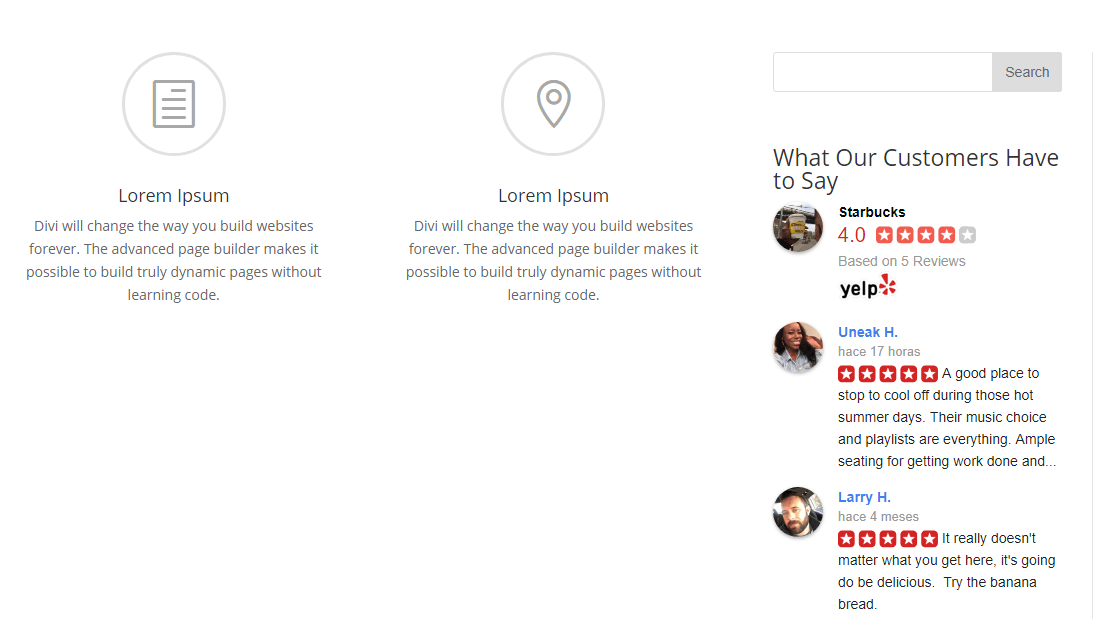 However, If you're a Divi user, remember you need to add sidebars to your pages using the Sidebar module: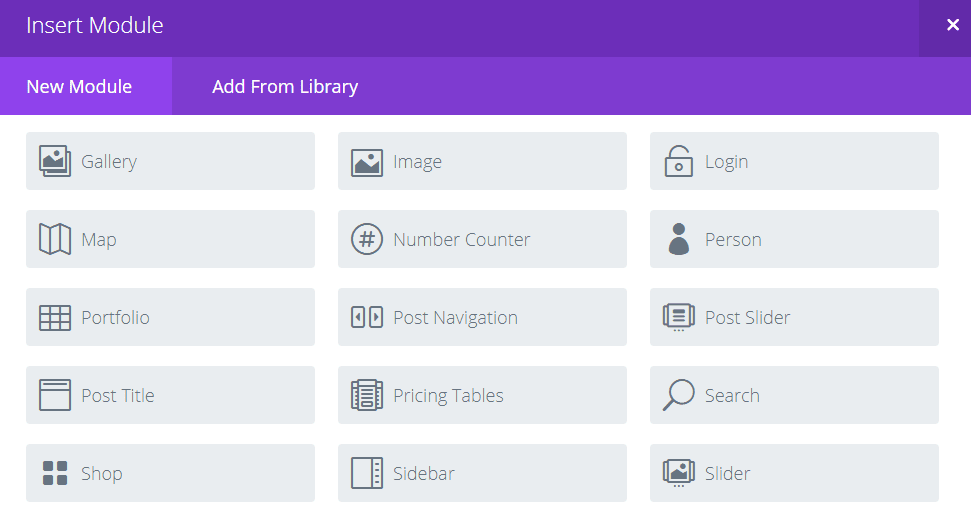 Once you select the module, you can choose which Widget Area to display: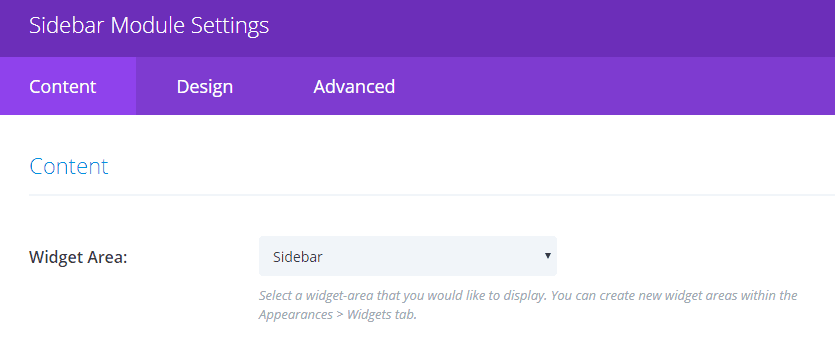 Save the changes to your page, and that's it! This approach requires a couple of small extra steps. However, but it gives you full control over where to display your Yelp reviews.
Conclusion
There are a lot of ways you can build trust with your website's visitors. However, few methods are as effective as displaying reviews from past customers. In these cases, pulling review from a third-party platform such as Yelp tells visitors they're the real deal.
If you want to add Yelp reviews to WordPress, we recommend you use the Yelp Reviews Widget plugin and follow these steps:
Get a Yelp API key.
Configure the plugin.
Add the Yelp Reviews widget to your pages.
Do you have any questions about how to add Yelp reviews to WordPress? Let's talk about them in the comments section below!
Article thumbnail image by VectorKnight / shutterstock.com
The post How to Add Your Business' Yelp Reviews to WordPress appeared first on Elegant Themes Blog.