Zoho has made a name for itself with reliable, slick, and easy-to-use software. More than that, they generally provide the base product for free. Zoho Cliq is no different. Cliq is a Slack-alternative team chat that is integrated into the Zoho CRM and suite of enterprise tools.
What is Zoho Cliq?
Very simply, it's a team chat app that your company and brand can use to keep things organized and running smoothly. You might be familiar with Slack and all that it can do. If so, then Zoho Cliq will be familiar ground.
At its core, Zoho Cliq is about two things. Communication between team members and project management. Even if you don't take advantage of the extra tools you get from the integrated Zoho CRM platform, Cliq can be a quick and simple way to stay in touch and make sure things get handled right.
There are private messages, voice calls, moderated channels, bots, app extensions, reminders, and other collaborative tools you can use to keep your team in sync constantly. Zoho is known for its security and ease-of-use, and Cliq stays right along those lines.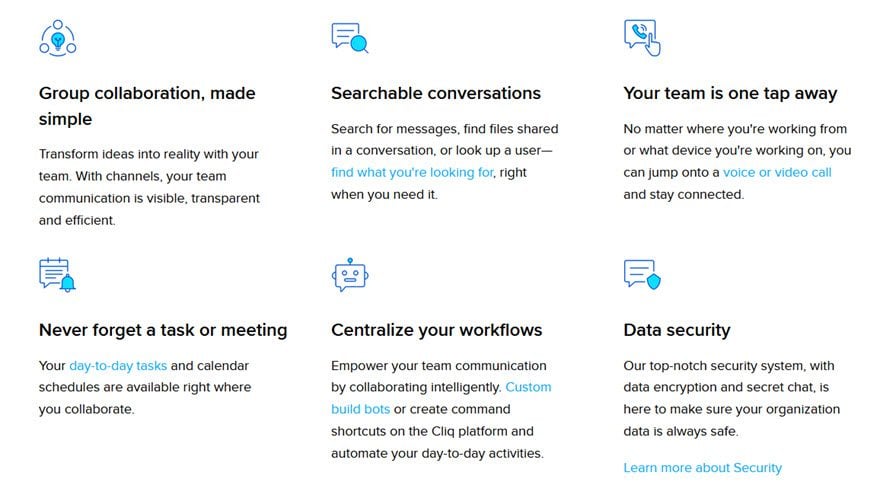 Let's break down how it works to see if this is the team chat for you. And it very well could be.
Starting Out and Pricing
When you begin, you'll have to decide if you want to use the free version of Zoho Cliq or a paid one. As a free team chat, Cliq is a fine option. You get 10k messages before they're archived. You also have 100gb storage across your organization, unlimited channels and users, Google integration, and extensions from the marketplace. Plus other features we will talk about shortly.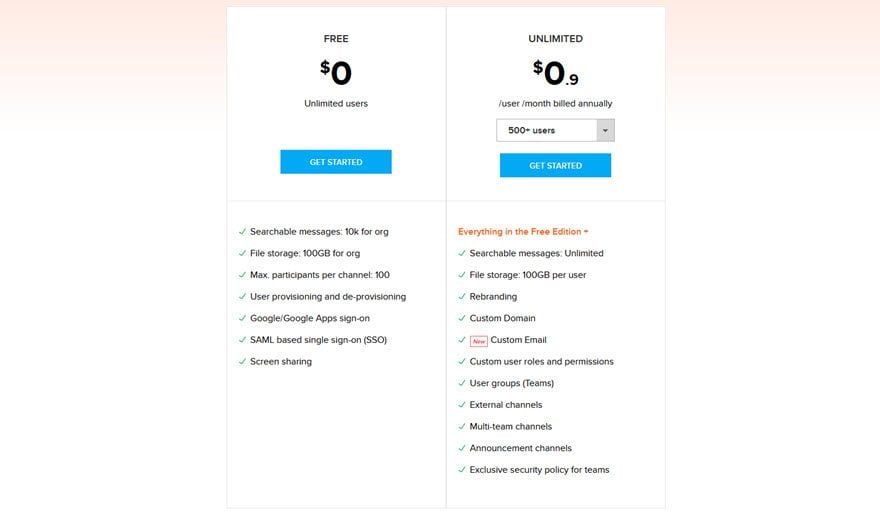 You also start out with a trial of the Premium (Unlimited) plan to see if the extras are what you need. At its most expensive, Zoho Cliq is $3 per person per month, which is still considerably cheaper than Slack's $5 per person per month. Once you've decided where you're going to start, things are easily set up.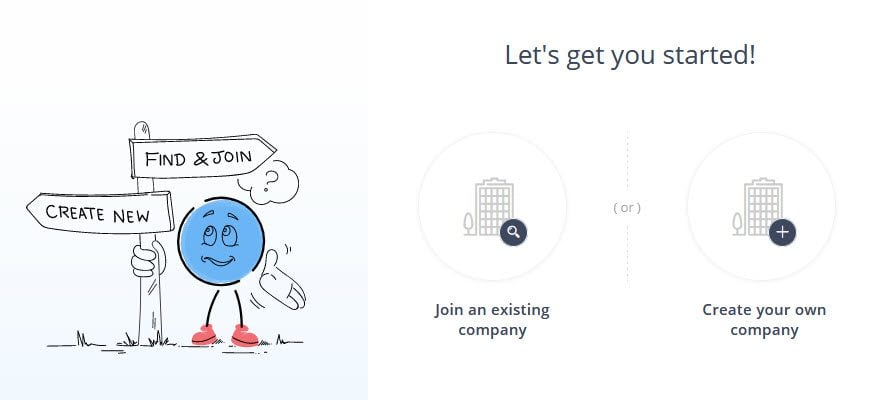 You just pick whether you're joining an existing organization (if your boss invites you, for instance) or setting up a new one. When you get through that, you should see a welcome page that looks very familiar if you've ever booted up Slack, Discord . Or any of the other team chat apps out there.

On the left are your typical options. You will see channels, private conversations, contacts from within your organization (and without), pinned messages, and the bots you have access to on the server. It's all very straightforward and easy to use.
Using Zoho Cliq
Actually using it on a day-to-day basis is pretty easy, too. The workflow within Cliq should…well…click with no problems. The conversations tab expands to display a list of your individual conversations with persons or bots. It also shows the channels you're a member of.

Where this differs from Slack (for the better, in our opinion), the Conversations tab holds everything that you are personally a member of. The Channels tab holds all of the channels that exist on your server. For Slack, you have to enter a totally different screen to see all of the available channels. That means lots of people can miss various channels being created, especially if they're not invite-only.
With the delineation in Zoho Cliq, it lets you join what you want, while still staying apprised of what is going on around your company.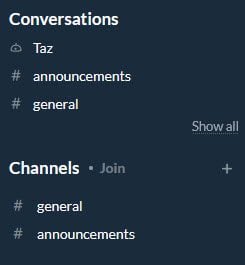 And like other team chat apps, you can allow your browser access to the microphone and you can have voice calls within a channel or conversation.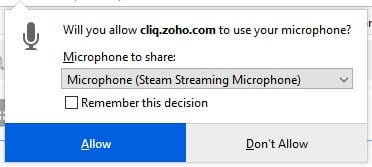 Channels
When creating channels, you get a good number of options, too. You get the normal stuff, such as name and participants and description. But you also get to choose whether the channel is available to the entire organization you're a part of, only invited users (for some reason this is called Personal), or for people outside your organization (clients, customers, corporate partners, and so on).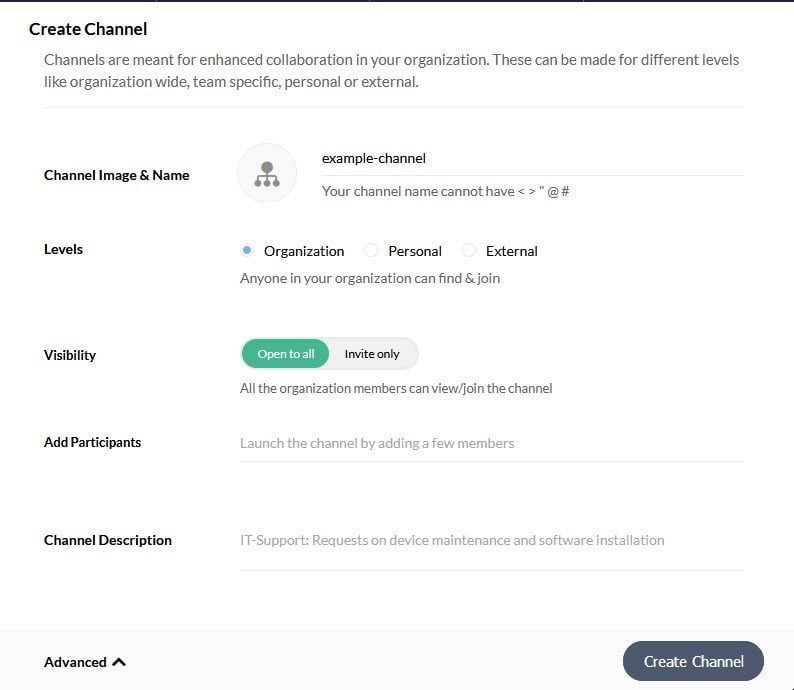 And within that, you have advanced options where you can assign roles and see what individual users can do within that channel.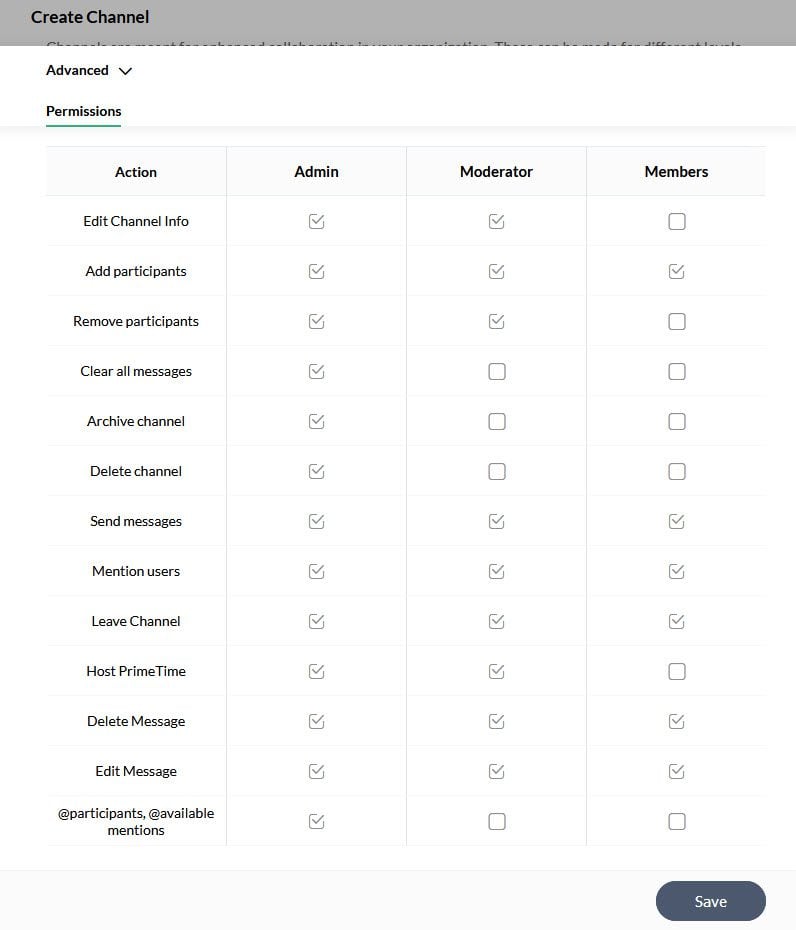 Events
One other big hit for the channels in Zoho Cliq is the Events feature. Like a reminder, you can set up meetings with a click or two and notify all of the attendees what is going on.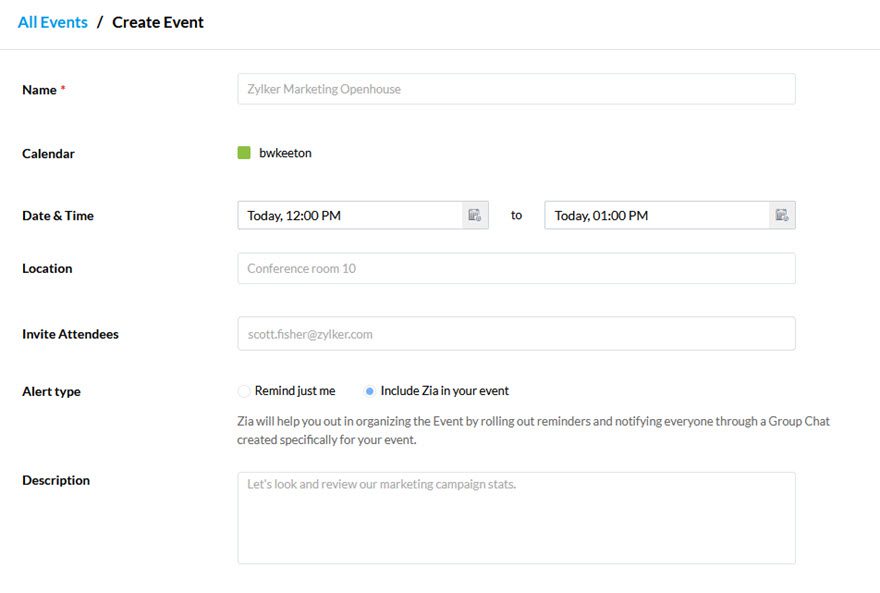 You can also see in the image above that there is an option called Include Zia in your event, which includes the Zoho proprietary AI assistant. She is essentially Cortana or Siri. She handles some of the more mundane aspects of meeting creation. Zia is across the Zoho suite of apps, and honestly, she works really well. If you have the opportunity to experiment with the product, you should.
Extensions and Add-ons
And like all the other Zoho products, Cliq has a slew of extensions that you can add to integrate various services and create different functionality you may need within the team chat app itself.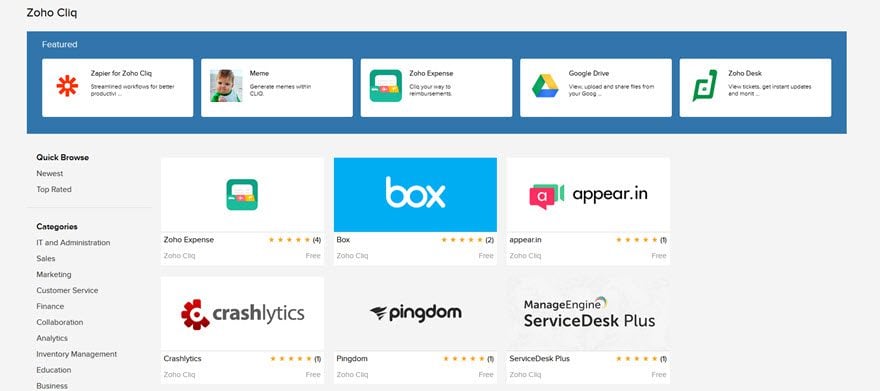 Everything from Google Drive, meme generators, Dropbox, Box, Zapier, and even Yelp. Whatever you can think of, there's likely an extension for it in the library. Which is great because any team chat app is only as good as the workflow that you can create with it. And Zoho Cliq has done the hard work to make your workflows as simple and easy as possible, while keeping the available features robust.
Other Cool Features
One major feature that Zoho Cliq does right is include the option for a Dark Mode from the outset. Staring at glaring white screens all day can cause eye strain , and dark mode is an easy way to keep that at bay as long as possible.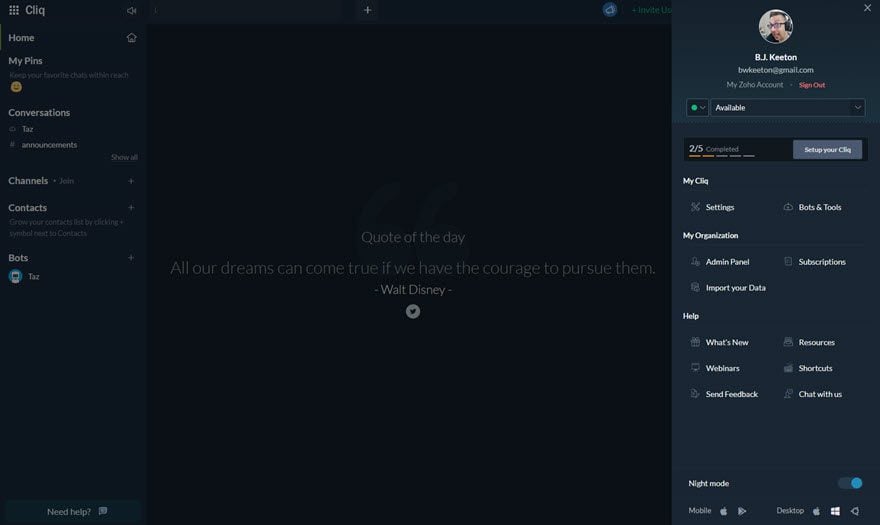 In addition to that, you can also go into your admin panel and create various teams (dev team, content team, etc.) and departments.

Each of these just gives you more freedom to experiment with the platform and further segment off parts of your workflow and communication. You don't have to set up different departments or teams, but doing so does let you set up cleaner workflows to make everything work better together.
Apps
Finally, one of the most important things about Zoho Cliq is that you can access it from anywhere. You can use the browser-based version which is what we have used in this article. They offer mobile apps for iOS and Android . As well as downloadable desktop versions for Windows, MacOS, and Linux.
When choosing a team chat app, that kind of flexibility is necessary. Especially since we all work a little differently within these products. Where Steve might prefer to communicate via his mobile, Stephanie might prefer to chime in from her laptop. And someone else entirely might hate installing anything and just want to work out of Firefox or Chrome. Whatever the case, Zoho Cliq can do that.
Conclusion
Without a doubt, Zoho Cliq is one of the more complete Slack alternative team chats out there. In fact, if you're not already on Slack, but are looking to develop a workflow around a CRM, too, you might want to really consider Cliq because of the superb Zoho CRM that it integrates into by default. It can be used separately of course, but being able to use two native softwares together is always a benefit. We think Zoho has done a great job with Cliq, and we think you should give it a look to see if it fits your needs.
Have you tried Zoho Cliq? What are your thoughts on it?
Article featured image by Visual Generation / shutterstock.com
The post Zoho Cliq: An Overview and Review appeared first on Elegant Themes Blog .