You can insert an audio file through your media library, and you get a serviceable audio player. Press play, and it…plays. But you may need something a little more robust than that. Something with a little more flair and a lot more features. If that's the case, pick your favorite WordPress audio player plugin and listen until your ears ring.
1. Smart Podcast Player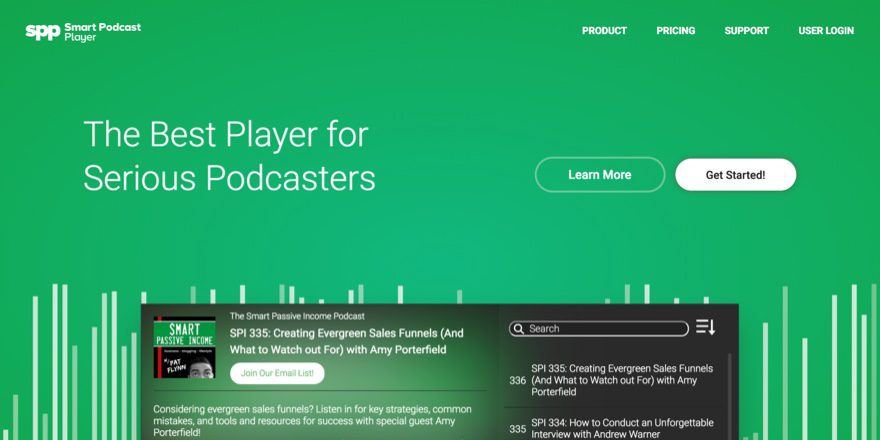 I have to mention the Smart Podcast Player. If you're in the market for a premium player that your users will actually enjoy using, SPP is it. Designed for podcasts (obviously), this WordPress audio player plugin is a high-end product. They can easily binge your entire library, and the Smart Track Player takes that same functionality for an entire show and gives it to a single track. That way you can use it for music or podcasts or even just snippets for your audience to download on a one-off basis. You can even capture listeners' email addresses through it for your mailing list and marketing! And at $8 per month, it's pretty affordable.
2. Blubrry PowerPress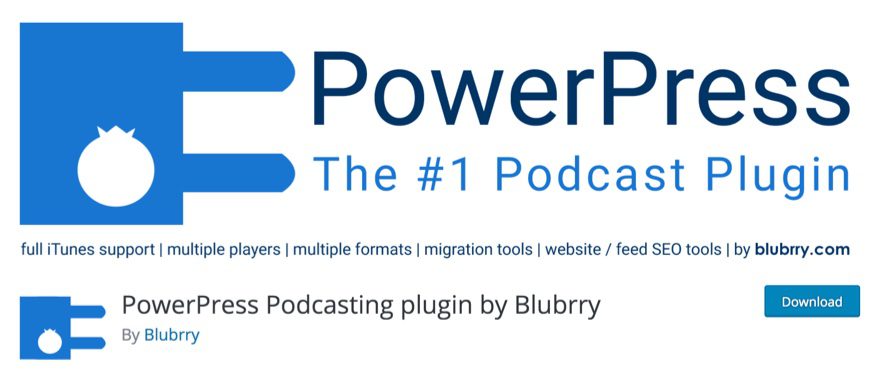 PowerPress is a great player. PowerPress is completely free and easy to use, and we did a total write up on how to set up using it to host your podcast using WordPress. That said, as fantastic of a player for podcasts as it is, it can also work for other media that you want to display as well. While it's not as slick as the SPP (honestly, very few are), PowerPress is feature-rich and more than capable of holding its own with any premium WordPress audio player plugin out there. If you need people to listen, install Blubrry and just…PowerPress play.
3. Amazon Polly for WordPress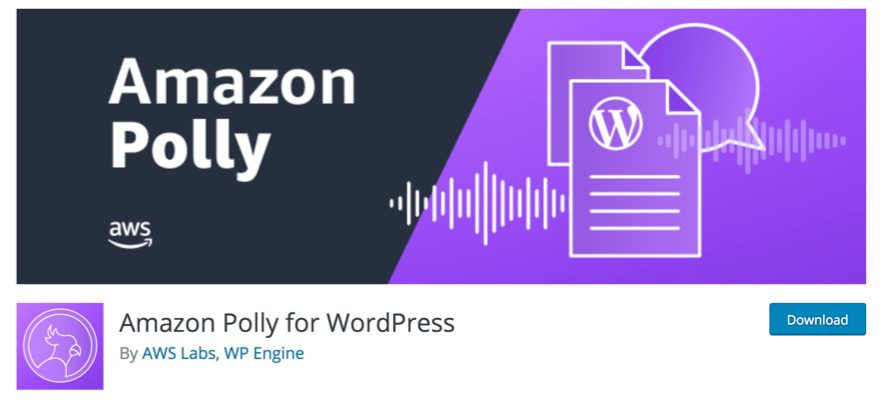 You want to make your website as accessible as possible, right? Well, text-to-speech is an amazing way to do that — your readers can just hit play and have the whole post read to them. The downside is that you have to take the time to record that audio, edit it, and make it shine. The upside to that downside is that you now have access to Amazon Polly, which will do that work for you. On top of a great vocabulary recognition, Amazon has also built-in support for Amazon Translate, so you can provide multilingual options for visitors, too.
4. Compact WP Audio Player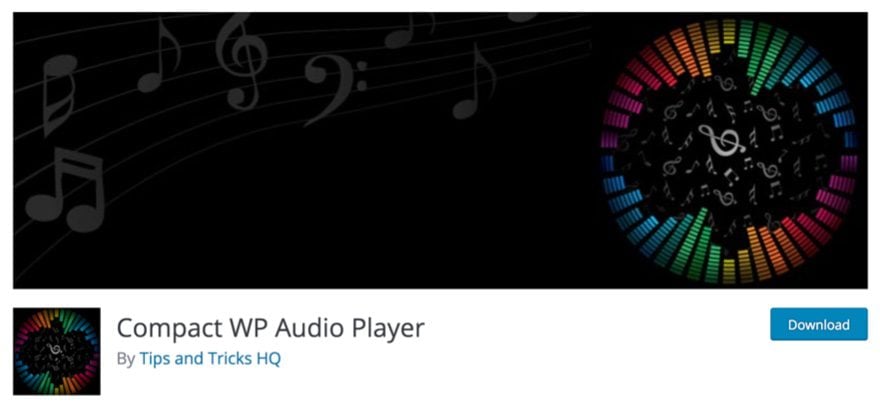 The Compact WP Audio Player is simple and easy. If you just need to display any kind of audio on your site for any reason, just throw in a shortcode, and you're ready to go. You have multiple ways of styling the player, and there's complete documentation for that here.
5. Music Player for WooCommerce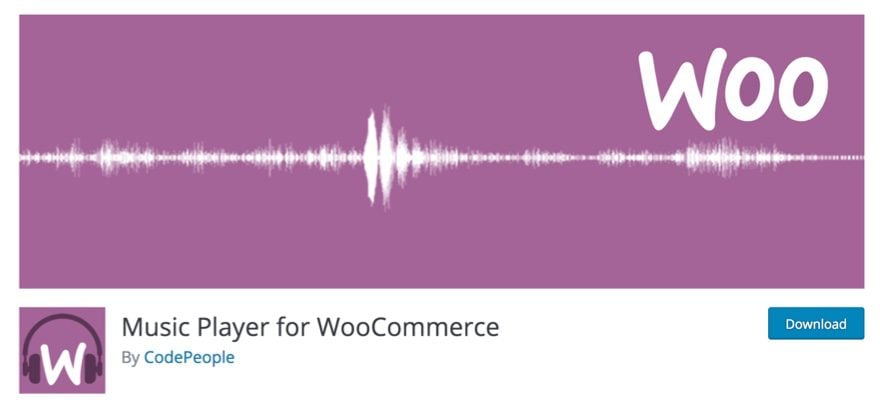 While free music is fine and dandy, and we all love it, you have to get paid. The starving artist gig is wonderful in theory, but the reality is much, much worse. You know…the whole starving part. So when you use this WordPress audio player plugin, you can sell your music or podcasts or whatever else and put food in your mouth and make the starving part hit the road. When you protect your audio, you allow the customer to sample the file, and the plugin automatically truncates the audio for you. iTunes and most other marketplaces do something similar. You can place the player in a lot of different places throughout your WooCommerce pages using a shortcode, so you have total flexibility of how you want to present your merchandise. So instead of using an extra platform to sell your audio, you can finally use the one you already know.
6. MP3 Music Player by Sonaar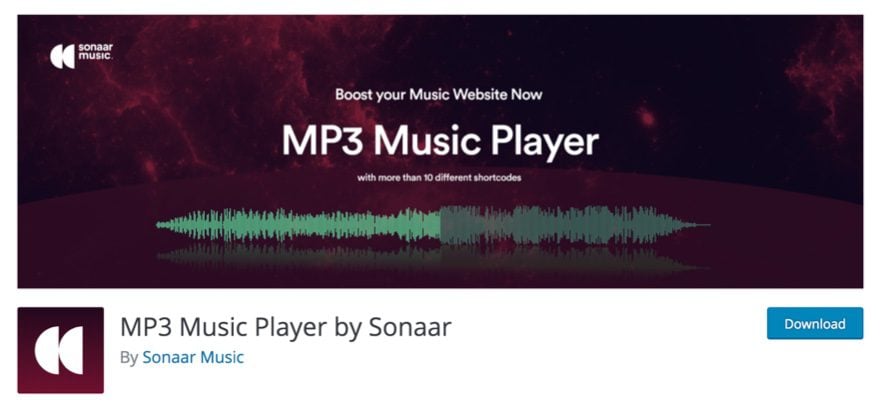 This is one pretty WordPress audio player plugin if I do say so myself. You see the waveforms as you listen, and the options inside let you change the color palette of the player. You can either display a playlist or a single track, which is fantastic for both podcasters and musicians alike. Use this to spruce up your posts by adding audio commentary to special ones, or you can just include a waveform that is aesthetically pleasing and makes their experience a little nicer (maybe in a fixed, floating iframe that moves along with their scrolling – not included in the plugin, just an idea).
7. Audio Album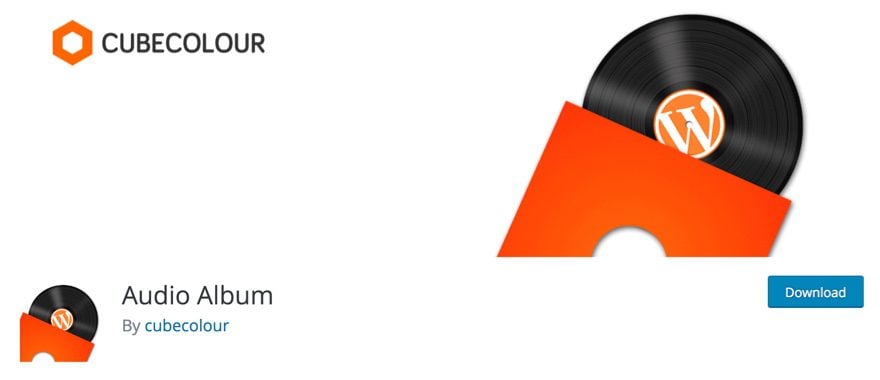 Not to be outdone by the competition, Audio Album comes in as a contender for the title of prettiest WordPress audio plugin, too. More than some of the plugins listed above it, Audio Album has a slew of customization options that you can designate on the shortcode level. If you want to add an artist name or album title, you can. If you want the player to be a certain size or style, you can do that, too. On top of that, when you go into the theme customizer, you can adjust the styling the same as you can anything else in your theme. It's very intuitive and easy to use, far more than many proprietary customizations that come with many plugins.
8. HTML5 jQuery Audio Player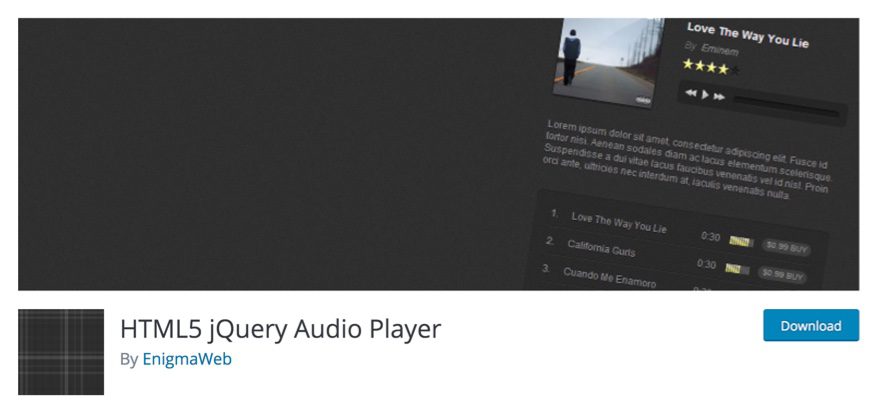 Another slick-looking player with a very technical name is the HTML5 jQuery Audio Player. What sets this one apart from its peers is that you can set a price within the plugin itself and sell your stuff directly using Easy Digital Downloads. There used to be a pro version that lets you access widgetized areas with your player and have multiple playlists, but the developer has decided to integrate many of those pro features into the free version, so in the coming months, this WordPress audio player plugin should become even more powerful for free.
9. Sticky Audio Player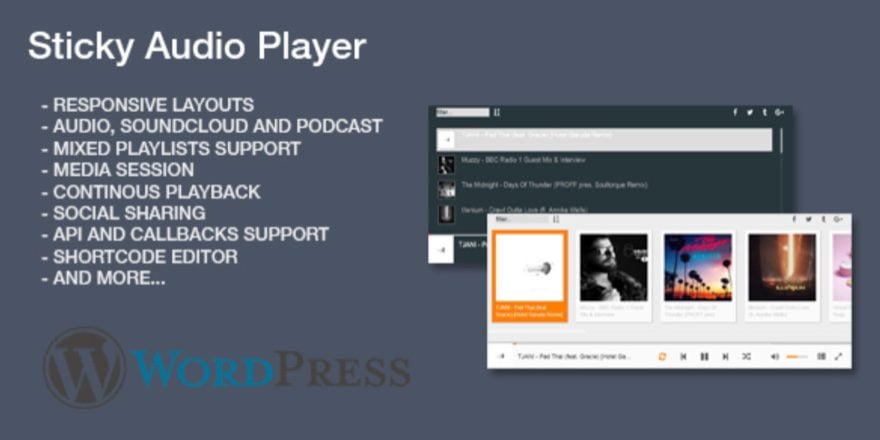 You can pay $27 on Codecanyon for this great option. This one works well, is smooth and fast, and you can pull your media from roughly anywhere you host. Soundcloud, various podcast hosts, self-hosted media servers, wherever. Another great feature is that you can play across multiple pages as users navigate your site, or you can offer the option to launch in a pop-up window so that even when those people leave your site, they can still listen to your content. It's a fantastic way to keep users engaged with your content.
10. WavePlayer

As of this writing, WavePlayer is the #1 rated WordPress audio player plugin on Codecanyon. There's a reason, too. It's good. Really good. You can have people download your audio, select what your optimum loading style will be for your site, and so much more. You will basically never run out of options to tweak, and the player itself is beautiful, too. It will display a colorful waveform of the audio to show progression through the track, and maybe the best part is that you can use product_id and product_url in the player itself to point people at the product page to purchase the track. So once again, you can invest $26 to prevent yourself from becoming a starving artist.
11. tPlayer
Unlimited playlist. Unlimited tracks. And unlimited tracks on those unlimited playlists. Sound good? Then take a look at tPlayer. Not only do you get the limitless options, but you also have 10 templates, style customization, an automated Top 10 Songs of the Week playlist that you don't have to curate yourself, and a radio mode where you can stream your music or other audio posts. For $25, you get a whole lot of functionality. The value is definitely worth checking out.
12. ZoomSounds

Zooming in to the final spot on our list, but definitely not last place, ZoomSounds can replace your default WordPress audio player with some super cool options. It looks similar to the SoundCloud player, and whether that's a good thing is up to your own tastes. It looks sleek and is the #1 selling WordPress audio player plugin. So that counts for something, I think. The plugin is mobile optimized, offers a great number of customizations and CSS elements (you can even replace the entire player with a custom CSS skin if you want), and if you don't like messing with optimizing file formats, you're in luck: ZoomSounds uses MP3s. And only MP3s.
Listen Up!
Whether you are looking for a premium option or a free WordPress audio player plugin, you can't really make a bad choice. If you're having a hard time deciding, take a look at the dozen players above and play eeny, meany, miny, mo, and no matter which player you land on, you're going to be happy.
What is your favorite WordPress audio player plugin?
Article featured image by GoodStudio / shutterstock.com
The post 12 Best WordPress Audio Player Plugins appeared first on Elegant Themes Blog.