You have probably heard of managed WordPress hosting, services like WPEngine or Flywheel where all of the back-end and security stuff is taken care of for you. That way, you can focus on what matters — your website. But have you ever thought about managed WooCommerce hosting? Well, Liquid Web did, and they now have an all-in-one solution that makes WooCommerce a direct competitor (as if it weren't already) with the likes of Shopify. If you want to stay in the WordPress ecosystem, but have the benefits that come from a managed storefront, Liquid Web may be the way to go.
What is Managed WooCommerce Hosting, Exactly?
And how is it different from managed WordPress hosting? Well, essentially, Liquid Web isn't running a typical WordPress install. The servers and sites and details are all put together to maximize the performance of the storefront. Not for maximizing resources for a CMS that has a storefront running on top of it. If you're looking for dedicated WooCommerce hosting, you aren't going to be delivering lots of additional content (blogs, pages, media, etc.). You can. But that's not what it's for. With the Liquid Web WooCommerce hosting, you're getting a pipeline of resources that best maximize your sales funnel.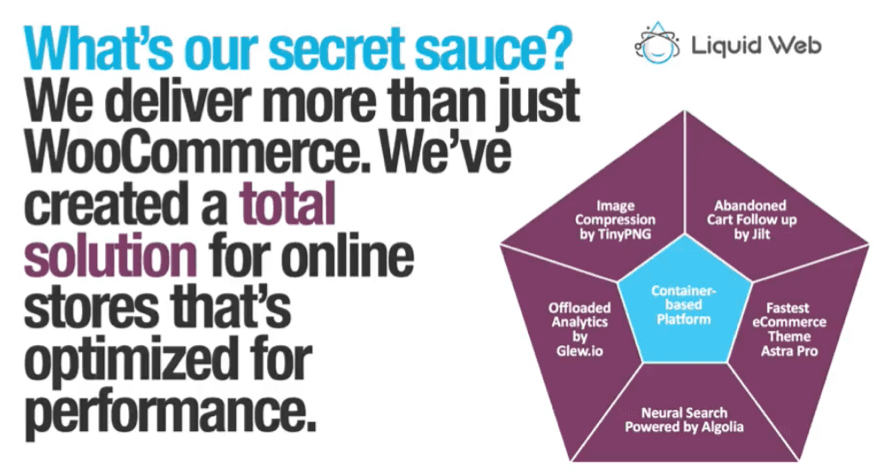 In their demo video, Liquid Web says that 43% of eCommerce traffic comes from Google search, that 59% of all eCommerce sessions are on mobile devices, and that 70% of shopping carts are abandoned.
Because of that, Liquid Web has set out to deliver a top-of-the-line experience with the highest-benchmarking tools out there.
What Does That Entail?
Your site will run in its own container (read: protected from the hazards of shared server hosting) with Astra Pro and Beaver Builder, an incredibly popular premium theme and page builder combo, as well as be tooled to work with external products to off-load processes that would normally be handled by your local server. By doing so (for things like product search, for example), your users should get a faster response from your site, which significantly reduces downtime. (You can use other themes, however. They just won't be quite as optimized.)
By focusing on just WooCommerce speed and scalability, the Liquid Web hosting can outperform other managed hosts in this area. Keep in mind, these tools aren't designed for content delivery. Instead, they are for creating the best shopping experience for your customers to create the highest conversion rates possible.
And they use Algolia to offload your search processing. Sure, that takes the load off your servers and hardware so that your customers have a better experience, but it's also just a better search tool. Let's be honest: the default WordPress and WooCommerce searches always leave something to be desired. Neural searches that are algorithmically and AI-driven simply work better and provide a better shopping experience for your users. Think about how much better using Amazon's search is than trying to find an old blog post on your site. Exactly.
Pricing and Options
All that said, you have to be able to afford the platform to be able to make use of it. Their beginner package is $39 per month. And it is pretty comparable to most other managed WordPress hosts' monthly pricing. Generally, you'll pay $29-49 per month for the lower-tier packages. If you need more than that, it's a steep jump to the next tier. $99. Regardless, Liquid Web offers a slew of packs for you to choose from.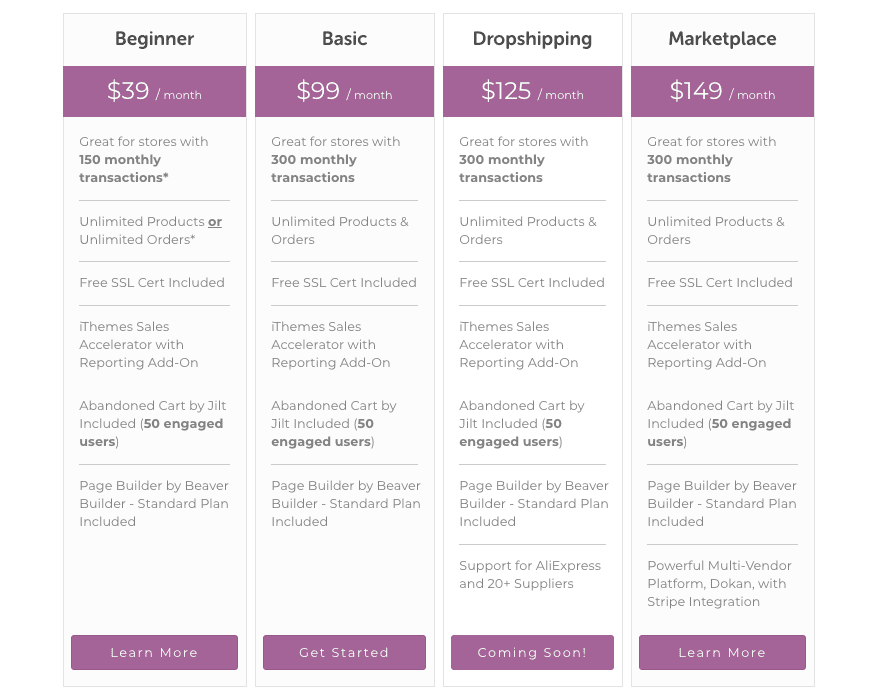 And if you already have a shop that does a lot of business, there are high-performance plans, too.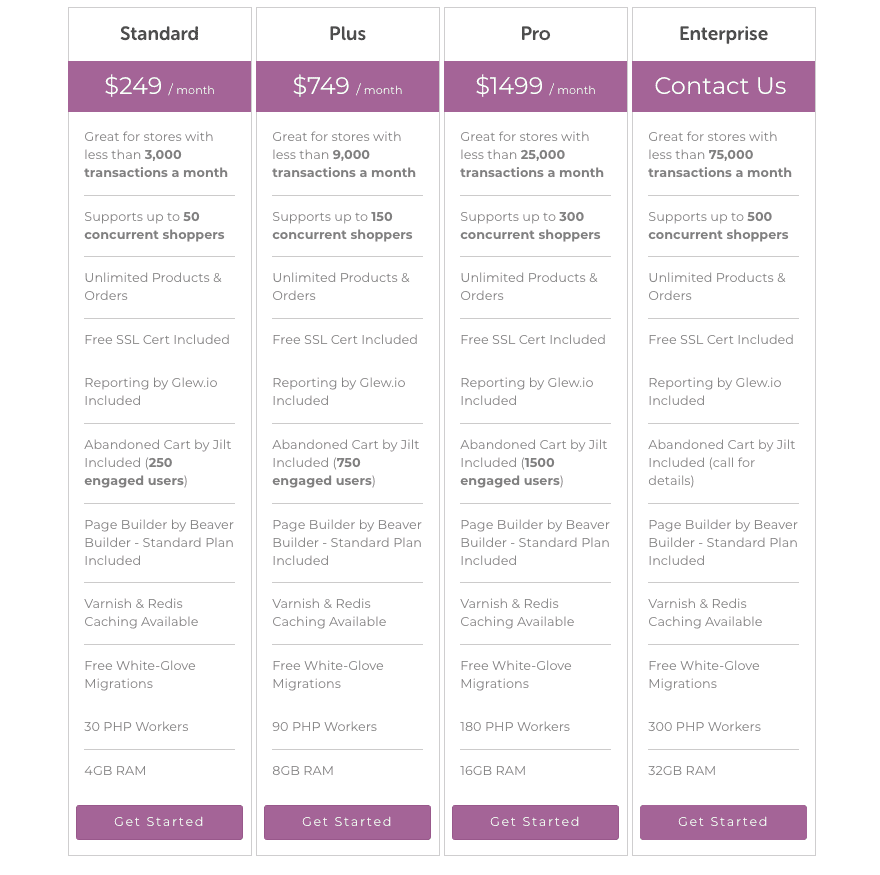 Additionally, one very important aspect of the managed WooCommerce hosting is that Liquid Web does not take a percentage of your sales. Shopify and other eCommerce platforms do. That factor alone can be a significant revenue jump for you. 2+ percent can be a lot of cash.
Versus Shopify
Additionally, if you're looking into the Liquid Web managed WooCommerce hosting as a Shopify alternative, they've outlined a cost analysis for what you get on both of their basic plans.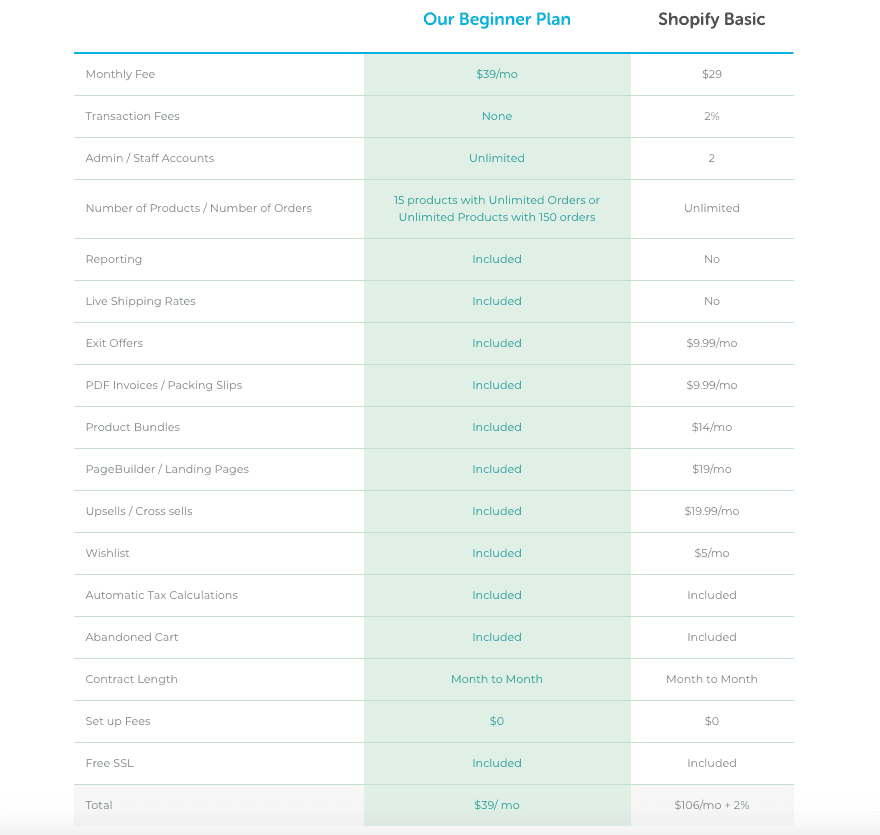 Overall, there does appear to be a pretty sizeable difference in the basic plans for both, depending on what your needs are.
Overall Features
The real meat-and-potatoes of the managed WooCommerce hosting are the features it offers you. The best infrastructure and speed tests are worthless if the features you can use them to power aren't up to snuff.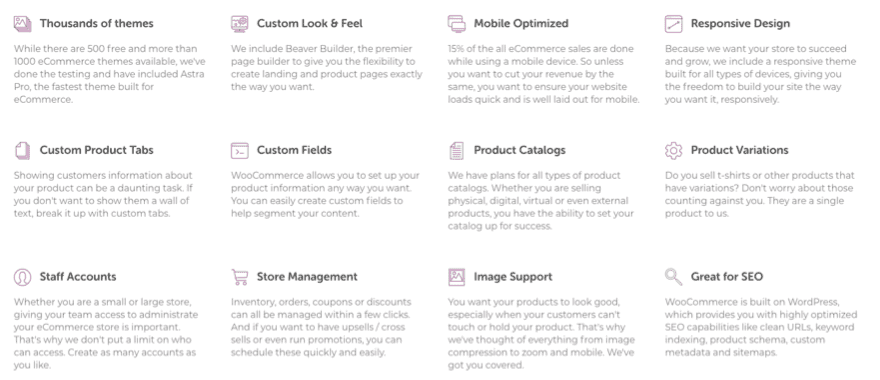 Some of the features included on their list are basic features of WooCommerce may seem for marketing purposes: store management, responsive design, great for SEO…you know. Kind of the minimum stuff you'd expect from software these days.
However, as you look into them, you'll see some goodies that you will see why they included them. Under Product Variations, for example, you can have any number of variations and that it counts as a single product toward your quota.
The Mobile Optimization point is important because it's actually pretty difficult to fully optimize an eCommerce site to load well and have good UX on mobile. Additionally, the Custom Product Tabs, Fields, and Product Catalogs give you a lot of control within the dashboard to set up your store more easily than you may be able to on WordPress alone on a default installation.
That said, you can customize your store in pretty much any way you want. Astra Pro is incredibly flexible. Add in Beaver Builder, and you can tweak your store to be whatever you want it to be.
Specialty Dashboards
When you log into your managed WooCommerce hosting dashboard, you're going to see a few differences from a typical WordPress installation. If you have ever used another managed host before, you may feel closer to home. But for folks who've only ever used self-hosted WordPress, it can be a shock. Not a bad one, though. What I mean is that almost every managed host uses a WP dashboard that is nothing at all like the built-in admin panel you see with most WP installations. (You can, however, interact with the traditional WP dashboard, too.)
Initially, however, you will be given a dashboard for your overall account.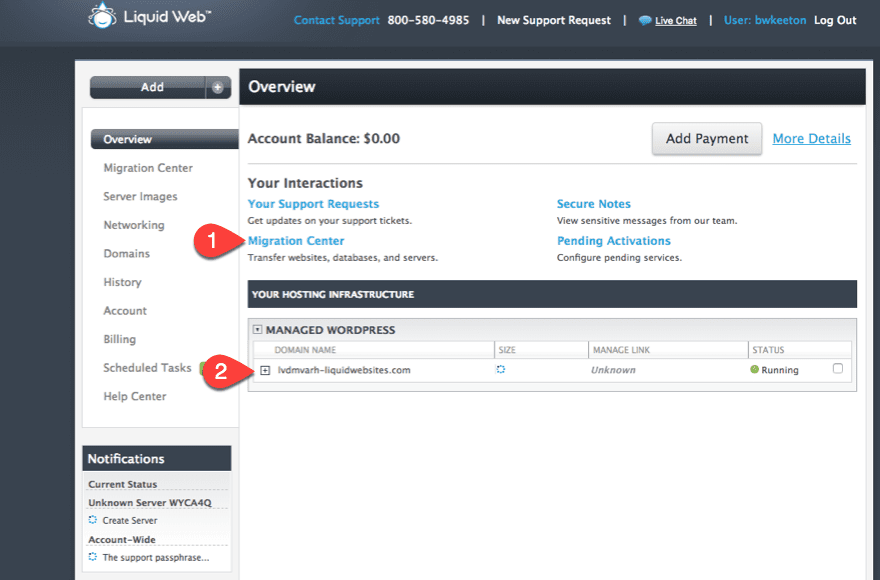 First, notice that you have a Migration Center link. If you are coming from a previous WordPress installation, you will need to go through this portal to migrate your store. There is both a self-service, do-it-yourself option and a managed one (free).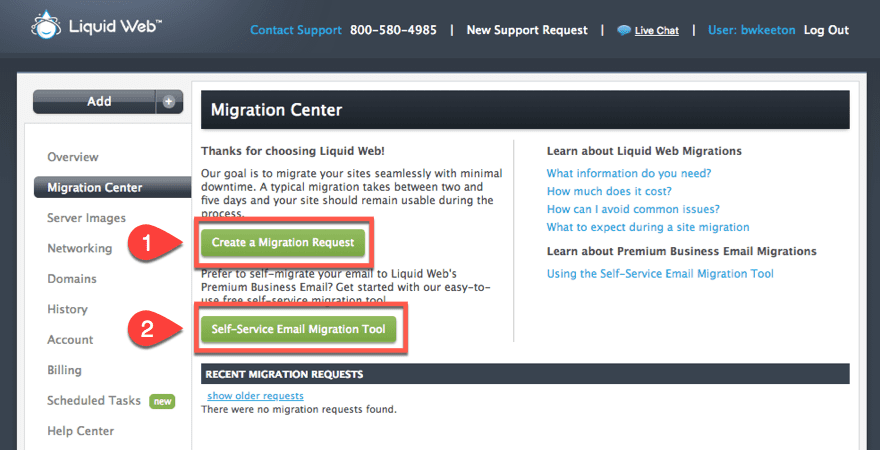 Second, you will see your actual managed WordPress installations. At first, you will have a URL made up of gobbledygook, but once you get the migration and domain ported over, this will show your real store URL. You will change this in the site-specific admin dash.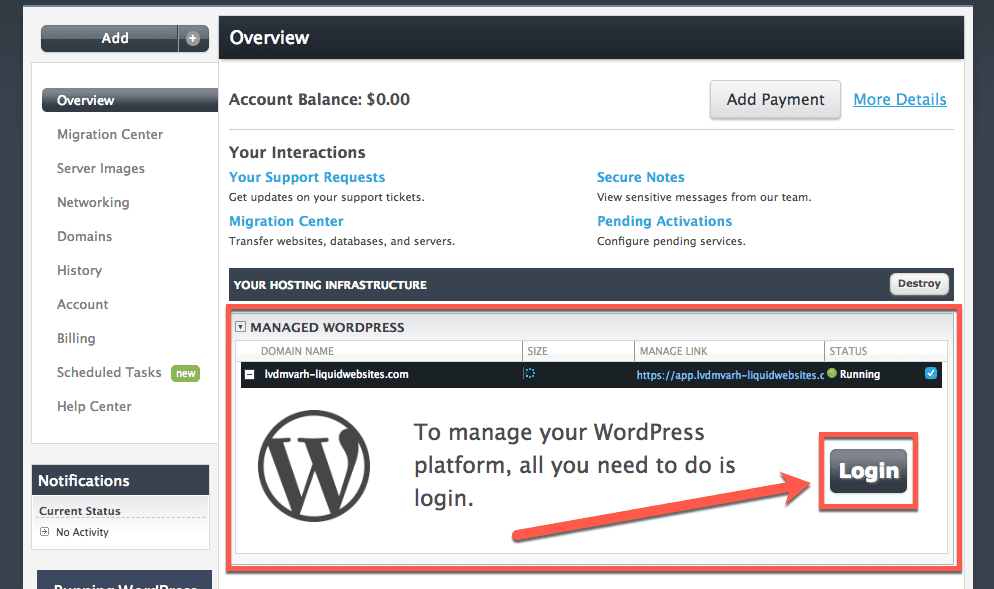 Your Home Dashboard
You may be a little taken aback by your new dashboard. It shouldn't take you too long to adjust. You do have to learn a new UI. But Liquid Web has set up a great way for you to manage your store. In fact, because that's the objective of their product, that's what your dashboard focuses on.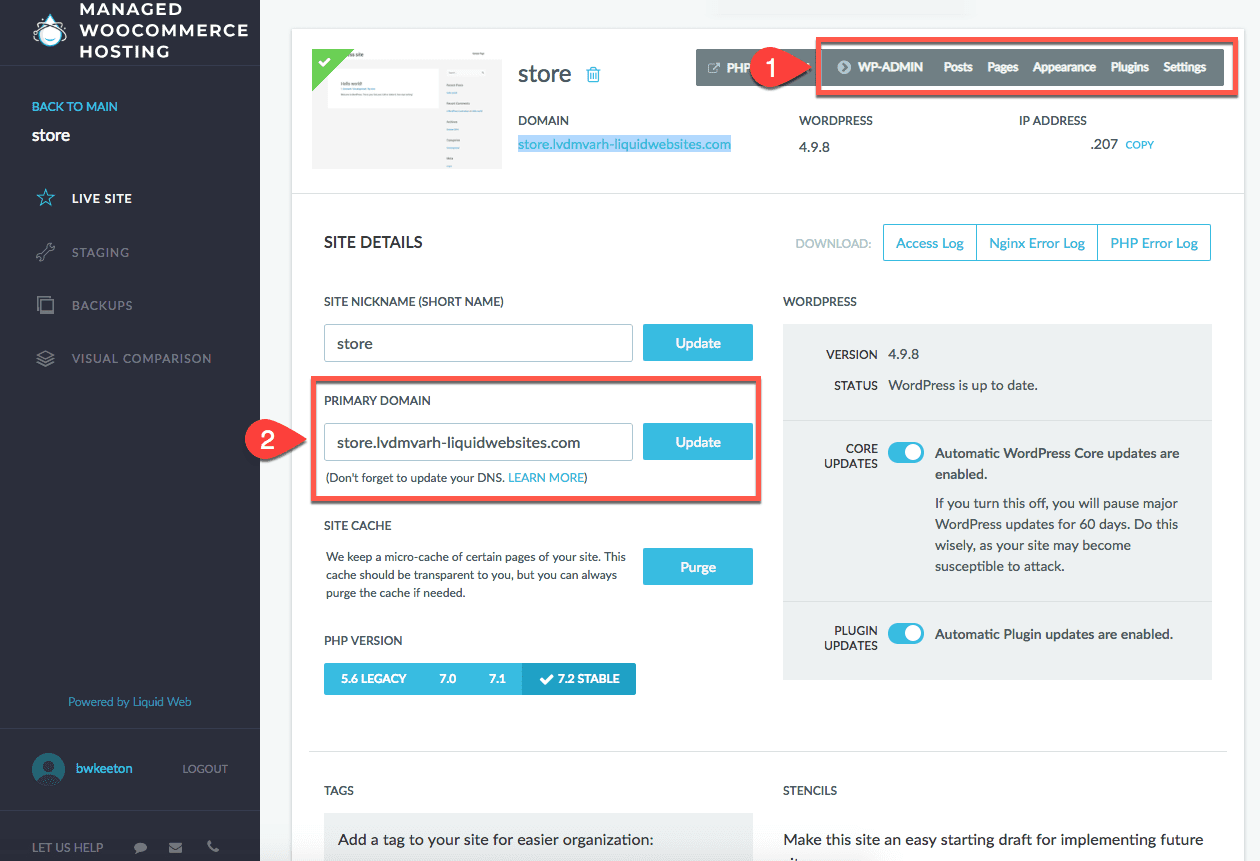 First of all, you will see the WP-Admin expandable toolbar to the upper-right of the screen. You can access the traditional posts, pages, themes, and so on from here. You will be emailed your admin username and password. It is not your Liquid Web credentials. Also, the first time you log in, you will be prompted to set up Two-Factor Authentication. Please do.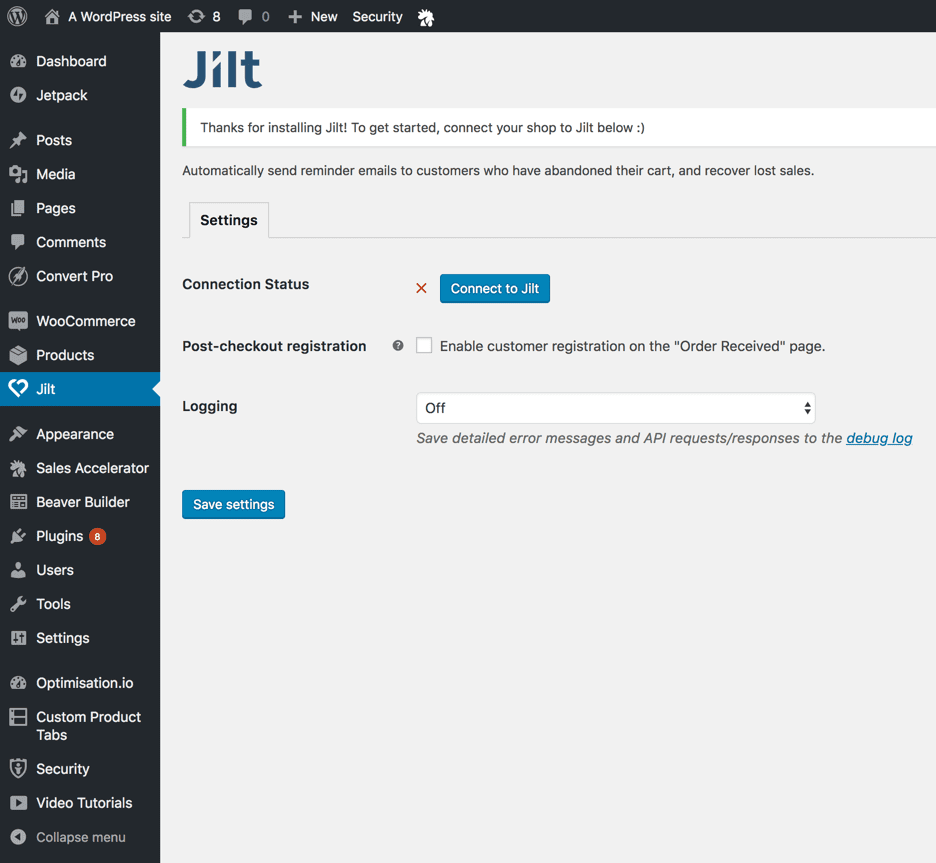 As you can see, there are a lot of menus for you to mess with (including themes and plugins). You do have the option to move away from Astra Pro and Beaver Builder if you want. That is up to you. But remember that this platform was designed with them in mind. If your site slows down a bit, consider reactivating them to see if that can be improved.
Your Jilt Dashboard
Additionally, you get a dashboard for Jilt, too. Jilt is the software Liquid Host provides to track abandoned shopping carts. If you have ever used an email service like Emma or Aweber or MailChimp, then you will be able to figure your way through Jilt with no trouble at all. Because abandoned cart recover is essentially email marketing, your experience with segments and groups will come in very handy here. But without having to actually make those segments, groups, and such yourself.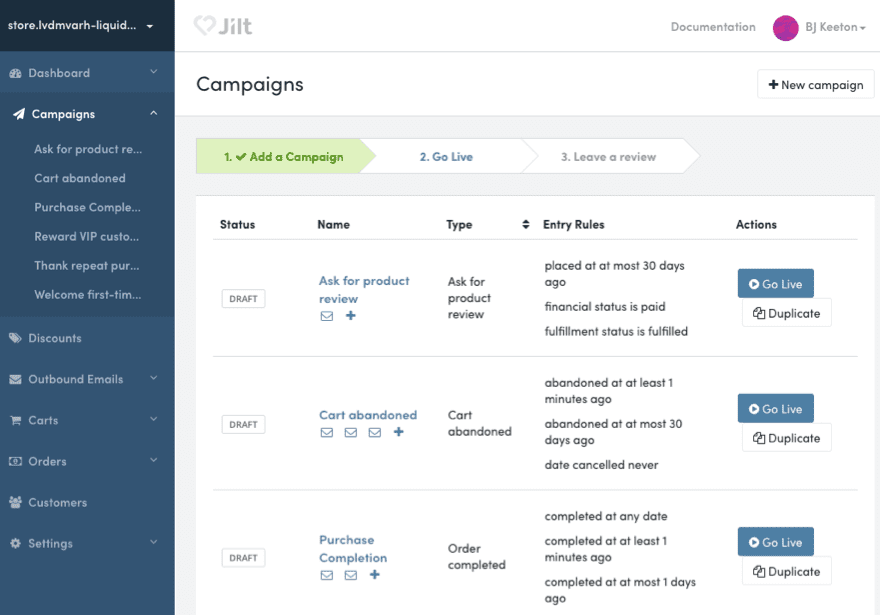 Your Glew.io Dashboard
Glew.io is a service that Liquid Web contracts with so that your store analytics are prepared off-site. This is done so that your site focuses on what's most important: making sales.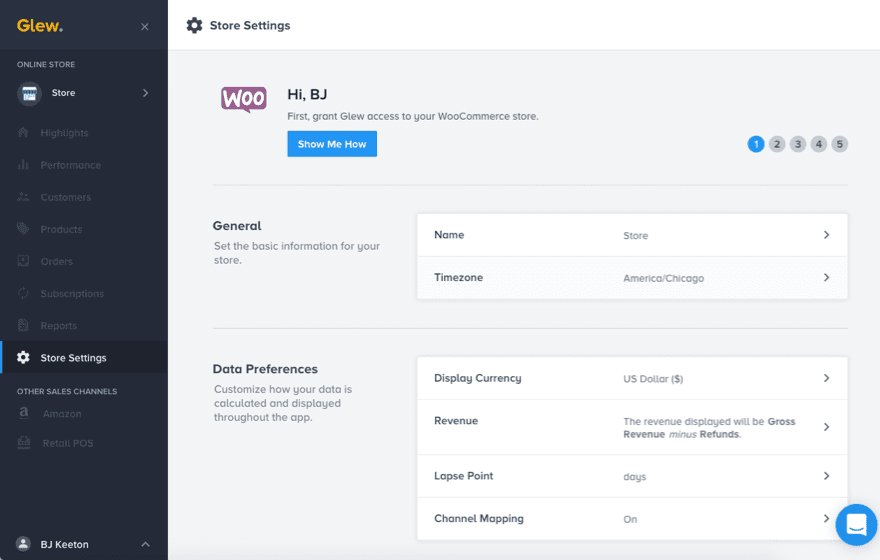 Without having to run the processes and crunch numbers behind the scenes, your eCommerce store will run faster and more smoothly for your customers. When your store hits the big time, and your reports require thousands and thousands of calculations, your store can be slowed dramatically.
Limitations
As with every managed host, the security and speed and focus comes at a price. And not just a monetary one. With typical managed hosting, you can be limited on the kinds of plugins you can use (and sometimes themes) because of how they interact with the back-end setup for the host. The more customization the host has done to make your life simpler, the more likely there will be a few limitations set up.
That said, you can use whatever caching and security plugins that you want with the Liquid Themes managed WooCommerce hosting. They do, however, come with a lot of these pre-installed with premium versions that are optimized for the platform. So you might want to consider using them. Instead of negative reinforcement (limiting your options), they offer positive reinforcement (giving you great options you may not want to swap from).
The primary limitations for the platform come in with the number of products, orders, and customers that you can have. Depending on your pricing tier, you may run into some snags here. However, they are pretty generous, so there's likely a plan for you. You can see what specific limitations are placed on which plans on the pricing page.
Wrapping Up
If you're looking for a dedicated eCommerce platform, Shopify might be the first option to come into your mind. But Liquid Web's managed WooCommerce hosting is absolutely a contender for your business. If you're already a WordPresser and want to stay with a shopping platform you know, you may honestly not be able to better than this. While there are limitations when compared to running your own WP installation in terms of product listings and bandwidth, the benefits and speed may outweigh those for you. If you already use WooCommerce, you get a bonus. Liquid Web migrates you for free. Which means having to go through the store setup process again. That alone saves a lot of time and effort versus swapping to a totally different platform.
What would it take for you to swap to managed WooCommerce hosting versus traditional WordPress?
Article featured image by Sammby / shutterstock.com
The post An Overview of Liquid Web's Managed WooCommerce Hosting appeared first on Elegant Themes Blog.