Quick Actions are Coming to Divi.
A Command Center for the Divi Builder
With Divi Quick Actions, you will be able to change settings and complete actions all from one place with a few keystrokes.
Today, we're excited to introduce a new upcoming Divi feature called "Quick Actions". As Divi continues to grow more powerful as a page builder, it has become more customizable and intuitive for web designers than ever before. And with countless builder actions and settings now available, it makes sense to create a place to find and do everything all from one convenient location. That's what's going to make Quick Actions such a useful feature. It will be like a command center for the Divi Builder, allowing you to conveniently access Divi Builder Settings and perform builder actions all from one place. This will save time, bypassing the normal process of clicking through the Divi builder to find certain settings and complete certain actions.

How Quick Actions Will Work
Quick Actions will be accessible within an intuitive modal powered by a smart search bar to access and deploy all of Divi's settings and actions in one place.
The Quick Actions Modal
Divi's Quick Actions will be accessible from the Quick Action Modal that has a really smart search bar complete with search hints and results that appear as you type. Like Apple's Spotlight Search, the Quick Action Modal will be triggered simply by pressing a couple of keys (like "Command + Space"). Once the quick action modal is triggered, you'll be able to click on a search category to find what you are looking for.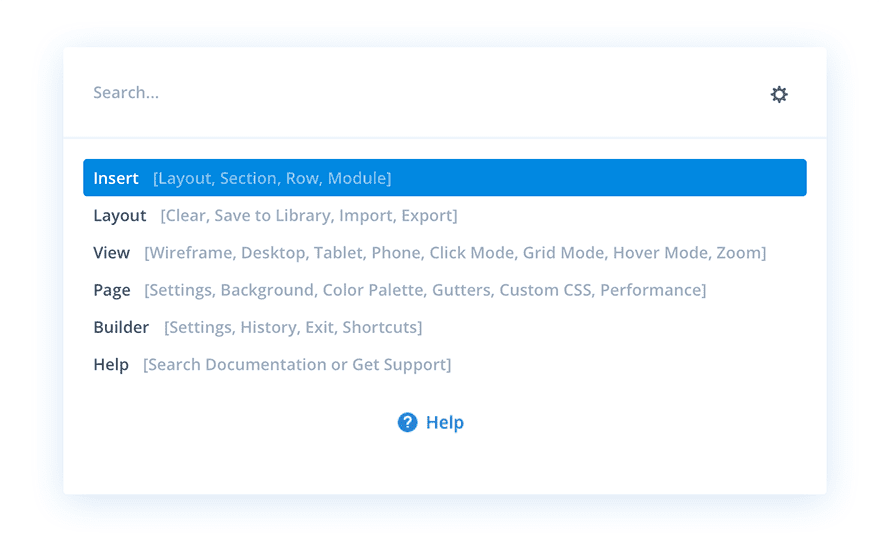 Or, you'll be able to simply start typing a command and see search suggestions as you type.

The Possibilities of Quick Actions
Divi's Quick Actions won't be limited to a few simple commands. All of the Divi Builder settings (or features) will be accessible from the Quick Actions Modal. So if you have feature in mind that you want to access, getting there will be a breeze by typing the name of the feature or search category.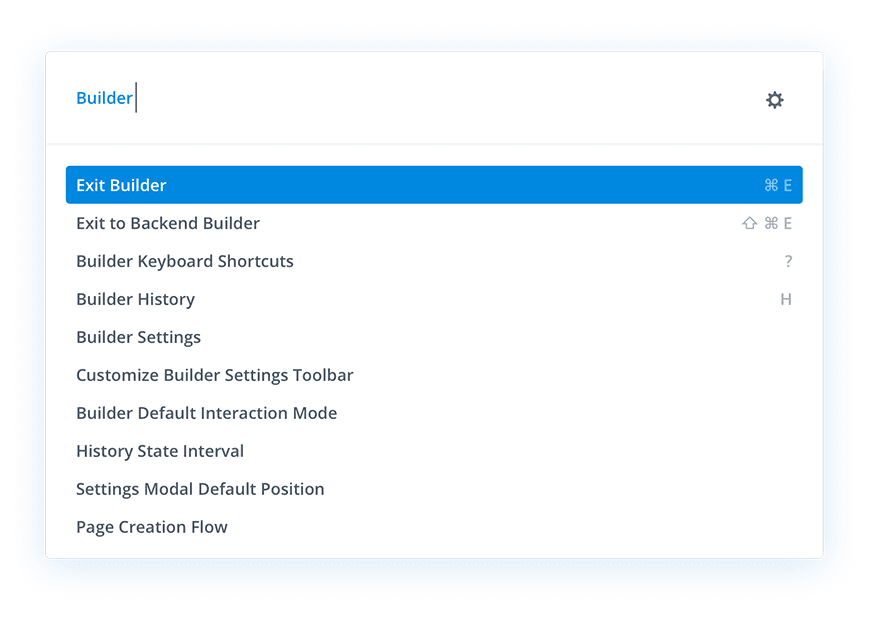 Also, all of the actions you can currently do within the visual builder will be possible using Quick Actions (everything from saving your page to adding a saved layout from your library). So if you know what you want to do, all you will need to do is simply start typing!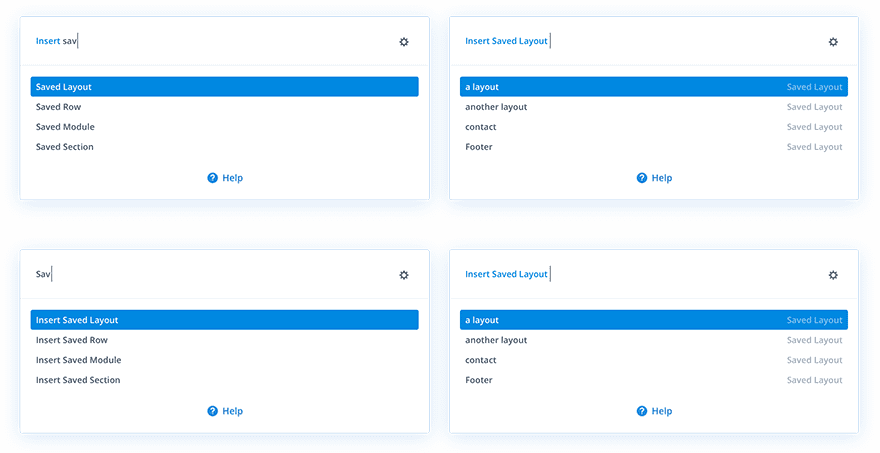 Example Quick Actions
Here are just a few examples of search commands to give you a taste of what will be possible…
Type "insert blurb" and press ENTER to insert a Blurb module to your page.
Type "Export" and press ENTER to deploy the portability modal's export option.
Type "View" in the search bar to select a different view mode like wireframe mode.
Type "Click Mode" to change the interaction mode of the builder.
Type "Help" to access external links for Divi documentation and support.
Type "Page" to access customizable page features like page settings, color palette, and Custom CSS.
Type "insert saved layout" to bring up a list of all your saved layouts to choose from.
And those are only a few examples. There will be many more!
Smart Search Results
As you click or type certain category terms, a list of relative search results will automatically appear and update accordingly. And certain search results will be labeled with helpful descriptions so you can better identify the item in the list. For example, typing "Insert Row" may bring various results that can be readily identified with each label.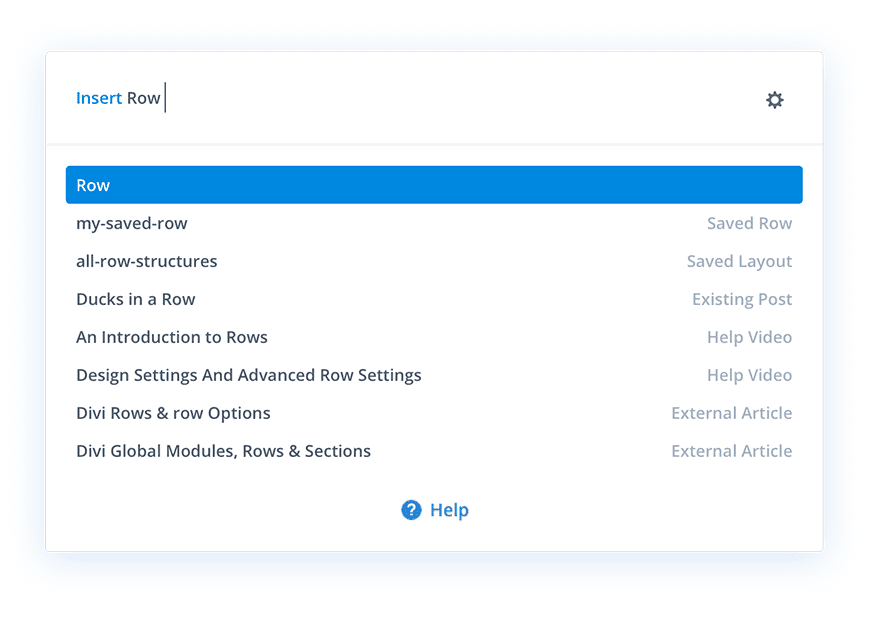 Thinking Bigger About Web Design
With every new feature, Divi seeks to fill another gap in the design process to empower users with the tools they need and inspire them to think bigger about the new possibilities of building websites with Divi.
I'm excited to see how Quick Actions will improve your experience of building websites with Divi. We could all use a little more convenience and speed. Let us know your thoughts on the Quick Actions feature below.
The post Divi Feature Sneak Peek: Quick Actions appeared first on Elegant Themes Blog.