The Magic Color Interface
Introducing a new dynamic color system that helps you be creative and build websites more quickly.
Today we are introducing the all new color manager for Divi, a pretty magical new interface that makes it easier to manage colors, access recently used colors and explore the colorscape for new and beautiful color palettes for your website.
Whenever you edit a color in the Visual Builder, you get quick access to your customizable website color palette. This is great when you have already decided on a color scheme, but during your initial design process it's not as useful. So today we are introducing a much more dynamic color system that feeds off your interactions to improve efficiency and spark creativity.

The New Color Manager
Quickly access recently used colors and fuel your creativity with Divi's amazing color suggestions.
Quickly Access Recent Colors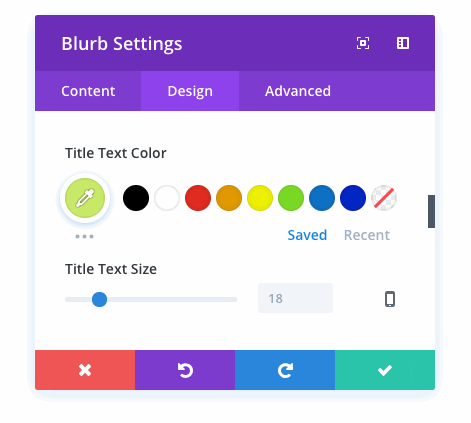 The first thing you will notice is the new Recent Colors tab. This system automatically keeps track of all the colors you use while designing your website. As you explore new ideas and ultimately choose different colors, those recently used colors remain easily accessible so you can use them again when you edit a new module or a new page. These recent colors are remembered across your entire website!
Amazing Color Suggestions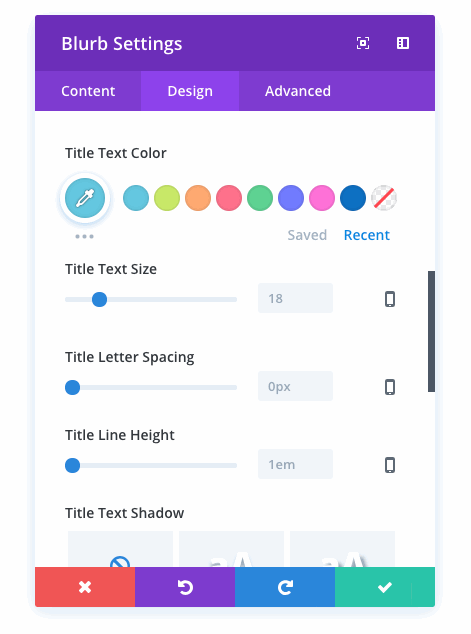 We take your saved colors and recent colors and expand upon them automatically using our own color algorithm that builds harmonious color combinations for each color in your pallet. As you build your website, Divi automatically suggests new and beautiful colors that will go great with the colors you have already been using and the colors you have saved. When you expand your color pallet, all of these color suggestions are created dynamically and displayed for easy access.
The Magic Color System

When you explore the color-scape, each of your colors are expanded into their own color schemes. Each row is a new and unique color scheme built from one of the colors in your palette, and you can quickly access these color suggestions as you design your page. Not only does the recent colors tab help you be efficient, the new color exploration system helps you be creative.
Feed Your Creativity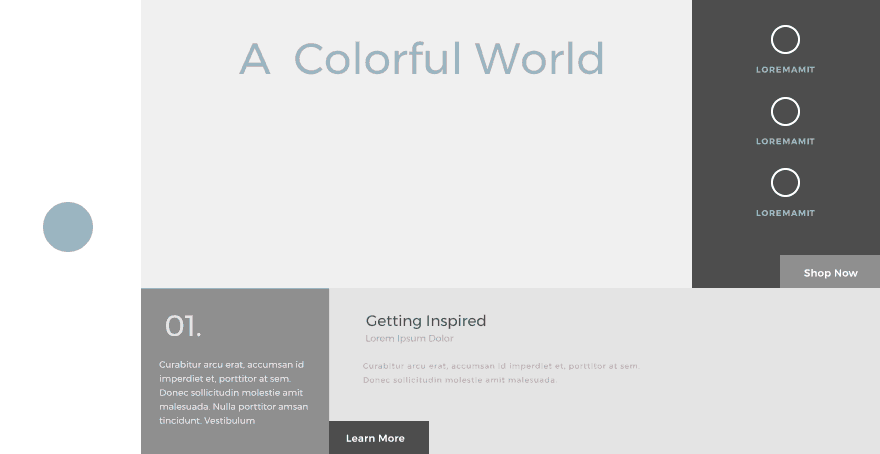 We want to help designers be more creative throughout their web design process, and that especially includes the initial ideation process and initial design explorations within the builder. The recent colors tab helps you be creative by keeping track of your design process, and the color suggestions system automatically finds harmonious colors that will go great with whatever colors you have been using on your page. You can then take these ideas and solidify them by saving the colors to your saved website color pallet as you finalizing your website's design system.
The new color manager is available today, so download Divi and take it for a spin. Let us know what you think in the comments, and don't forget to check back next week for even more great Divi features coming your way.

Join, Renew & Upgrade Today For 10% Off!
Join the most enthusiastic and loving WordPress theme community on the web and download Divi 3.0 today. Using the new Visual Builder, you can build websites faster than ever before with its incredibly fast and intuitive visual interface. You have to see it to believe it!
Join Today For 10% OFF!
Renew Your Account Today For 10% OFF!
Upgrade Your Account Today For 10% OFF!
The post Divi Feature Update! The New Divi Color Manager & Magic Color Suggestions appeared first on Elegant Themes Blog.