Communicating with clients is a key aspect of running any business and email is one of the best tools at your disposal to do so. However, chances are you're going to get a lot of emails that tread the same ground and writing the same responses over and over can get exhausting.
This is where canned responses can help you. In fact, these can be a powerful tool to help you deal with email more efficiently. In this article, we'll talk about why canned responses can come in handy and teach you how to enable them in Gmail. We'll also share some templates you can use to get started.
Let's get to it!
What Canned Responses Are (And Why They Can Come In Handy)
Imagine you run into a problem with your web host and you send their support service an email. Then you receive a message that says something such as:
Thanks for reaching out to us! We'll get back to you as soon as possible.
This is a simple example of a canned response, which is basically a pre-written email you can use on multiple occasions. There are a lot of varieties of canned emails, but their purpose is usually to let you know the other person received your message and will get back to you.
Most modern email clients enable you to create canned responses, enabling you to spend much less time writing similar emails. If you're running a business, they can come in handy for a number of reasons:
They save you time. While dealing with customers, there will inevitably be repeating tasks and situations, so having a reusable email ready can save you a lot of time.
To let users know you're looking into things. If one of your users run into a problem, it's comforting to know that you're looking into how to solve it.
To gauge customer satisfaction. User feedback is always valuable and even more so if you run a business. Sending a quick email asking for feedback can give you a lot of insight you'd otherwise miss.
To sum it up, canned responses are all about running your business more efficiently. However, you have to keep in mind a lot of people don't like receiving emails they think are cookie-cutter. As such, you have to put some thought into the way you write your canned responses so users pay attention.
For example, if you're running an e-commerce shop, you could set up a canned email asking for customer feedback:
Hi John,

I noticed you bought the VacuumMaster 3000 and I'd love to know if you're happy with your purchase. Your feedback on the product and delivery time would be hugely appreciated!

Looking forward to hearing from you!
You could use this example as a template, just by replacing the name of the product and the buyer. It sounds more personal than a regular e-commerce email would, so users don't feel like they're receiving spam.
In a minute, we're going to show you some basic canned response templates you can use on your own emails. However, before that, let's talk about how to enable and create canned responses in Gmail.
How to Enable Canned Responses in Gmail (And Create Your First One)
Enabling canned responses in Gmail is downright simple. Just log into your account and look for the gear icon on the top-right side of the screen. Click on it and select the Settings option: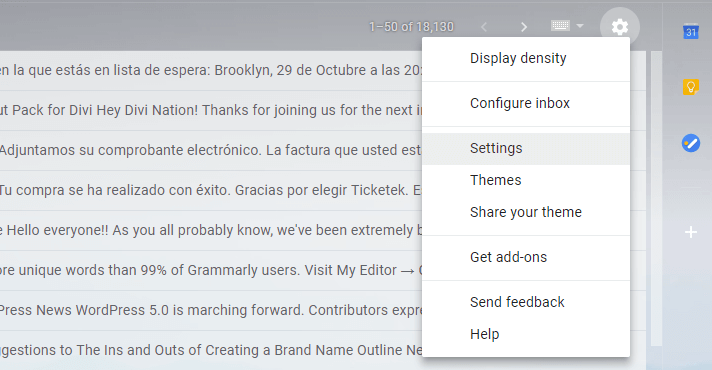 Once the Settings screen opens up, look for the Advanced tab on the top menu. Within that screen, there should be a setting that reads Canned Responses (Templates). Go ahead and enable that option now, then save the changes to your settings:

You can now click on the Compose button to create a simple template. Go ahead and write your canned response within the body, as you would a normal email. You can always delete it later, so don't worry about making it perfect for now.
When your template is ready, click on the icon with the three vertical dots to the lower-right side of the screen and select the Canned responses > New canned response option:

Gmail will ask you to name the template and that's it. Your canned response will now appear in the Canned responses menu when you're composing a new email. Clicking on it will load up the message you just saved, and you can also delete that response from within the same menu:

You're now ready to start working on your own canned responses to use during your day-to-day tasks. However, before we go over some templates, you should also read up on how to use Boomerang for Gmail.
With the Boomerang plugin, you can schedule emails for later, which makes for a perfect combination with canned responses. For example, you can schedule a follow-up email using a canned response or set up a message asking for customer feedback a few days after they make a purchase. We're going to explore both of those examples below, so let's move on.
5 Canned Response Templates You Can Use for Free
There are several situations where you can use canned email responses to make your life simpler. However, these five will give you a good place to start, as well as inspiration for how to write your own, including how long you should aim to make them. Let's take a look!
1. Confirming You're On Top of a Task
If you're a freelancer or work in an office, you're going to get a lot of emails asking you how you're progressing on various tasks. Unless you need to include specific details about your progress, you can quickly deal with many of these emails using canned responses. Here's a quick example:
Hello John,

We're on track with the project and everything will be ready by XX as we discussed before. I'll send you an update if anything changes, though!

Kind regards,
In most cases, canned responses should be brief. After all, the longer the message, the more unlikely it is you'll be able to use it under multiple circumstances.
For this template (and all the ones we'll show), you'll want to replace the recipient's name and the date. You can also change the final greeting for something more or less formal and add more details if needed.
2. Reminding Someone About a Previous Email
One of the most frustrating things to deal with in offices is sending an important email and getting no response back. Unfortunately, this happens a lot, so setting up a canned reminder you can shoot off quickly can save you some time.
The goal, in this case, is to keep things professional while reminding the recipient that you need a response. Here's a template that will do the trick:
Hello John,

I wanted to follow up on the email sent to you on XX. When you get the chance, please get back to me on that matter.

Kind regards,
For this scenario, you'll want to replace the "XX" with the time you sent the original email, and 'on that matter' with some details about your previous email. This basic template works just fine, but that phrase is a bit vague, so personalizing it for clarity is a smart move.
3. Sharing Basic Information About Your Business and Cost Structure
If you have to deal with business inquiries of any kind, you'll save a lot of time by creating a canned response outlining what services you offer and their cost. For example, if you're a WordPress developer, here's a template you can use when a new client asks you about pricing:
Hello John,

I'm glad you got in touch with me. Before I can give you an estimate on your project, I need to know more details about what you need, such as:

– Can you describe your business and what kind of website you're interested in?

– Are there any sites you like in terms of design or functionality?

– What kind of timeline are you thinking for the website's launch?

These are just some basic questions to give me an idea of what you want and then we can narrow down the details even further.

Just to give you an idea, I charge $60 per hour and we can talk more about prices once we define the scope of the project.

Looking forward to hearing back from you!
This example is considerably longer than our previous ones since it needs to contain more information. Even so, you can easily reuse it when onboarding a client. You'll naturally want to rewrite the questions and rate to match yours, which should be simple enough.
4.  Asking Customers About Their Experience
Customer feedback is essential so you know if your business is heading in the right direction. Canned emails are a great way of asking users what they thought about your services or products after they've had a chance to try them out. Here's a basic template you can use in that situation:
Hey John,

It's been a week since you bought the VacuumMaster 3000 and I wanted to ask how things are going with you new purchase. Please let me know if you ran into any problems with shipping or with the product itself!

Kind regards,
That's another version of an example we used earlier in the article. In our experience, when it comes to customer feedback, it's usually best to wait a few days after the transaction, so users have time to test things out and form an opinion before you approach them.
For these scenarios, the Boomerang plugin we recommended earlier is ideal since you can schedule feedback emails in advance. When you get a response, you can dig into the feedback you've received and figure out how to use it to improve your business.
5. Asking for an Update on a Project
Earlier on, we discussed a template for confirming you're on top of a task. Now, let's take a look at how you can deal with being the person on the other end, who needs to ask a co-worker for an update on a particular project.
As always, you want to be as professional as possible while keeping things brief, so here's a simple template you can use:
Hello John,

I wanted to check if we're still on track to meet the XX deadline. Please keep me updated if you run into any issues or you need my help.

Thanks!
That template is as to the point as you can get, but you're also free to add more specific details if needed. The good thing about canned responses is that you can always customize them for each email, so you're not forced to send identical messages every time.
Conclusion
Taking the time to write thoughtful drawn-out responses for every email you receive may sound ideal. However, that's not always possible, especially if you're dealing with dozens of emails per day, all of which require an answer. That is unless you want to devote yourself to answering emails full time.
That's where canned responses come in. With Gmail, you can easily enable this feature and create templates to use when suitable. Some examples of situations that might warrant a canned email include:
Confirming you're on top of a specific task.
Reminding someone about a previous email they haven't answered yet.
Sharing basic information about your business and cost structure.
Asking for customer feedback.
Checking on the status of a project.
Do you have any questions about when it makes sense to use canned responses? Let's talk about them in the comments section below!
Article thumbnail image by Eny Setiyowati / shutterstock.com
The post How to Create Canned Responses in Gmail (+5 Templates You Can Use) appeared first on Elegant Themes Blog.