If you're anything like us, you probably buy a lot of stuff online and subscribe to multiple services. Sometimes, you're so pleased with your product or service that you want to leave a gushing review or testimonial on the company's website. The problem is, a poorly put-together testimonial can do more harm than good.
In this article, we'll talk about what makes for a great testimonial. Then we'll show you some examples you can use as inspiration, and point out what makes them work.
Let's get to it!
What Makes for a Great Testimonial?
You've probably never stopped to think about what makes for an effective testimonial. Considering how many products and services we buy online nowadays, it's useful to be aware of when and how to write testimonials.
You may want to write a testimonial for a few reasons. For starters, they're an easy way to support and drive sales for products you like. They're also an opportunity to lend your experienced and trustworthy opinion to help others decide whether or not to use a service.
Leaving testimonials and reviews is a quick way to make a positive change online and contribute a bit of social proof. Plus, if you run your own website, it's important to know which testimonials you should showcase and which ones might not make for great advertising.
The decision isn't about hiding negative comments, but rather prioritizing the most informative ones. For example, let's say you get these two testimonials from clients:
Service was good, will use it again.
John was incredibly helpful and he helped answer a lot of questions I had about building a website. Would definitely recommend him if you need a WordPress site.
Although both testimonials are positive, you always want to showcase one that has a little more meat to it, like the second example above. Throughout the rest of this article, we'll break down more examples to help you recognize and write superb testimonials.
5 Examples of Fantastic Testimonials (And Why They Work)
Before we dive in, we want to point out that we've obscured website names where possible, so we can focus on the testimonials themselves. We made an effort to source these only from services we know, but we didn't want to make it look like we were advertising for specific businesses. With that out of the way, let's dig in!
Testimonial #1: Summarizing the Benefits of the Service

Right off the bat, we liked this testimonial for two reasons. Firstly, we dig the clean design. It also gives a very clear example of how a service benefited the writer. When it comes to testimonials, you want to get all the praise you can. However, people like reading about concrete benefits. In other words, a great testimonial should answer the question, "How will buying or paying for this benefit me?"
So far, we've focused on the contents of your testimonials, but the way they look is just as important. When choosing a design for the testimonials you'll feature on your site, you need to pick a style that's easy to read, highlights the testimonial's writer, and shows off their picture nicely.
Testimonial #2: Including a Professional-Looking Picture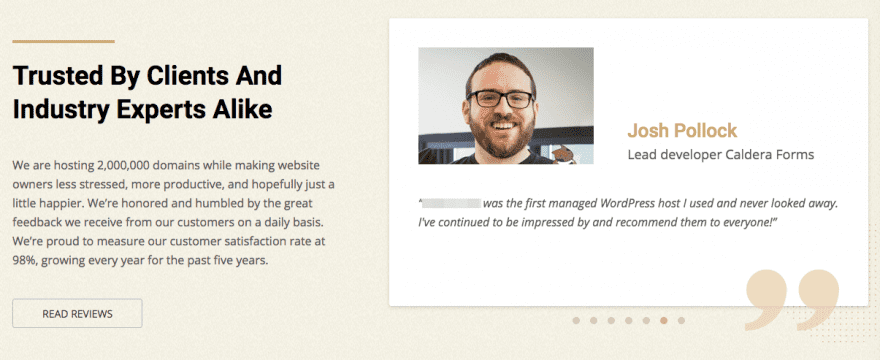 This particular testimonial is nice and concise, which is always a plus. However, we're particularly interested in the accompanying picture. Ideally, you want to showcase testimonials that scream "You can trust what I'm saying!" One of the best ways to accomplish that is choosing the reviews that come with nice-looking photos.
We're not talking about just sticking to testimonials from handsome people, though. What you want are photos with decent lighting that show off the face. Full body shots can also work, but it's important for visitors to be able to put a face to the writer's name.
The person in this testimonial looks cheerful and friendly, and it's a high-quality image as well. If you're submitting a testimonial, remember to make sure you include a professional-looking headshot.
Testimonial #3: Using Your Credentials to Establish Trust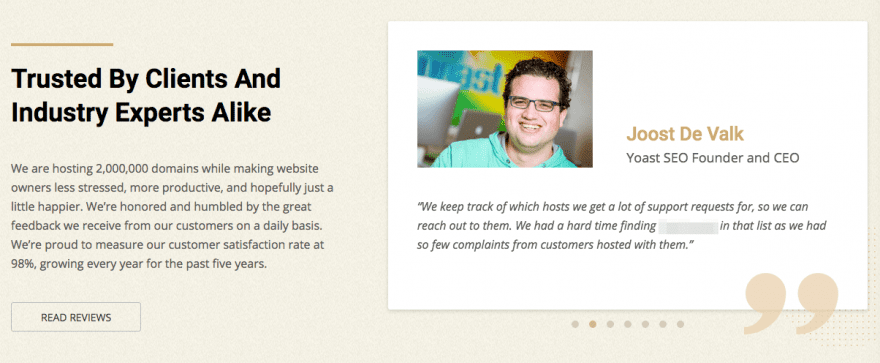 It's hard to make name-dropping look classy. However, if someone well known among your target user base leaves you a positive review, then by all means, plaster it all over your home page.
When it comes to Search Engine Optimization (SEO) and WordPress, most people have heard of Yoast. That means this particular testimonial carries a great deal of weight. If we were in the market for a hosting provider, it would probably impress us a fair bit.
If you're the one leaving a testimonial and you're not the CEO of a famous company, don't worry. Most of us aren't. What you can do is add a little bit of personal information about yourself. If you're a web developer, say so, and maybe include a link to your portfolio as well. Showing that you're established in the industry can still lend your testimonial credibility.
In any case, it's helpful not to bury the information. This particular testimonial keeps it front and center by including it right below the name, which is always a great approach.
Testimonial #4: Showing Off the Service or Product in Action

One of the things we like to see most when we read online reviews or testimonials is a picture of the product itself in action. Seeing marketing pictures of a backpack, for example, is an entirely different thing than seeing pictures of it in a real-world setting.
Depending on the kind of products or services you offer and the format you use to display your testimonials, it may not be possible to include these kinds of images. However, don't be afraid to get a little creative, such as in the example above. This hosting provider enables clients to include screenshots of their websites in their testimonials.
This approach offers two benefits. Firstly, it provides a stronger incentive for people to leave testimonials because they can advertise their own sites. For you, it shows what people can do by using your service, which is often more effective than a few nice words.
Testimonial #5: Letting Your Funny Side Shine

Most people approach reviews and testimonials with a very serious tone. If you're writing one, it seems logical to stick to the facts or general positive comments. Likewise, when publishing them on your own website, it's tempting to feature the most informative ones.
These qualities are important, but they can also make your testimonials a bit dry. This particular example caught our eye because deleting a database is the kind of unfortunate thing that can happen to anyone. The testimonial itself is concise, funny, includes a headshot, and shares a specific experience. Ultimately, it shows how a little humor can go a long way.
To be fair, not every testimonial needs to make readers laugh. Sometimes, a more serious tone is the way to go. When you're the one deciding which testimonials to display, try to pick a healthy mix of different voices. That way, potential customers are more likely to find at least one that resonates with them.
Conclusion
The best clients are those who buy from you several times and leave you glowing reviews. If you're on the other side of the fence, leaving a testimonial for products and services you like can make a big difference to the companies behind them.
In this article, we looked at five examples of stellar reviews, and learned a few best practices for writing testimonials from them:
Summarizing the benefits of the service.
Including a professional-looking photo.
Using your credentials to establish trust.
Showing off the product or service in action.
Letting your funny side shine.
What do you think makes for a great online testimonial? Share your thoughts with us in the comments section below!
Article thumbnail image by vladwel / shutterstock.com
The post How to Write a Testimonial appeared first on Elegant Themes Blog.