Kinsta is well-known among managed WordPress web hosts. While it's more expensive than almost every other provider in the field, it also claims to offer better performance to all of its customers. The real question is whether those claims hold up in practice.
In this article, we're going to take a closer look at Kinsta hosting. We'll go over the features it offers, explore how it stacks up from a performance standpoint, and look at its prices. Then we'll compare it with other managed WordPress web hosts, to help you come to an informed decision.
Let's get to it!
An Introduction to Kinsta (And Its Key Features)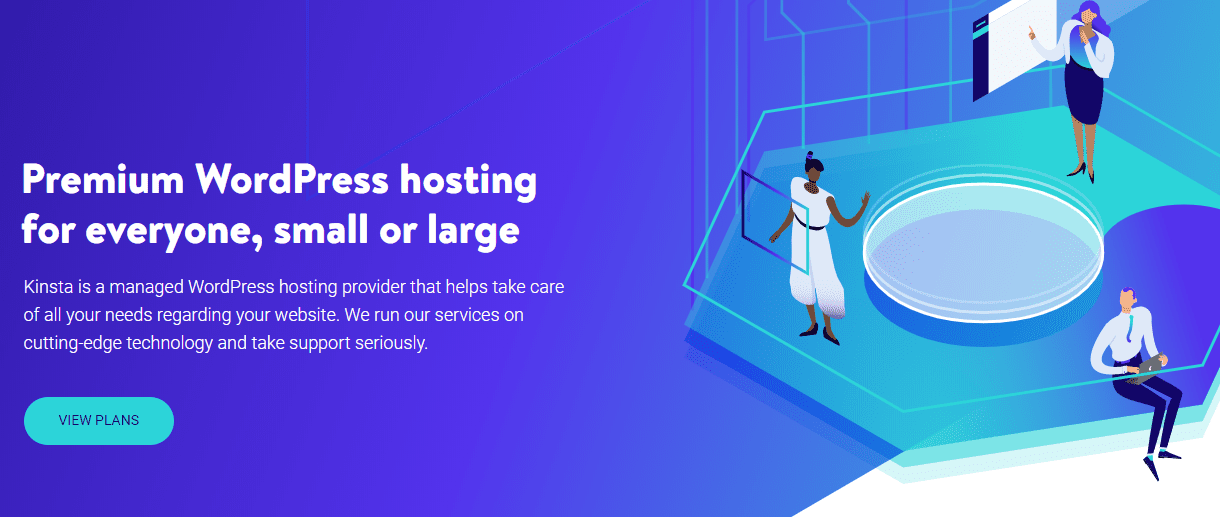 Kinsta checks nearly all the boxes you want to see from a managed WordPress host. It offers a hands-off service that takes care of website optimization, security, backups, and migrations.
On top of that, it provides high-quality customer support, and you get a fancy hosting dashboard to use. Other features you get access to with Kinsta include staging functionality, free Secure Sockets Layer (SSL) certificates , a Content Delivery Network (CDN) setup, a custom caching plugin , and more.
All of this is built on the Google Cloud platform, which powers Kinsta's entire infrastructure. For you, that means your website gets access to one of the broadest and fastest networks in the entire world, with data centers all around the globe. That's a key reason Kinsta promotes its performance so heavily.
As you might imagine, all of these features don't come cheap. The Kinsta hosting service is clearly targeted towards mid-sized businesses, large companies, and WordPress professionals. Before we move on, let's sum up the key options you'll get access to:
A fully-managed service
Automatic daily backups
Hands-off website optimization
Top-notch security configuration
Free SSL and CDN setup
Staging functionality for websites
A custom caching plugin
Price: Kinsta plans start at $30 per month for a single website | More Information
Taking a Closer Look at Kinsta's Performance
If you're considering using Kinsta as your host, then website performance is probably one of your main considerations. Hosting providers at this level command high prices because they understand just how important performance is to their customers. Plus, getting access to Google Cloud's infrastructure is a boon if your website needs the very best in hardware and network resources.
With that in mind, we set out to find impartial performance tests for Kinsta hosting's service. One of our favorite resources for hosting performance tests is Review Signal, because of how thorough its methodology is . When comparing Kinsta's basic tier to other web hosts within a similar price range, Review Signal concluded that it had near-perfect uptime, and is among the top tier for performance.
The same results hold up for just about every tier Kinsta offers. Other web hosts that are in the same category for performance include Pressable and Pantheon . Both are also managed WordPress hosts with excellent reputations for speed, and Kinsta is on a level playing field with each of them.
In our own experience, Kinsta offers some of the best loading times in the business. More importantly, it performs particularly well under a heavy load of traffic, which is essential if you want to scale your website and business. Of course, simply being fast isn't everything – you'll also need to take pricing into account.
A Full Breakdown of Kinsta's Pricing Structure
Web hosts that offer Kinsta's level of performance and features don't come cheap. Here are the prices for each of Kinsta's plans , to give you an idea for where it stands:
Starter (from $30 per month): Supports one website, 5 GB of traffic, and up to 20,000 monthly visits.
Pro (from $60 per month): Can handle up to two websites and 40,000 monthly visits, and comes with 10 GB of space.
Business 1 (from $100 per month): With this plan, you can host up to five websites, receive 100,000 monthly visits, and get access to 15 GB of space.
On top of those three options, Kinsta also offers custom plans starting from $200 per month, which can scale up just about indefinitely depending on your needs.
Kinsta is a top-notch host in almost every respect. However, for $30 per month, its starter plan can be too pricey for a lot of users. You can find managed WordPress hosting that still offers solid performance starting at much lower prices (SiteGround, for example ).
However, Kinsta starts to look much more attractive once you move on to the Pro and Business 1 plans. If you have the budget to spend $60-100 per month, and you're running multiple WordPress sites, then Kinsta is a fantastic option.
At this level, the additional money you spend on hosting starts to save you a lot of trouble, because you don't have to worry as much about site optimization, security, backups, and so on. Likewise, if you want to set up a website for a big company, then spending $100+ on hosting can pay off in the long run (particularly if you're looking to scale up quickly).
Kinsta as Compared to Other Managed WordPress Hosts
When considering any web host, the four primary criteria to look at are its range of features, quality of support, performance, and prices. Kinsta definitely holds its own when it comes to the first three categories, which means your decision will likely come down to cost.
Among managed WordPress web hosts, Kinsta remains one of the most expensive options. Flywheel , for example, offers a plan that supports up to ten WordPress installs for $115 a month. Kinsta, on the other hand, offers a plan at a similar price point, which only supports up to five websites: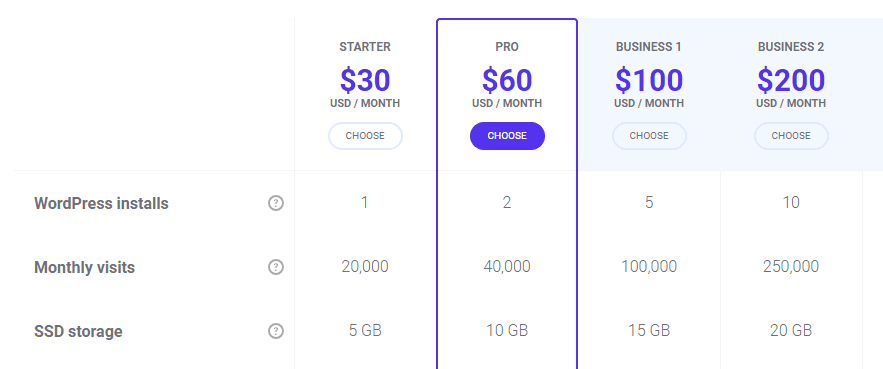 The key difference here is that Kinsta comes with better performance and security. In other words, it's a host that's all about quality, not quantity. It's also less geared towards agencies than Flywheel is, which means that it targets a different subset of users.
Overall, WP Engine would be the service that provides the most similar experience to Kinsta hosting. Its plans are offered at similar price points, and both performance and features are comparable. Plus, WP Engine also hosts its sites using Google Cloud. Ultimately, both providers are among the top options for managed WordPress services, so either one is likely to serve you well (depending on your personal preferences).
How to Decide Whether Kinsta Managed Hosting Is Right For You
Recommending Kinsta for hosting your WordPress website is easy. It has the features, performance, excellent support, and user experience you're probably looking for.
However, there's no one single web host that's a perfect fit for everyone. So let's see if we can determine whether this is the right provider for you. Here's what the ideal Kinsta user looks like:
Budget is not a big concern, because your website is a key component of your business.
You'd rather leave back-end management in someone else's hands, so you can focus on growing your business, marketing, content creation, and so on.
You want access to in-depth analytics and the best in WordPress hosting features.
Performance is at the top of your list, and your site needs to run smoothly under a heavy load.
Kinsta is not the kind of web host you generally use if you want to set up a small blog or a brochure website. Rather, it has businesses and WordPress professionals firmly in mind, particularly those who need to host several websites. If you fit most of the criteria above, then by all means give Kinsta a try. You're not likely to be disappointed.
Conclusion
Kinsta is a powerful web host in almost every aspect. It offers amazing performance and great support. However, the real question is whether you can get a similar quality of service for a lower price.
This provider's starter plan can be overkill for a lot of websites. However, once you move into its higher tiers, using Kinsta starts making a great deal of sense. Kinsta's pricier plans enable you to host multiple websites with a fully-managed service. This means you won't have to worry as much about performance or security, which can make the extra expense well worth it.
Are you considering Kinsta for hosting your websites? Share your thoughts in the comments section below!
Article thumbnail image by ProStockStudio / shutterstock.com
The post Kinsta Managed WordPress Hosting: An Overview and Review appeared first on Elegant Themes Blog .