You know Microsoft. You probably use at least some Microsoft product each and every day. Today we're going to take a look at another?  Microsoft Teams Free is a new version of their group chat software. Many teams are eschewing email as a means of communication, often using something like Slack or Discord. Microsoft's entry into the market is solid, stable, and definitely worth your consideration.
Microsoft Teams Free

The big draw of group chats like Microsoft Teams Free is that you get instant messaging, text-channels for discussion, file sharing, video and audio calls, private messaging, and extensions and connections to other software you're already using. Email just can't compare.
Signing up is a cinch, especially because Teams uses your existing Microsoft account. Not quite as ubiquitous as Google accounts these days, there's a good chance you have a Microsoft account if you run Windows on any machine, use Office, or play video games on an Xbox.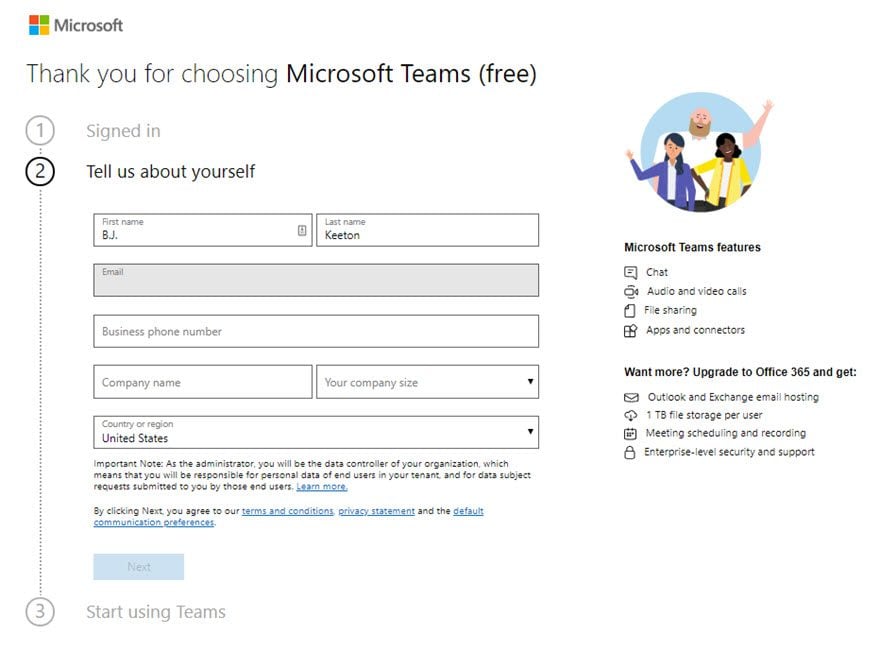 After that, it's just choosing which client you want: browser-based or desktop. Entirely dependent on your situation, the two are pretty much identical.
Everyday Use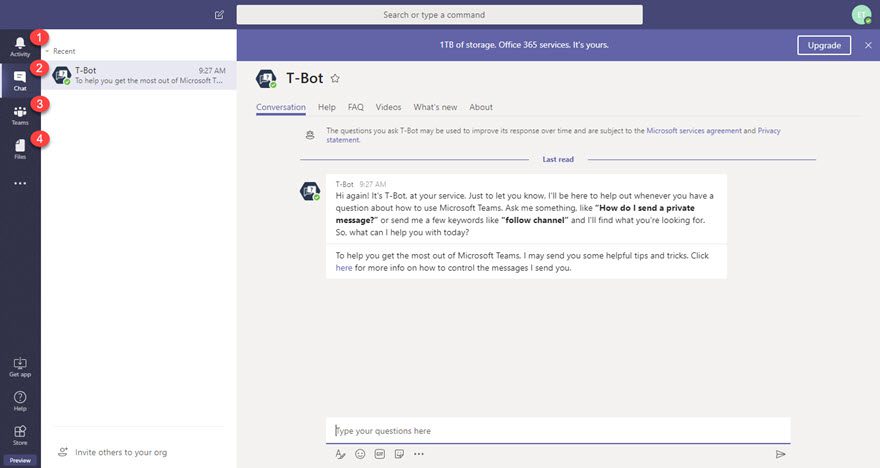 If you are used to a group chat app, it should look relatively similar. You have the text channels to the left, the messages on the right, and tabs where you can check in on people and the files you've uploaded or been shared.
Additionally, because this is a Microsoft product, it shares an aesthetic with their Office 365 products. So if you're used to working in one of those, you'll find yourself right at home here, too. In fact, I found the experience of using Microsoft Teams to be about the same as working in Outlook.
Across the left-hand side of the screen, you have a vertical navigation bar. The four default tabs are the most important, anyway.
1. Activity

Activity is the Microsoft Teams way of saying Notifications. As it says, you get mentions, replies, and other notifications there. That means files that are shared with you, notes, other kinds of collaborations. It's incredibly useful to have these all in one place, as they can be spread out in other group chat apps.
2. Chat

Like the name says, this is your Chat tab. Different conversations happen here. It's almost identical to your Outlook email client, only instead of emails, it's private message threads between you and other members of your team. By default, you get a bot (like Slackbot) whom you can ask different questions and perform different tasks.
You have access to all the features that you're used to here, too. You get @mentions and app integrations and so on. Favoriting conversations (say, with your supervisor) will keep them at the top so you can be even more certain that you won't miss a message.
3. Teams

Teams is the good stuff. All of your chat channels are here. So, for instance, if you need a #general channel for your whole company, then break it down into #content and #development subchannels, for instance, they'll appear here. If you've used Slack or Discord or Stride, you know the drill. Heck, if you've used IRC, you know what's going on.
However, that's not all. Whil yes, you do get the traditional channel list and chat (1) with Microsoft Teams Free, you also get the handy-dandy tabs bar inside each channel (2). This is an amazing feature that keeps everything pertinent to that team within just a click. In fact, it works in a lot of ways like a mini CRM that just tracks your own team. To take full advantage of the tabs bar, you need to click the + at the end to see what all you can add to each channel.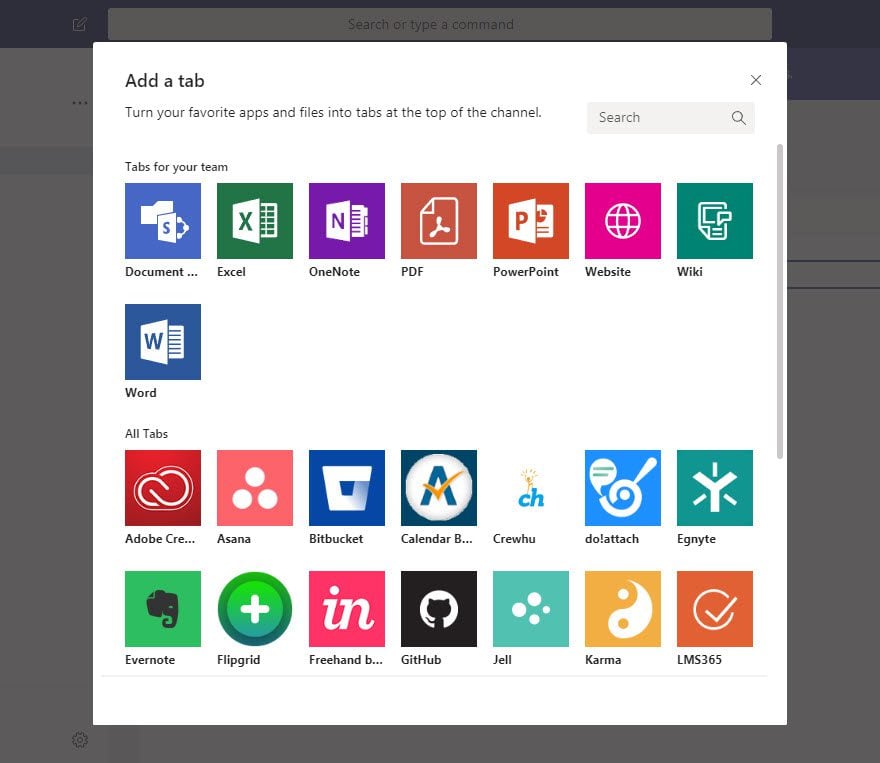 On top of the expected Office 365 apps like Word and Excel, there are a number of app connections that you can integrate, too. Asana, GitHub, Bitbucket, and Evernote are standouts here, but the whole list is nothing to sneeze at. Being able to customize each channel this much is something that other team chat apps only dream of. And this is Microsoft Teams Free — not even the premium version.
4. Files

After the awesomeness that was the last tab, Files is pretty mundane. You…get to look at your files. Admittedly, this is a very nice tab to use because, again, being a Microsoft product, you get direct integration with OneDrive. If you aren't familiar with OneDrive, it's just the MS version of Google Drive. Except you get 1 terabyte of storage as long as you have a subscription to Office 365, which is around $7 a month at base.
Apps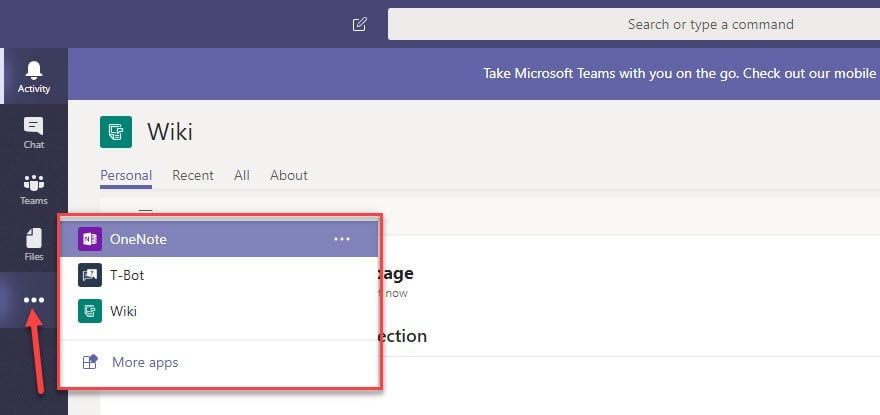 Under those four tabs is an ellipsis (the three dots). Expand it, and you see the app menu. Everything that you have installed on the server will appear here. In fact, they're the same apps you could add as tabs to your Teams channels. However this time, instead of being framed within the conversation, it's a full-screen experience. But all your data is still there.
The ellipsis menu also has a link to the store where you can connect more apps to your Microsoft Teams account, and even upload your own.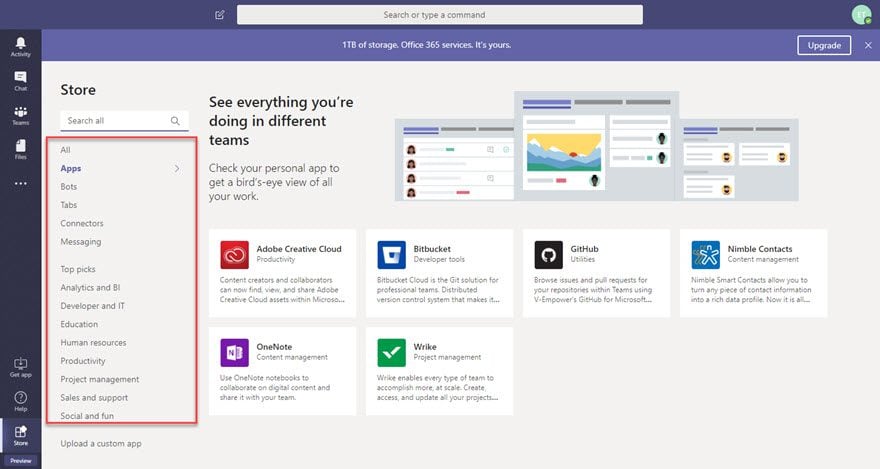 Clicking on the Store button in the bottom-left corner of the screen will also take you here.
Are You Ready to Team Up?
I expect not many of you have considered Microsoft Teams before this. But with its free version that supports up to 300 people and runs smoothly and fully featured, it's definitely worth checking out. If your team is already established with a group chat like Slack, it may be hard to move away from for something like Microsoft Teams.
But if you are already using the Office 365 bundles already, you should definitely give Teams a look. With its built-in integrations with Office apps like Word, and the crazy amount of storage that comes with OneDrive, there are a lot of benefits to be had from this service.
Regardless, it's free, so you can take it for a test drive and see if it's the right fit for you.
How do you feel Microsoft Teams stacks up against other group chat apps?
Article featured image by Andrew Rybalko / shutterstock.com
The post Microsoft Teams Free: A Group Chat You Should Not Overlook appeared first on Elegant Themes Blog.