With WordPress making up a good one-third of the internet, you have to expect there to be a slew of blogs and websites devoted to the CMS. And there are. You will find blogs written from every perspective, targeting every niche, and marketing toward every demographic you can imagine. That's a lot of content, and it can be hard to hit all the high points. To help you out a bit, we've put together a list (in no particular order) of what we think are the best WordPress blogs that you don't want to miss.
1. Smashing Magazine

One of the most consistent and high-quality publications around, Smashing Magazine works as kind of the gold standard for WordPress blogs. Or technology blogs. Or really, blogs in general. Long-form content that dives deep into each subject they tackle is a mainstay, and even when they have sponsored posts, the content is held to the same standards as their day-to-day work and covers useful topics that just happen to pertain to the sponsor's niche. Whether you're a WordPress designer, developer, user, or some combination of all of those, you need to read Smashing Magazine. Stat.
2. The Pagely Blog

You know who understands WordPress? Managed WordPress hosts. That's just what Pagely is. But their blog isn't self-promotion at all — it's a valued resource covering business skills for professionals using WP to make their livings, designers, and more. Their marketing articles touch on topics that many of the best WordPress blogs don't, so they hit on pressure points you may not even know you need to be pressed. Even their posts on managed WP hosting aren't tied specifically to them and can be applied to multiple other hosts. All in all, Pagely's blog is worth a read.
3. CodeinWP

CodeinWP is, as they put it, a hub for WordPressers. Anyone involved in the pressing of words in any way can find something here. The art of blogging? Check. Business acumen and monetization? Yep. Even productivity tips that can make your WordPressing more…well…productive. They also offer neat downloadables every so often (productivity planners and so on), so they really try to be helpful for their readers. They aren't just in it for the clicks.
4. Cats Who Code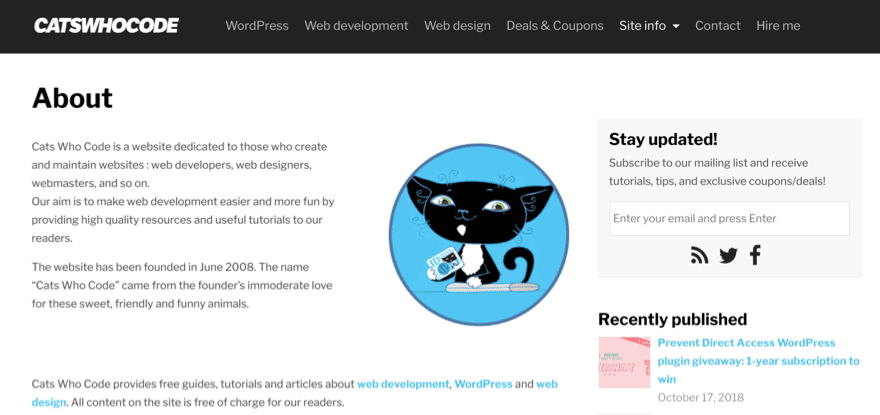 While the title absolutely can mean cats in the general folks or people way, this site was named after actual kitties. That's a major point in its favor. That said, they also provide fantastic resources to WPers, and not only in the WordPress sphere. They cover ideas in general web development, too, as well as design trends. All of the topics, generally, can be applied to WordPress. I don't think a week goes by that I don't click into a CatsWhoCode article at least once.
5. Sucuri

Not only are they one of the most trusted security plugins in the WordPress world, they also have one of the best WordPress blogs out there, too. When something blows up (not literally of course, but then again you never know with hackers) regarding WordPress, Sucuri will have a blog about it. You should check in occasionally to make sure you're up to date on the latest threats (and their fixes) to your workspace and livelihood.
6.  Wordfence

Take everything I said above, but replace Sucuri with Wordfence. (That's a joke.) You can never be too careful when it comes to website security, and having two go-to publications to stay informed is better than having one.
7. WPLift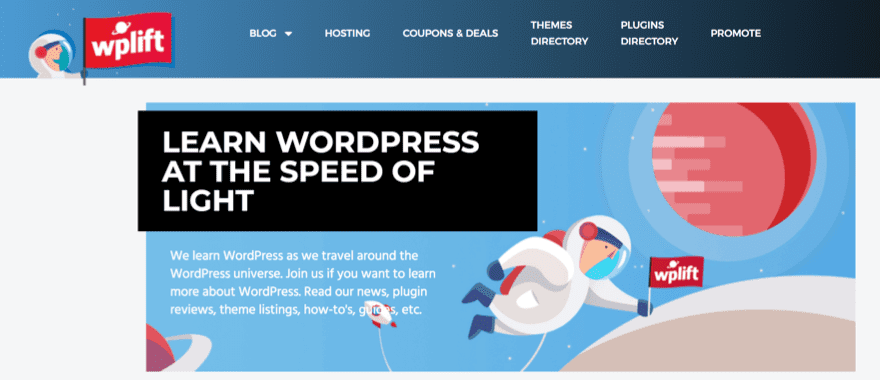 Designed to be accessible, WPLift has a little bit of everything for the WordPress user. If you need to know about plugins, they probably have a write-up. If you want to see about certain themes, again, it's probably there. They cover security and general tips and even put together guides so that you can be the best WordPresser around. Some of the most lifehack-style WP uses I know came from something I saw on WPLift at one point or another.
8. ManageWP.org

Not exactly a blog, ManageWP.org (remember, it's the .org extension, not .net or .com) is an aggregator of the best WordPress articles that have been published recently. Community submitted and voted on, the best articles tend to make their way to the top across all sorts of different categories. ManageWP is a great way to find some of the best WordPress blogs that you've never heard of. They may not be the millions-of-hits-per-day blogs all the time, but if you see it here, it's generally going to have amazing information.
9. Torque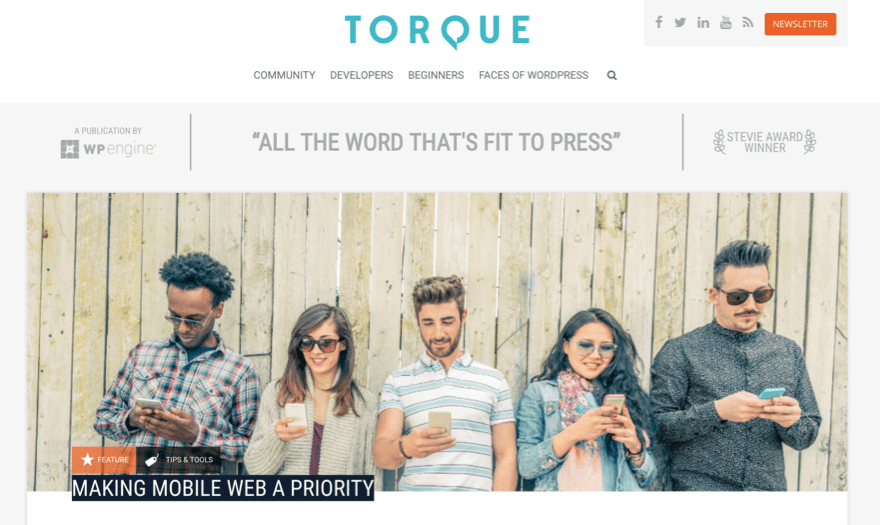 Published by the top-end managed host, WP Engine, Torque pretty much lives up to its slogan: all the word that's fit to press. If it's worth talking about, you can bet that Torque has either written about it — or will in the near future. Daily posts from some of the WordPress communities top names make this one a guaranteed bookmark in your browser. Or entry in Feedly or whatever you use.
10. WP Tavern

Free WordPress news. Free podcasts and free commentary. WP Tavern is one of the top news sources for WordPress because they are fast and accurate with what they report. In general, their community is strong and opinionated, and there can be some fantastic discussions in the comments sections. If you want to keep your finger on the beating pulse of our industry, WP Tavern is where to go.
11. The Layout by Flywheel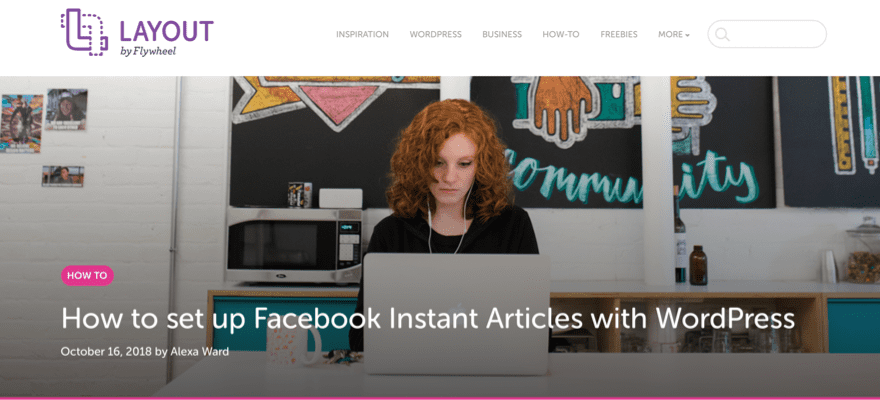 If you've noticed a trend of managed WordPress hosts having great blogs, it's because they generally do. Not only is it a great way to give back to their community, but it also helps attract people to their products. Flywheel is managed WP hosting aimed at designers, so their blog, The Layout, targets that same demo. Many of their articles are design best practices, tips to enhance the look and function of your WordPress site, and so on. But they also publish general WordPress tips, too, and a lot are on the technical side but broken down so that non-techies and right-brained people can make heads or tails of them.
12. The Yoast SEO Blog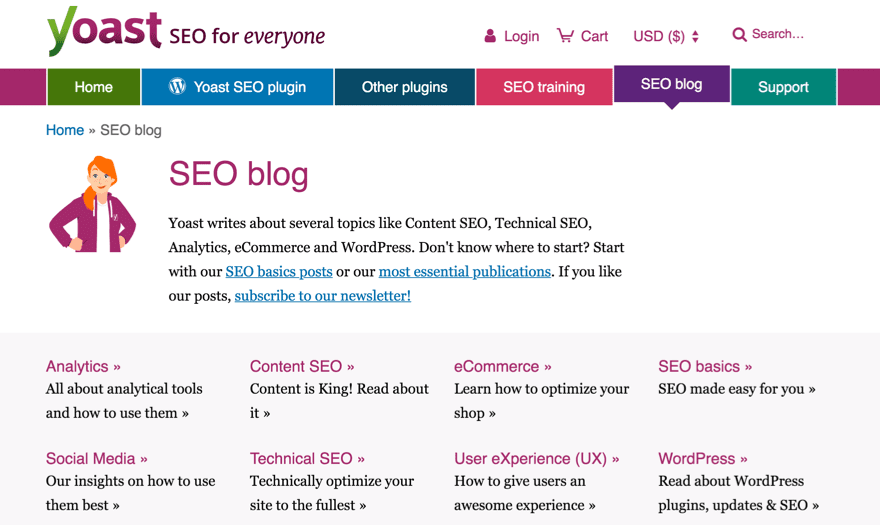 Yoast is arguably the King of the kingdom of WordPress SEO. If Google (or other search engines) does it, Yoast is on top of it, too. And their blog then explains it all to you in understandable language with videos and tutorials and infographics. With various series being published at different times, you might see an advice column one day, a use case the next, and then an explanation of why Yoast works the way it does the day after that. There's a running joke on my weekly livestream that I can't go a week without talking about Yoast and their blog, and there's a good reason for that. It's just too good not to share. So here's me talking about Yoast's blog again, sharing it with you, too.
13. WooCommerce

If you sell things using WordPress, you likely use WooCommerce. If that's the case, then you should subscribe to the WooCommerce official blog. Not only will you get development updates and know what's coming so you can prepare your store, they also publish lots of best practices and business tips that have been tested and tend to work really well with the software.
14. WPBeginner

Pretty much the place for WordPress how-tos these days. If you want to know how to do it in a simple, easy-to-understand, step-by-step way, WPBeginner probably has an article on it. Depending on the problem, their recommended solution may be a plugin to get the job done, while others may be a dive into your PHP files. Either way, when you have an issue, WPBeginner is a great place to see if there's a solution. And if you can't find it there…well, you may have just broken the internet.
15. WP Mayor

If you can't trust a blog that has a mascot with a monocle, who can you trust? WP Mayor is one of the best WordPress blogs because it has a little bit of everything for WordPress users. From beginners to advanced users, the team here has something for you. You may find out about a new plugin that makes your life easier or get a tip that increases your ecommerce revenue three-fold. Additionally, they keep a list of WordPress job boards for you, so if you're looking for a side gig or even a full-time career, you should consider tossing your vote to WP Mayor.
16. WPMU DEV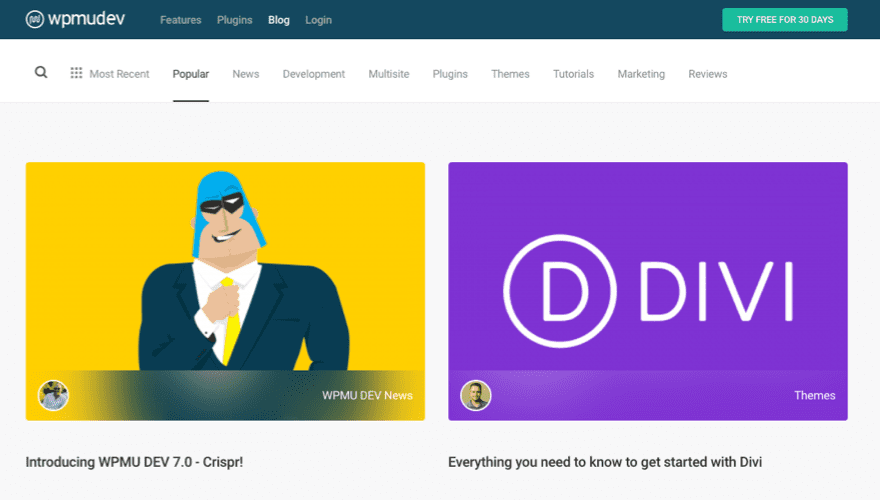 You may know WPMUDEV for their great set of premium WP plugins, but did you know they also publish one of the best WordPress blogs, too? Problem-solving is kind of their thing, and if it can happen to WordPress, they probably have a solution for it. And not just a hackey, good-enough solution. But a down-in-the-trenches, in-depth, you're-never-going-to-worry-about-this-again kind of solution. Their writers will walk you through the steps you need for whatever the task is, and when you're finished, you can't not have learned something.
17. WPShout!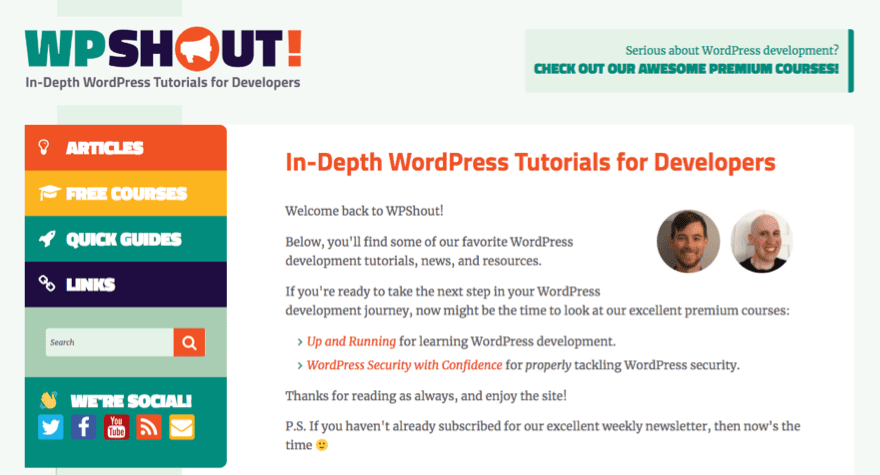 While there are a ton of blogs out there focusing on the everyman WordPresser, WPShout is one of the best WordPress blogs aimed at developers. As you can see in the screenshot, they have quick guides for different topics, free courses you can run through, and they are always posting up new articles with goodies that will keep you clicking. Some of the best posts on WPShout are small commentary blogs that provoke thought and enable discussion, then link out to the article that brought up the idea in the first place. This is a great place to discover so much new stuff that you just have to check it out.
18. Ma.tt

In 2003, Matt Mullenweg created WordPress. This is his blog.
19. Kinsta

Another managed WordPress host putting out amazing content, Kinsta publishes one of the best WordPress blogs. It contains tips on PHP, back-end development, front-end development and design, plugin awareness, marketing, and even ecommerce. Some of the most intriguing content they do, though, is called Kinsta Kingpin, a series of interviews with WordPress professionals like you. While their normal content is superb, there's something about these interviews that always makes me excited when I see another one posted. I think you'll feel the same way.
20. Post Status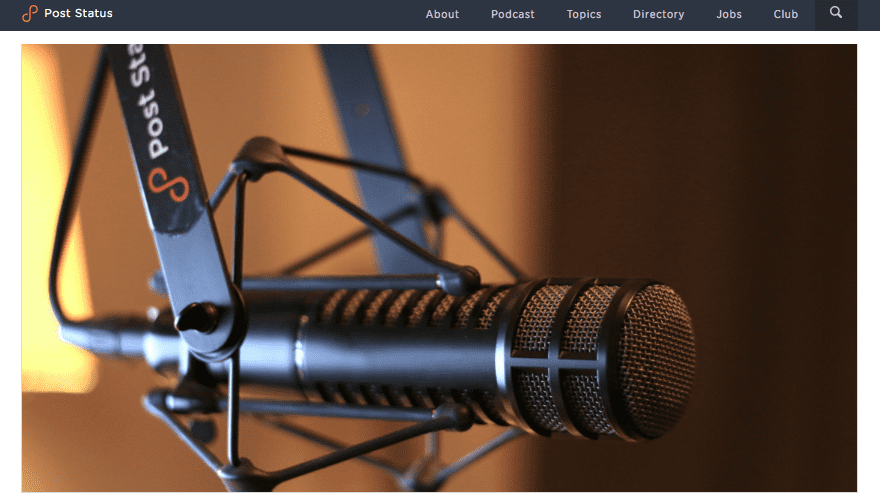 Not so much a typical blog as a podcast with really good show notes, Post Status is one of those sites that grabs you and won't let you go. Run by WP pro Brian Krogsgard, PS has become so much more than just a show or a site. Brian has put together a great community with PS, and he has been publishing and working in WordPress long enough that he has insight into the CMS that many of us only dream of having. He also covers topics that other sites tend to back away from, such as WordPress and Blockchain. Definitely worth a look (and a listen, too).
21. Make.WordPress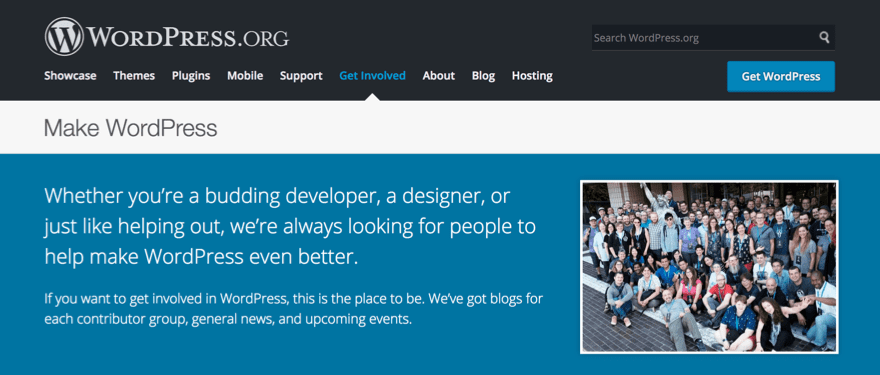 I hesitated to include this one because it is definitely not the typical WordPress blog. But when I was thinking about the best WordPress blogs around, I realized that I check Make WordPress just as often as I do any others out there. You see, make.wordpress.org is the blog where you see what's going on with WordPress as it happens. You get Gutenberg updates (in their What's New in Gutenberg? series), team meeting minutes so you can see what was talked about during the latest design team or community building meeting, and that sort of thing. It's not really a how-to kind of blog, but if you have even a passing interest in the goings-on behind the curtain, Make WordPress Core is going to impress you.
22. Elegant Themes

How could we have a list of the best WordPress blogs without including the Elegant Themes blog? We may be a bit biased here, but we do our best to put out the best tutorials and resources we can for the WordPress community at large. If you have any questions or topics you're curious about, we very likely have something about it in our archives. And if we don't, we're always open to taking requests in the comments.
Subscribe Away!
With nearly two dozen of the best WordPress blogs at the forefront of your mind right now, your RSS reader should be full, your browser's tabs should be tiny and jam-packed together, and your thinking cap should be waiting in the wings. Hopefully, whatever your niche is within the wide world of WordPress, at least a few of these blogs and sites should make their way into your regular rotation. Enjoy!
What are some of the best WordPress blogs that you read regularly?
Article featured image by Muhammad Hamzah Fansuri/ shutterstock.com
The post The Best WordPress Blogs to Follow in 2018 appeared first on Elegant Themes Blog.