Facebook is everywhere. You can't escape it. Open pretty much any website, and you're bombarded by #3B5998 (that's the hex code for Facebook's very specific blue, by the way). Heck, it's over to the side of this page thanks to Monarch. See? Everywhere.
It's probably on your website, too, somehow (and on your phone and bookmarks bar and so on), so it's pretty safe to say that Facebook isn't going anywhere in the near future. We all use it somehow. And a lot of people communicate a lot via Facebook Messenger. While it started out as a completely integrated feature that tied to your inbox of private messages, eventually Facebook Messenger has become a product all on its own.
And you need to add Facebook Messenger to WordPress so you can talk with your visitors, not at them. But why use Messenger when you have a contact form already?
A Part of Your World
Like Ariel in The Little Mermaid, you should be thinking to yourself, "I want to be where the people are." You see, when you have a contact form on your page, they're reaching out to you asynchronously. You answer, and you can't be sure when (or if), they get your response.
With Facebook Messenger, you're one step closer to sealing the deal. Even more than that, it's easier for you to make a personal connection because they will see you as a real person responding to them instead of just a wall of text in their Gmail account.
Which is the whole goal here–a relationship with your audience, not just a single sale or visit to your site. When you're using Facebook Messenger to communicate with them, you become one of their friends because that's how many people primarily communicate with their friends.
Messenger vs Live-Chat Plugins
Now, part of the appeal of FB Messenger is that it's synchronous. But you can get that same functionality by installing a live-chat plugin that connects you to your site visitors. The main reason I would recommend installing Messenger over one of those is simple: those plugins don't connect you to them–only them to you.
They're coming to your turf to connect (which is still great), but when you have a Messenger window on your site, you're on their phone, in their contacts, being a natural part of their lives.
That doesn't happen with other plugins.
So Let's Add Facebook Messenger to WordPress!
Unfortunately, there's not a native way to add Facebook Messenger to WordPress, but that's okay. There are a ton of plugins out there you can use, but one of the most popular is Zotabox's Facebook Messenger Live Chat. It works well, and for most people's needs, you can get by perfectly well on their free plan.
First off, go to the plugin repository and install/activate it.

When you get it installed, you will see a new addition to your WordPress dashboard called FB Live Chat, which brings up a new splash page for you to register your site with the plugin.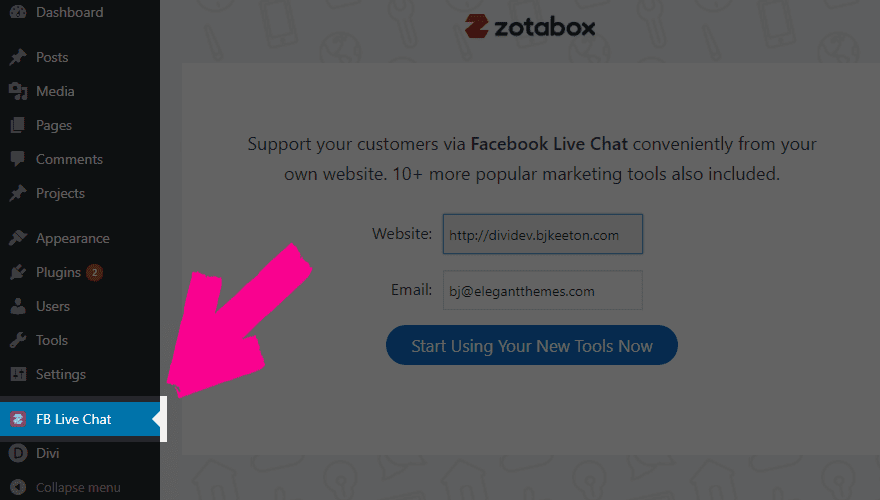 That's a one-time entry, and each time you return after that, you'll get a link to Configure your tools. You really do get a ton of options to configure with the plugin, whether you want to use just an icon for folks, a message in text like in the image below, or whatever. You can make it as prominent or unobtrusive as you want/need it to be. (The button/tab/icon slider option is where you adjust the Messenger window's position).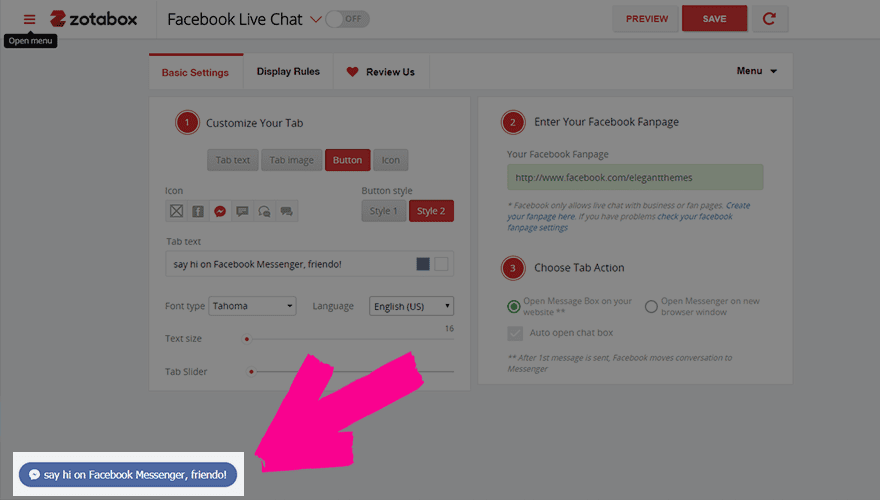 Once you've entered the page URL in the field at the upper-right, you're really good to go. When someone clicks on the button, it opens up a window for them to message you and/or Like your page.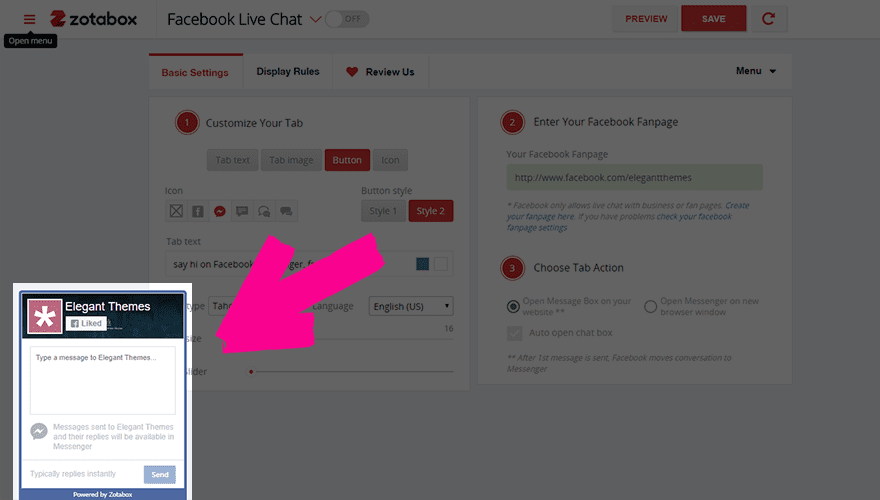 On mobile, it works exactly the same way, but it sets the button to icon-only when the viewport is below a certain resolution.
Be Prepared!
Continuing with my Disney theme from above, you do need to take a page out of The Lion King's Scar's book and be prepared for actually getting these messages from your users. It can be a little overwhelming at times, if your user base is already built up.

Additionally, you should know these messages don't go to your Facebook Messenger account. Anyone on the team will get a notification that the page has received a message, and you can reply via the Facebook Pages app or the desktop. If you have messaging turned on for your page, it's the exact same thing as if someone did that.

When you reply to them, however, it will be in their Facebook Messenger app. (Which also means they won't continue talking to you through your website. Facebook handles everything, so only the initial message will be in the plugin window. Everything else will be on Facebook or Facebook Pages/Messenger.)
Do More Cool Stuff
Chatting with your users is awesome. Providing customer support is pretty sweet, too. But if you're really wanting to get the most out of adding Facebook Messenger to your site, you should definitely read through the documentation they put together for developers.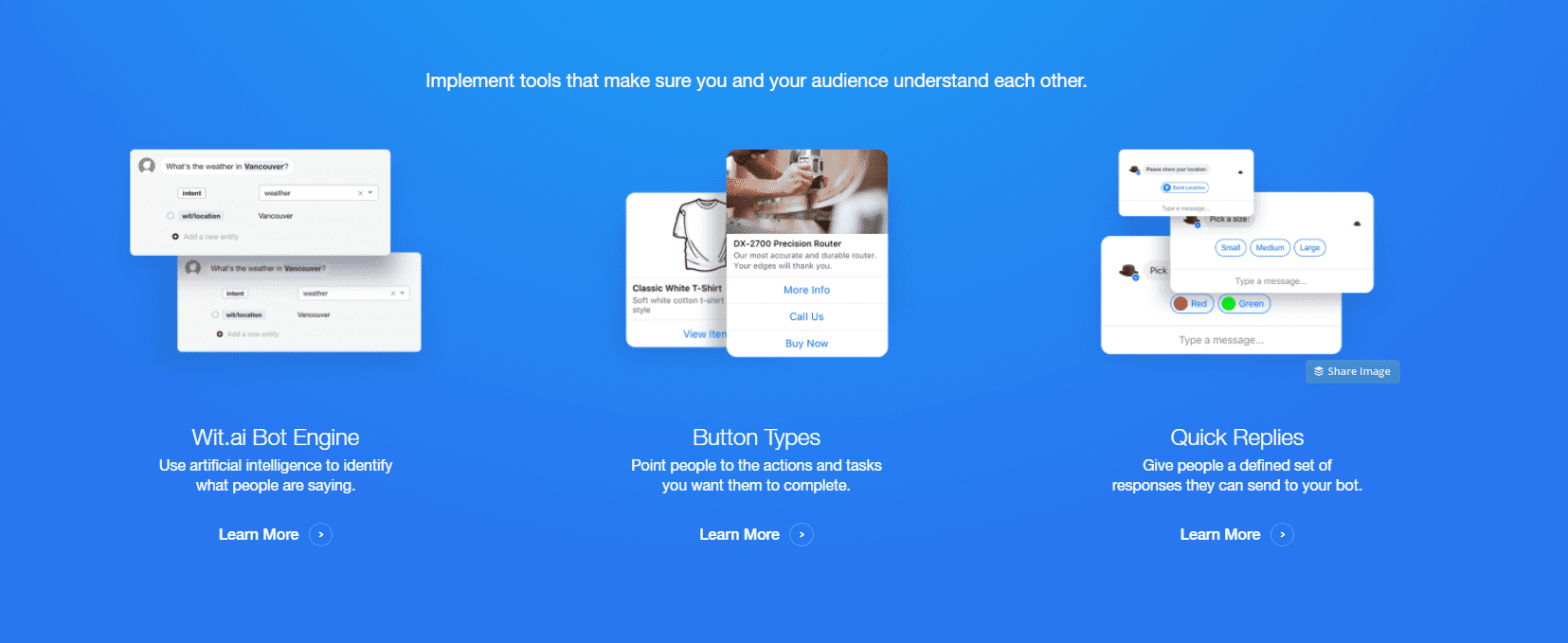 You can really do a lot if you add Facebook Messenger to WordPress. From working with auto-reply bots and full-on customer support bots, to taking payments, tracking orders, and sending reminders to users (after an opt-in, of course).

This was an interaction I got after I bought a set of nifty new notebooks because I knew I'd want to keep up with the company because I liked their products so much. By being where I am, they are building brand loyalty, and if I ever have any issues, I can just throw them a quick text (because yes, we all still say it's texting even though it's totally not). I say this not as a promotion of the company (though the notebooks are neato), I say it because as a user, I bought in and let them give me delivery updates and an even more personal avenue of communicating with me.
And I am very particular about giving people (much less brands and companies!) access to contact me personally. So that says a lot.
R U RDY 4 BSNS?
Just don't do customer support like that header, and you'll be okay. So no matter what plugin you choose to add Facebook Messenger to WordPress (this is a premium one you should check out, too), I think that you'll definitely be pleased by the results.
I don't think a FB Live Chat will ever replace the good, ole email-contact form, but I can definitely see how more savvy companies and brands that do add Facebook Messenger to WordPress will grow above and beyond those who don't.
Article Thumbnail by Julia Tim / shutterstock.com
The post Why You Should Add Facebook Messenger to WordPress (And How to Do It) appeared first on Elegant Themes Blog.