These days, pretty much every field you can imagine has a dedicated conference. There are events for oriental carpets, paper companies, and more. It should come as no surprise WordPress has its own events, the most famous being WordCamp. However, unless you have good access to the country or area it's in, it can be hard to attend.
Fortunately, we're in an age of technological marvels. As such, there's a virtual alternative to WordCamps – WordSesh – that's quickly gaining traction. In this article, we'll talk a bit about WordCamps and introduce you to WordSesh, a virtual alternative.
Let's get started!
What WordCamps Are (And Why You Should Pay Attention to Them)

WordCamps are some of the most recognizable WordPress events around the globe. They're community-organized conferences where you get to hear people talk about WordPress' development and design, and businesses built around the platform. While WordPress speakers can be found at other tech conferences, WordCamp is completely focused on (and dedicated to) WordPress-centric topics.
Despite sharing the same label, the central WordCamp organization is mostly uninvolved with local events. It's up to volunteers to organize them, coordinate attendance, find speakers, and undertake all of the work running a conference involves. In return, events receive an official label, and display on the organization's general schedule (all for free!).
WordCamps are very popular. There are currently upcoming events planned for Peru, Kenya, Pakistan, Japan, Serbia, and more. There's always going to be an event regardless of the location. If you live in the US, you can probably find an upcoming conference near your location (or within easy traveling distance). If you've never attended a WordPress conference, here are a few reasons why you should consider it:
For networking purposes. WordPress events are one of the best places to look for work opportunities or find other people to collaborate with.
To learn more about the platform. Usually, the speakers at WordCamps have plenty of experience in their individual industries and it's a privilege to get to hear from them.
To keep up with the latest WordPress developments. There are always changes within the WordPress space, and WordCamps are a great way to keep up with the latest (and most important) developments in the platform.
You can meet other WordPress enthusiasts. If you're a WordPress enthusiast, attending a WordCamp can be a bit like summer camp all full of likeminded peers.
Of course, all of these benefits aren't just exclusive to WordCamps, but it does show how vital the events are to the WordPress community. If you don't have any upcoming WordCamps near where you live, arranging to attend one can be expensive. However, there are always other local WordPress events if you look out for them – as well as a virtual alternative to WordCamps.
An Introduction to WordSesh (A Virtual Alternative to WordCamps)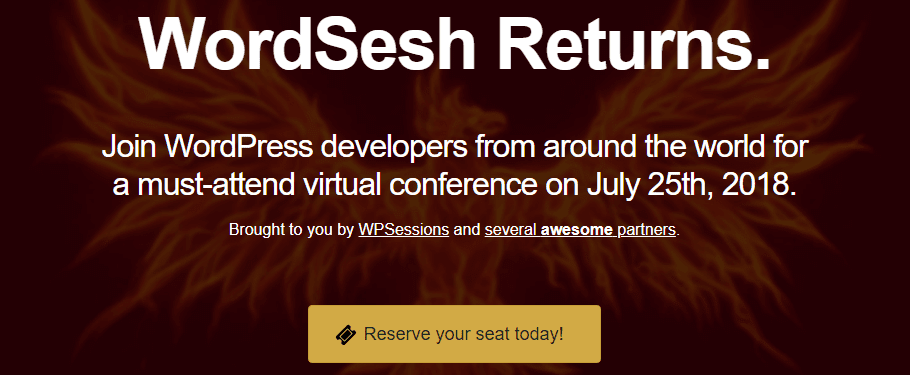 WordSesh is a virtual WordPress conference that's been around since 2013. There were two events that year, in April and December, both of which you can watch in their entirety on WordSesh's YouTube Channel.
The idea of a virtual conference might not sound convincing to a lot of people. However, WordSesh has attracted a lot of talent to its roster of speakers over the years. For example, Matt Mullenweg (the founder and CEO of Automattic), held a talk during December 2013's WordSesh. In 2014, the event featured Magnus Jepson (WooTheme's co-founder), along with over a dozen other speakers prominently working within WordPress.
This year will mark the fifth WordSesh since the conference's inauguration in 2013, and there are plenty of sponsors on board, including Ninja Forms, Local by Flywheel, WooCommerce, LearnDash, Wordfence, and even Yoast. There are already over twelve hours of talks scheduled for the conference, so let's talk about how you can attend it.
How to Attend WordSesh 2018
Attending WordSesh 2018 is fairly straightforward. The event is scheduled for July 25th and you can register to buy a virtual ticket from WordSesh's home page. A plain ticket will cost you $12. However, there are discounts of up to $5 if you buy more than one ticket.
Your ticket will grant you access to WordSesh's live broadcast and event recordings. Even if you miss the conference, event recordings are usually shared publicly after a while, so you can always check out the events you missed, as well as all previous WordSesh events.
Aside from access to the broadcast, you'll also get the chance to interact with other attendants using live chatrooms. This year, some of the standout talks include discussions on how to succeed with WordPress freelancing, improving your development workflow, and boosting your WooCommerce conversions. Overall, it's going to be a pretty decent lineup, which you can check out in its entirety on the WordSesh home page.
Finally, you'd do well to keep an eye out for discounts on WordPress services during the conference. Since you'll be thousands of miles away, you won't get a t-shirt for attending. However, the organizers have mentioned they've made arrangements with several WordPress companies to provide discounts for attendees. So far, there are few details about what these might be. However, you'll probably be able to make back the price of your ticket easily in between discounts.
Conclusion
Conferences are an excellent way to keep up with the latest developments in your field. They're also great ways to network with like-minded people. When it comes to WordPress, there's plenty of news to keep up with (such as Gutenberg) so this type of event is excellent to help you catch up with them.
If you're near a WordCamp, you should definitely consider attending. However, for the rest of us living around the globe, WordSesh provides an excellent alternative to WordCamps. Plus, you can check it out without leaving the comfort of your living room!
Have you ever attended a WordPress conference? If so, tell us what your experience was like in the comments section below!
Article thumbnail image by Pogorelova Olga / shutterstock.com.
The post WordSesh: A Virtual Alternative to WordCamps appeared first on Elegant Themes Blog.