When it comes to managed WordPress hosting, there are a handful of names that most of us are familiar with. This includes Flywheel, Pagely, and of course WP Engine (among others). Managed hosting is all about getting access to more advanced functionality, while having help to make sure your site runs at peak performance.
WP Engine in particular has an excellent reputation as a web host. However, in this article, we want to help you decide if it's a good fit for your website specifically. To that end, we'll discuss this hosting provider's features, plans, and pricing, and also look at how it compares to similar WordPress hosts.
Let's jump right in!
An Introduction to WP Engine (And Its Key Features)

WP Engine is well-known in WordPress circles. It's been around since 2010, and currently serves over 90,000 customers. That might not seem like a big number when compared to certain other web hosts. However, it's important to bear in mind that WP Engine targets a very specific niche – those in need of managed WordPress hosting.
As far as features go, WP Engine comes with a lot of perks. It offers an in-house migration plugin, access to staging sites, the ability to transfer billing to clients, SSH support, managed WordPress security, and more. On top of that, it acquired StudioPress in 2018, alongside the Genesis framework. This means that WP Engine customers get access to a lot of premium themes along with their subscriptions.
WP Engine's key features include:
An in-house migration plugin
Staging functionality
Billing transfers
Support from WordPress experts
Managed security and automatic updates
Off-site backups
WordPress optimization for top-of-the-line performance
When it comes to managed WordPress hosting, this is a pretty impressive set of options. What's more, WP Engine also offers a much more hands-off experience than similar web hosts. We'll dig more into that in a moment, but first let's look at this provider's pricing structure.
WP Engine Prices (A Full Breakdown)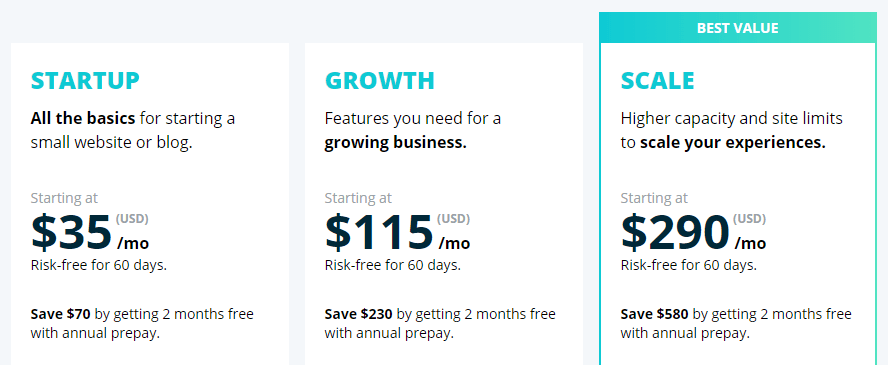 WP Engine is not a cheap web host, which is to be expected as it only offers managed service. Here's how much each of its plans will cost you, and what you'll get in return:
Startup ($35 per month): 10 GB of storage, 50 GB of bandwidth, and up to 25,000 visits per month for one website.
Growth ($115 per month): 20 GB of storage, 2000 GB of bandwidth, and up to 100,000 visits per month for five websites.
Scale ($290 per month): 30 GB of storage, 400 GB of bandwidth, and up to 400,000 visits per month for 15 websites.
Custom plans: If you need more firepower, you can contact WP Engine and have a custom plan set up (but if you have to ask how much these plans cost, they're probably not for you).
Every WP Engine plan comes with all the features we mentioned earlier. That means you get access to a library of premium themes, top-of-the-line support and performance, an integrated Content Delivery Network (CDN), Secure Sockets Layer (SSL) certificates, and more.
To be frank,  however, WP Engine's Startup plan is probably not a good fit for most users. Despite all of its great perks, the truth that is you can find several other managed web hosts that offer comparable plans at lower prices.
Instead, where WP Engine starts to really shine is with its Growth and Scale plans. These are definitely expensive, but that's because they're not meant for personal use. If you're a WordPress developer or you work for an agency, those prices start to look very reasonable. In other words, these plans are meant for those running multiple sites over the long term. In that scenario, you can even transfer part of all of the cost directly to your own clients.
Keep in mind – the prices we've mentioned only apply if you pay on a monthly basis. If you commit to yearly payments, WP Engine will knock two months off of the full price. Finally, it's worth mentioning that WP Engine does engage in overage pricing. It usually charges up to $2 for every 1,000 visits on top of what your plan includes. That means you can rack up some high bills if you get sudden traffic spikes (but on the other hand, your plan will be highly scalable).
What Makes WP Engine Different from Other Managed WordPress Hosts
WP Engine fills an interesting niche when it comes to managed WordPress hosting. To put it into perspective, let's compared it with two of its close competitors, Flywheel and Kinsta.
Flywheel vs. WP Engine. Flywheel is decidedly cheaper than WP Engine. However, the latter offers a lot more perks. Performance is comparable for both web hosts, but WP Engine is more developer-friendly, and its plans scale better.
Kinsta vs. WP Engine. Out of all the well-known WordPress web hosts, Kinsta comes to the closest to WP Engine in terms of pricing. However, it offers a few more options when it comes to 'cheap' plans (including two that range from $30 to $60 per month). If you need a more robust plan, though, WP Engine takes the lead in terms of pricing.
With any premium managed web host, you also expect an excellent user experience. WP Engine earns points in that category with its very user-friendly hosting dashboard: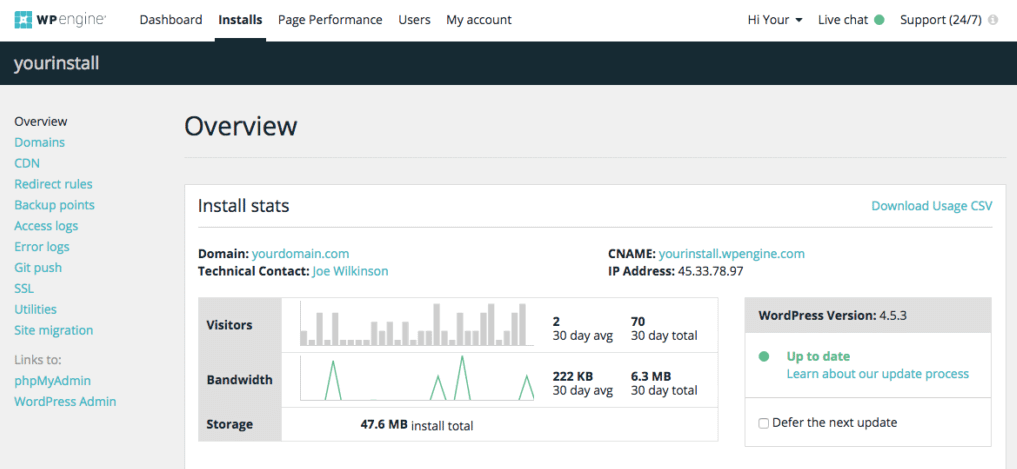 In our experience, WP Engine's hosting panel packs a lot more options than Flywheel's (although the latter's UI is better), and it showcases more information than Kinsta's. At first glance, it looks a bit complicated, but it's well suited to the host's target audience of WordPress professionals.
Who Should Consider Using WP Engine
In many cases, people choose their web hosts largely based on how much they cost. However, when you start considering options such as WP Engine, it usually means that budget isn't as much of a concern. That may be because you expect your websites to generate an income, or your work involves development and/or design.
As far as premium WordPress web hosts go, WP Engine is on the pricey side. However, its plans all offer essentially the same set of features, which is a nice change of pace from other popular web hosts: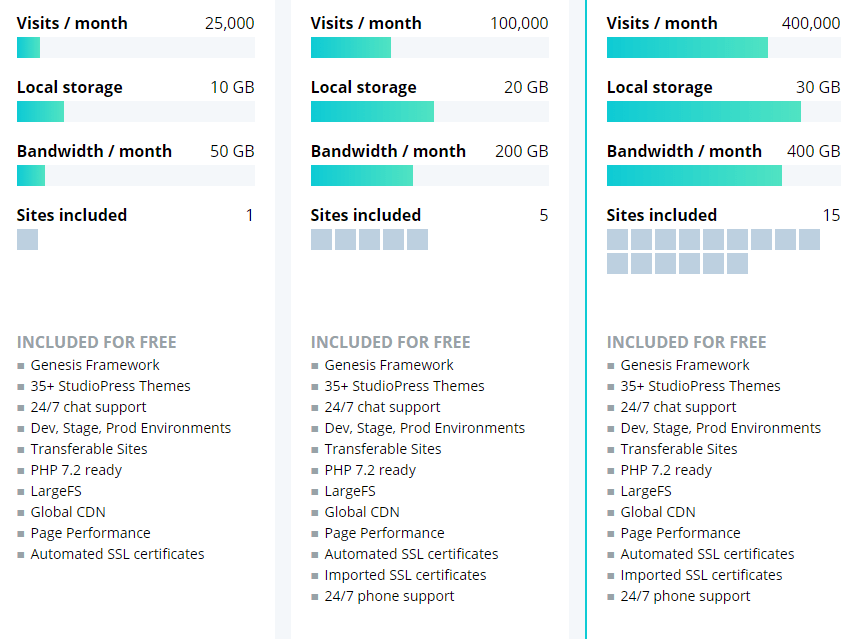 If you only intend to host one small- to mid-sized website, WP Engine may not be your best option. However, if you need to juggle multiple projects and have access to a powerful WordPress-friendly web host, that's where WP Engine starts to look like a strong choice. It's also a smart pick if you're running an enterprise-level site, as you'll benefit from the managed features, boosted performance, and added security on offer.
Conclusion
WP Engine is one of the most popular WordPress managed web hosts around. It offers plans that are suitable for small websites and big players alike, and all of the tiers provide plenty of advanced functionality.
At the same time, WP Engine is on the expensive end of the WordPress hosting scale. Even its Startup plan will set you back $35 per month for a single website, which is more expensive than other similar hosts. However, this provider is an excellent fit for large businesses with roomy budgets, as well as for WordPress professionals of all stripes.
Have you ever used WP Engine to host one or more websites? Share your experiences with us in the comments section below!
Article image thumbnail by DrDrawer / shutterstock.com
The post WP Engine Managed WordPress Hosting: An Overview and Review appeared first on Elegant Themes Blog.